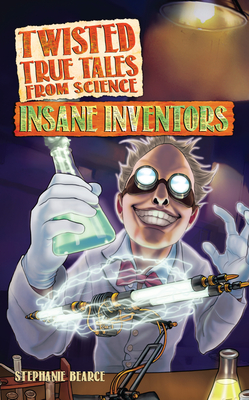 Twisted True Tales from Science
Insane Inventors
Paperback

* Individual store prices may vary.
Other Editions of This Title:
Paperback (4/15/2017)
Paperback (4/15/2017)
Paperback (2/1/2017)
Description
Nikola Tesla was crazy smart. He invented the idea for cell phones in 1893, discovered alternating current, and invented a death ray gun. Of course, he also talked to pigeons, ate only boiled food, and was scared of women who wore jewelry. He was an insane inventor. So was Henry Cavendish, who discovered hydrogen, calculated the density of the Earth, and was so scared of people that he had to write notes to communicate. Sir Isaac Newton discovered the laws of gravity, believed in magic, and thought he could make a potion to create gold. These stories may sound twisted, but they're all true tales from science
Ages 9-12
Routledge, 9781618215703, 158pp.
Publication Date: March 1, 2017
About the Author
Stephanie Bearce is a writer, teacher, and science nerd. She likes teaching kids how to blow up toothpaste and dissect worms. She also loves collecting rocks and keeps a huge collection of fossilized bones in her basement. When she is not exploding experiments in her kitchen or researching strange science facts in the library, Stephanie likes to explore catacombs and museums with her husband, Darrell.