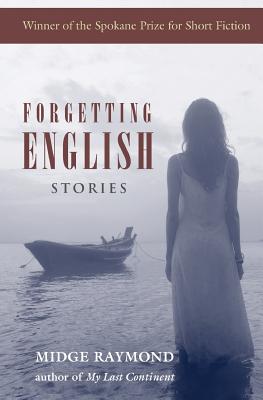 Forgetting English
Stories
Paperback

* Individual store prices may vary.
Description
Winner of the Spokane Prize for Short Fiction
In this new, expanded edition of her prize-winning collection, Midge Raymond stretches the boundaries of place as she explores the indelible imprint of home upon the self and the ways in which new frontiers both defy and confirm who we are. The characters who inhabit these stories travel for business or for pleasure, sometimes out of duty and sometimes in search of freedom, and each encounters the unexpected. From a biologist navigating the stark, icy moonscape of Antarctica to a businesswoman seeking refuge in the lonely islands of the South Pacific, the characters in these stories abandon their native landscapes--only to find that, once separated from the ordinary, they must confront new interpretations of who they really are, and who they're meant to be.
"Raymond's prose often lights up the poetry-circuits of the brain, less because of lyrical language and more due to things that work as both literal and symbolic nouns: stolen rings, voice-mail messages gone astray; heavy-footed humans in the middle of fragile habitats...Parts of these polished stories, if read aloud, would sound like a smart patient describing a dream to a psychoanalyst."
-- The Seattle Times
"All of her stories are heartbreakingly honest ... I wouldn't be surprised if she started getting compared to Alice Munro or Jhumpa Lahiri."
-- Seattle Books Examiner
Ashland Creek Press, 9781618220516, 198pp.
Publication Date: January 4, 2017