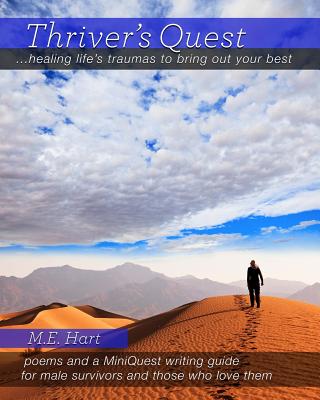 Thriver's Quest
Paperback

* Individual store prices may vary.
Description
THRIVER'S QUEST is part poetry, part memoir, and part healing guide. Hart uses poetry to share insights that help us better understand a male survivor's journey to thriving. The themes of surviving, searching, fighting, realizing healing, and thriving will be familiar to anyone who has experienced trauma. Living, learning, healing, and developing expertise as an attorney, actor, scriptwriter, poet and leadership coach have all been a part of his on-going THRIVER'S QUEST. We all know someone on this quest. This book can help us understand and support them. In this short, powerful book, Hart introduces his MiniQuest writing process - The Call, The Quest, and The Return - to help us tell our own stories, in our own way. This simple process is flexible - and can be used by male survivors and those who love them - to share what they are living through. When one family member is hurt, other family members also share the healing path. How to use this book: you can just read the poems to gain insight. You can use the poems with a therapist or in a group. You can use the writing guide to begin journaling or blogging. You can use the poems to help family and friends better understand you. Family and friends can read the poems to better understand what someone they love is living through. Hart says, "If this book helps just one person, then all I've lived through can serve a healing purpose. Thriving is possible." Hart knows it's true, because that's what he's living, too.
Library Partners Press, 9781618460554, 134pp.
Publication Date: March 29, 2018
About the Author
M.E. Hart first spoke about childhood sexual abuse on BET's Our Voices over 20 years ago, and appeared with 200 male survivors on the Oprah Winfrey Show. Through his poetry and inspirational speaking, Hart shares insights gained from his own journey as a survivor and thriver. He is an attorney, actor, executive coach, and CEO of Hart Learning Group LLC, a professional development company: www.hartlg.com