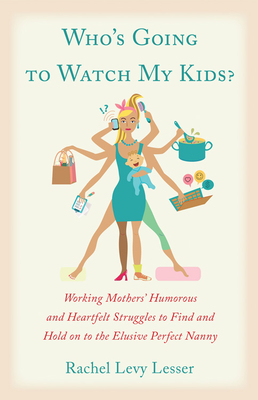 Who's Going to Watch My Kids?
Working Mothers' Humorous and Heartfelt Struggles to Find and Hold on to the Elusive Perfect Nanny
Paperback

* Individual store prices may vary.
Description
Who's Going To Watch My Kids? is the true story of working mom Rachel Levy Lesser's struggles to find and hold on to a nanny for her two young children. It also includes the stories of 15 other working moms and their humorous and heartfelt nanny tales. Each mother longs to employ the modern day Mary Poppins that perfect nanny who they soon learn doesn't exist. This book explores the unique relationships that develop between working mothers (and fathers) and the nannies and the kids they care for. These relationships are more than professional yet not as intimate as familial ones (or sometimes even more so!) The working mothers in this book, Rachel included, put up with more issues from their nannies than they ever would with their employees in their offices, but in turn they also learn many lessons from their nannies and grow closer than they ever imagined. Rachel includes her own nanny rules based off of lessons learned from her experiences and those of the other mothers in the book.
Turning Stone Press, 9781618520944, 187pp.
Publication Date: March 13, 2015
About the Author
Rachel Levy Lesser is a regular featured blogger on The Huffington Post. Her work has appeared in The Philadelphia Jewish Exponent, PHL Metropolis, AND Magazine, The Glamour Magazine blog, and Bucks Local News. Rachel is the author of the memoir Shopping for Love and the children's book My Name is Rebecca Romm Named After My Mother's Mom. Her essay on early mother loss was published in Letters From Motherless Daughters. Rachel received her BA summa cum laude from the University of Pennsylvania and her MBA from the Ross School of Business at the University of Michigan. She lives in Newtown, Pennsylvania with her husband and two children and currently no nanny.