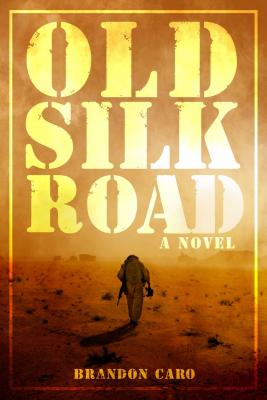 Old Silk Road
Hardcover

* Individual store prices may vary.
Other Editions of This Title:
MP3 CD (9/13/2016)
Description
Old Silk Road is a prescient, powerful novel of the Afghan war by someone who's been there.

Norman "Doc" Rodgers suspects he won't make it out of this one alive. He's a young combat medic in Afghanistan, eager to avenge his father's death in the World Trade Center, and make sense of a new world that feels like it's fallen to pieces. Haunted by hallucinatory encounters, his only solace is a barely concealed addiction to the precious opiates he's supposed to dole out sparingly to those beyond aid.

In this tautly-plotted debut novel, Brandon Caro, a veteran who served in Afghanistan, tells the story of a soldier's undoing in raw, incendiary, hypnotic prose that forces us to ask ourselves about what we know about the futility of war–and what other outcome we can expect?

Praise For Old Silk Road…
"A caustic, inventive, often wildly surreal trip through the American war in Afghanistan, from the hell of the present to the hell of history. It's all here: the heat, the fear, the confusion, the madness, the drugs, the looming shadow of 9/11, and the ghost of Pat Tillman. An original, surprising work."
— Steven Wright, author of Going Native

"In our era of yellow ribbon patriotism and collective detachment from America's brushfire wars, Brandon Caro's Old Silk Road should serve as an IV of truth for any citizen still trying to give a damn. In tight, gritty prose, Caro taps into deep emotional veins the way only fiction allows for, and his drug-addled anti-hero Doc is as distinct a protagonist I've yet come across in post-9/11 war literature. Care about the consequences of America's foreign adventures? Read this novel."
— Matt Gallagher, author of Kaboom

"An expertly built portrait of Afghanistan, saturated with tales of addiction, lifesaving, life taking, and the confusing logic of what it can take to survive. Brandon Caro has penned a smart collision of dream and nightmare, a harrowing jaunt through the psychological and physical chaos of modern war."
— Maxwell Neely-Cohen, author of Echo of the Boom

"If Afghanistan is indeed haunted by centuries of brutal warfare dating from the time of Genghis Khan, as Doc Rodgers, the morphine addict/medic narrator of Old Silk Road, suggests, then Brandon Caro is nothing less than a ghost whisperer. His haunting debut is one of the definitive novels of the Afghanistan War."
— Greg Olear, author of Totally Killer and Fathermucker

"Brandon Caro's debut novel, Old Silk Road, is built on a hallucinatory realism, as if only hallucinations could be equal to the horror, the insanity, the dark comedy of our ongoing imperial adventure in Afghanistan. All that is very skillful. But at the core of the book is a deep sadness only a true writer could reach. A memorable debut in the most literal sense: It will stay with you."
— John Benditt, author of The Boatmaker
Post Hill Press, 9781618688705, 250pp.
Publication Date: October 13, 2015
or
Not Currently Available for Direct Purchase