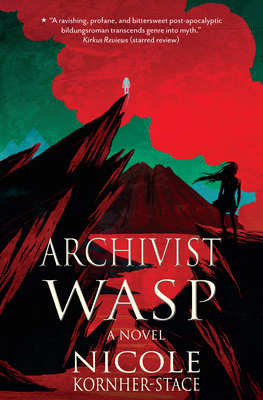 Archivist Wasp
Paperback

* Individual store prices may vary.
Other Editions of This Title:
Digital Audiobook (9/12/2016)
Description
Norton Award finalist
YALSA Best Fiction for Young Adults 2016
Kirkus Reviews Best Teen Books of 2015
Book Riot Best of 2015
Buzzfeed 32 Best Fantasy Novels of 2015
ABC Best Books for Young Readers
Los Angeles Times Summer Reading
Locus Recommended Reading Wasp's job is simple. Hunt ghosts. And every year she has to fight to remain Archivist. Desperate and alone, she strikes a bargain with the ghost of a supersoldier. She will go with him on his underworld hunt for the long-long ghost of his partner and in exchange she will find out more about his pre-apocalyptic world than any Archivist before her. And there is much to know. After all, Archivists are marked from birth to do the holy work of a goddess. They're chosen. They're special. Or so they've been told for four hundred years. Archivist Wasp fears she is not the chosen one, that she won't survive the trip to the underworld, that the brutal life she has escaped might be better than where she is going. There is only one way to find out. Praise for Archivist Wasp: Archivist Wasp is a gorgeous and complex book, featuring a deadly girl who traverses an equally deadly landscape. Wasp won me over, and she's sure to find fans among teens and grown-ups alike.
-- Phoebe North, author of Starglass A tremendously inventive and smart novel. Archivist Wasp is like Kafka by way of Holly Black and Shirley Jackson, but completely original. Highly recommended.
-- Jeff VanderMeer, author of the Southern Reach trilogy A gorgeous, disturbing, compelling book with a smart, complicated heroine who bestrides her post-apocalyptic world like a bewildered force of nature. Reading it was a wild ride and a thoroughly satisfying one.
-- Delia Sherman, author of The Freedom Maze One of the most revelatory and sublime books I've ever read, Archivist Wasp is a must-read for fans of post-apocalyptic fiction. Kornher-Stace is a genius, and I can't wait to see what she does next
-- Tiffany Trent, author of The Unnaturalists Brutal post-apocalypse meets sci-fi techno-thriller meets a ghost story for the ages in this astonishingly original novel from Nicole Kornher-Stace. You've never read anything like Archivist Wasp, but once you have you'll be clamoring for more.
-- Mike Allen, author of Unseaming "Sharp as a blade and mythically resonant, Archivist Wasp is a post-apocalyptic ghost story unlike anything else I've read. Trust me, you want this book."
-- Karina Sumner-Smith, author of Radiant "Archivist Wasp turns destiny on its head, and it re-invents the world you know to do it. Strong. Fast. Addictive."
-- Darin Bradley, author of Noise "Goes off like a firecracker in the brain: the haunted landscape, the sure-footed, blistering prose -- and, of course, the heroine herself, the most excellent Archivist Wasp."
-- Kelly Link, author of Get in Trouble Praise for Nicole Kornher-Stace: In richly textured, atmospheric prose, Kornher-Stace delivers a spellbinding tale of deception, betrayal, and the darker possibilities of playacting.--Booklist Mesmerizing from the first page and once you get into its flow, a page turner to boot.--Fantasy Book Critic Absorbing, exciting, intellectually fascinating, emotionally true, and well-crafted, bobbles and all.--Ideomancer

Big Mouth House, 9781618730978, 256pp.
Publication Date: May 5, 2015
About the Author
Nicole Kornher-Stace: Nicole Kornher-Stace was born in Philadelphia in 1983, moved from the East Coast to the West Coast and back again by the time she was five, and currently lives in New Paltz, NY, with one husband, three ferrets, one precocious preschooler, and too many books to count.