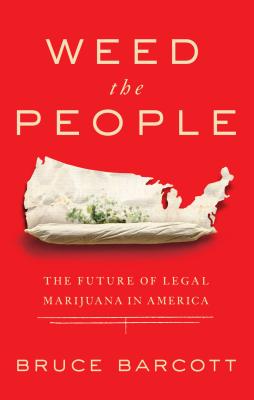 Weed the People
The Future of Legal Marijuana in America
Paperback

* Individual store prices may vary.
Other Editions of This Title:
Hardcover (4/7/2015)
Description
The legalization of marijuana is the next great reversal of history. Perhaps the most demonized substance in America, scientifically known as Cannabis sativa, simply a very fast growing herb, thrived underground as the nation's most popular illegal drug. Now the tide has shifted: In 1996 California passed the nation's first medical marijuana law, which allowed patients to grow it and use it with a doctor's permission. By 2010, twenty states and the District of Columbia had adopted medical pot laws. In 2012 Colorado and Washington state passed ballot measures legalizing marijuana for adults age 21 and older.

The magnitude of the change in America's relationship to marijuana can't be measured in only economic or social terms: There are deeper shifts going on here - cultural realignments, social adjustments, and financial adjustments. The place of marijuana in our lives is being rethought, reconsidered, and recalibrated. Four decades after Richard Nixon declared a War on Drugs, that long campaign has reached a point of exhaustion and failure. The era of its winding down has arrived.

Weed the People will take readers a half-step into the future. The issues surrounding the legalization of pot vary from the trivial to the profound. There are new questions of social etiquette: Is one expected to offer a neighborly toke? If so, how? Is it cool to bring cannabis to a Super Bowl party? Yea or nay on the zoning permit for a marijuana shop two doors down from the Safeway? Plus, there are the inevitable conversations between parents and children over exactly what this adult experiment with marijuana means for them.
Time Home Entertainment, 9781618934215, 336pp.
Publication Date: October 13, 2015
About the Author
Bruce Barcott, a former Guggenheim Fellow in nonfiction, is a frequent contributor to the New York Times, Rolling Stone, National Geographic, the Atlantic Monthly, Outside magazine, and many other publications. The Last Flight of the Scarlet Macaw, his critically praised true story of a woman fighting a global corporation and a corrupt government to save the world's most beautiful bird, was reviewed on the front cover the New York Times Book Review, and has been adopted as a "One Book" choice by a number of cities and colleges across the United States. His previous book, The Measure of a Mountain, earned the Washington State Governor's Award.

He lives on an island near Seattle with his wife, the memoirist Claire Dederer, and their two children.
or
Not Currently Available for Direct Purchase