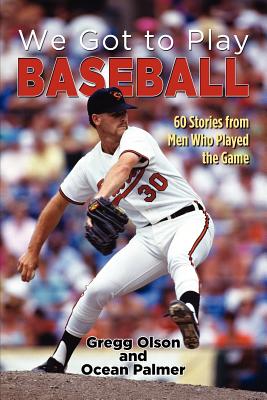 We Got to Play Baseball
60 Stories from Men Who Played the Game
Paperback

* Individual store prices may vary.
Description
We Got to Play Baseball is a remarkable collection of favorite memories from 60 Hall of Famers, All Stars, veteran ballplayers, managers, coaches, umpires and others directly involved in Major League Baseball. Their stories range from the 1950s to current day. "As a teammate, Gregg was a terrific story teller and always fun to be around. Baseball is filled with wonderful stories and Otter has done a great job of pulling them together into one place. He asked his many friends in the game to contribute their story and the result is a fun, enjoyable book that provides us with insights into the world of the big leaguers that aren't often shared." - Cal Ripken, Jr., Hall of Famer "With this collection of stories, Gregg has brought back a lot of fantastic memories and reminded me how much fun a major league clubhouse can be." - Jim Abbott, Major League pitching star There is nothing like a good baseball story - and nothing like hearing a good baseball story from an actual player who was there. Gregg Olson knew even in his playing days that the clubhouse culture was unique, and he has given fans a true inside look with "We Got to Play Baseball," gathering his own stories and the stories of many others. Fans will love reading about players' pranks, travel high jinks and much more." - Ken Rosenthal, FOX Sports About the Authors: The 1989 American League Rookie of the Year, All-Star closer Gregg Olson pitched in the Major Leagues and is now a scout for the San Diego Padres. Ocean Palmer teaches corporate leadership and played amateur ball. They are working on the sequel. Publisher's Website: http: //sbpra.com/GreggOlsonandOceanPalmer.
Strategic Book Publishing & Rights Agency, LL, 9781618972859, 248pp.
Publication Date: December 7, 2011