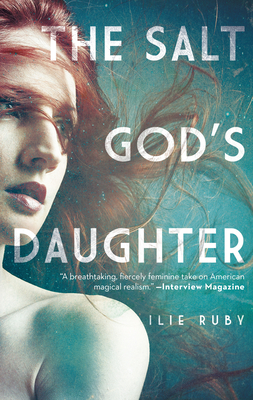 The Salt God's Daughter (Hardcover)
Soft Skull Press, 9781619020023, 338pp.
Publication Date: September 4, 2012
Other Editions of This Title:
Paperback (8/6/2013)
MP3 CD (7/12/2016)
* Individual store prices may vary.
Description
Set in Long Beach, California, beginning in the 1970s, The Salt God's Daughter follows Ruthie and her sister, Dolly as they carve out a life in a place filled with natural beauty, meteorological myths, and exotic folklore. Raised by a mother drawn to the ocean and guided by the moons, their heritage is a mystery and their mother often absent, forcing the two girls to confront the social and sexual mores of the time on their own, caught in the riptide of a culture that alternately glorifies and demonizes female sexuality. Ruthie's daughter, Naida, is born into this conflicting landscape with a secret she tries to keep hidden, bullied and harassed by her peers as she seeks out the father she never knew. Woven with a traditional Scottish folktale and hints of Jewish mysticism, this examines how far we'll go to find our place in a world that is often hostile to those who are different.

Praise For The Salt God's Daughter…
Praise for The Salt God's Daughter

a lyrical, luxuriantly mystical meditation on being female. The Salt God's Daughter is astonishing and unusual because selkies--mythical shape-shifting creatures who are human beings on land and seals in the water--are part of the story. In the otherworldly universe Ruby creates, the existence of selkies do not detract from the authenticity of the characters. Quite the opposite: the myth sharpens the characters' humanity Ruby's novel comes as close as possible to achieving a deep understanding of the possibilities of being female." Leora Tanebaum, The Huffington Post

"Ruby's second novel (after The Language of Trees) imbues the complex relationships between mothers and daughters with legends and feminist mysticism . . . Ruby's writing is elegant and insightful..." Publishers Weekly

"The book beautifully evokes scenes of two girls adrift in the late 70s and early 80s bohemian beach culture...the result is a breathtaking, fiercely feminine take on American magical realism. Ruby spins sweeping mythologies without straying far from the story of a young woman just trying to survive." Interview Magazine

"Lushly woven with elements of folklore, Ruby's novel is a captivating inquiry into the generational, wayward bonds of mothers and daughters."Booklist

This is a bewitching tale of lives entangled in lushly layered fables of the moon and sea." Kirkus Reviews

Certainly other readers have had this experience: you discover a book that is thrilling in its truth about the world, a book that captures your imagination so completely that you actually feel scared by the thought you might have never held this book in your hands; that you might have missed it completely. Ilie Ruby's The Salt God's Daughter is that kind of book." Stacy Bierlein, The Rumpus

Three generations of indelibly original women wrestle with the confines of their lives against a shimmering backdrop of magic, folklore, and deep-buried secrets. About the bonds of sisters, mothers, and daughters, and the refusal to accept limits, this is a story as heartbreaking, gritty, magical, and real as a waking dream, with a sense of place so immediate, you can feel the ocean's salt spray. To say I loved this book is an understatement." Caroline Leavitt, New York Times bestselling author of Pictures of You

Open The Salt God's Daughter and it is as if you are walking through a door, where things are at once utterly recognizable and utterly mysterious, like life, and like an ancient fairy tale, or a myth from a lost continent, another time and place. Ilie Ruby offers up a story that is both exquisitely fantastical at the same time that it maintains the feel of unblinking realism. This one's a story in which to lose one's self in the best possible way." Joyce Maynard

Magical and gripping, The Salt God's Daughter captivated me from the very first sentence and has stayed with me long after I finished reading. A lyrical exploration of the timeless search for belonging and the complicated bonds between mothers, daughters and sisters, I devoured the novel in one sitting and then immediately ordered copies for my own mother and sister." Jillian Cantor, author of The Transformation of Things

Propulsive, mythic, and rhythmically mastered....a singular, knock-out work of fiction about love and the evolution of identity." James Ragan

"What a rare pleasure this novel is, a kind of embarrassment of riches, Ilie Ruby has given us a work glowing with the emotive illuminations of two sisters, caught in exile, in homelessness, in a parentless subculture which they both survive by the pure transcendent powers of their personal fantasy-life and myth. The bond of sisterhood prevails. I cannot recommend this passionate look at family and society and outcast-ness enough. To be a part of their journey is to look at our own travels through deprivation, rejection, poverty and find their quiet ultimate triumph, to feel their fulfillment, as if it were our own. I look forward to what this talented writer offers us next!" Leora Skolkin-Smith author of Hysteria

"Ruby's book is an eloquent unfolding of language brilliantly crafted. The Salt God's Daughter is beautiful writing of life, love, relationships between mother and daughter, families of one's own making, and the push/pull of the moon on the course of relationships. Lovely!"-Katherine Pinard, McIntyre's Books
The Salt God's Daughter is a re-imagining of a Scottish folktale about the selkies or (silkies), shape-shifting creatures who are a human beings on land and seals in the water. Before reading this novel were you familiar with the myth? In what way does the myth play out in the story? Which characters were selkie? At what point did you realize this?
Discuss Diana, Dr. B., Ruthie, Dolly and Naida. Which character did you most relate to?
What female rites of passage in the book did you find most evocative or troublesome?
In the beginning of the book, Ruthie senses the spirit of Naida. Do you think it's possible to sense the presence of loved ones, especially those who have not been born?
In what ways did Ruthie's relationship with her mother affect the way she parented Naida? How much is parenting influenced by what we have experienced or inherited?
Why does Naida have such a strong affinity for the three girls she sees in the ocean?
Do you agree with the statement that a mother is a daughter's first love? Explain.
What do you think first drew Ruthie to Graham and why do you think she ultimately made the decision she did?
Ruthie and Dolly responded so differently to their upbringing. How do you explain the fact that two children raised in the exact same environment could be so different?
To what extent was the family supported or unsupported by society?
The novel follows Ruthie and Dolly from (mostly) the 1970s to the present day. In what ways did pop culture iconography (TV, popular movies, dolls, etc.) of different eras affect Ruthie and Dolly's romantic expectations?
Discuss Ruthie's relationship with Dr. B. and the residents of Wild Acres. Do you think it's possible to create a "new" family with people who are not blood relatives?
The story contains hidden identities and reversals. Ruthie's identity is revealed at the end of the novel. Did you expect this? And if so, at what point did you know the secret?
Many people wish to predict the future. Naida and Diana share the gift of prophecy. How does it affect their lives?
The story, at its heart, is about our desire to feel at home in the world.Discuss the different ways that Diana, Ruthie, and Naida are marginalized. Do you think they each found a place where they belonged? What does it mean to be home?
The novel has been called a "feminist folktale." In what ways did you agree or disagree with this categorization?
The issue of bullying is present in the lives of two characters—Ruthie and Naida (though at different times). How do you think bullying has changed through the ages, or has it? Discuss what you know about bullying today.