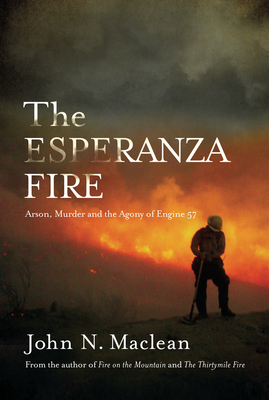 The Esperanza Fire (Hardcover)
Arson, Murder, And The Agony Of Engine 57
Counterpoint LLC, 9781619020719, 306pp.
Publication Date: February 12, 2013
* Individual store prices may vary.
Description
When a jury returns to a packed courtroom to announce its verdict in a capital murder case every noise, even a scraped chair or an opening door, resonates like a high-tension cable snap. Spectators stop rustling in their seats; prosecution and defense lawyers and the accused stiffen into attitudes of wariness; and the judge looks on owlishly. In that atmosphere of heightened expectation the jury entered a Riverside County Superior Court room in southern California to render a decision in the trial of Raymond Oyler, charged with murder for setting the Esperanza Fire of 2006, which killed a five man Forest Service engine crew sent to fight the blaze. Today, wildland fire is everybody's business, from the White House to the fireground. Wildfires have grown bigger, more intense, more destructive--and more expensive. Federal taxpayers, for example, footed most of the $16 million bill for fighting the Esperanza Fire. But the highest cost was the lives of the five-man crew of Engine 57, the first wildland engine crew ever to be wiped out by flames.
About the Author
John Norman Maclean is an award-winning author and journalist who has written about wildland fire for more than 15 years. Before turning to fire, Maclean was for 30 years a journalist with The Chicago Tribune, most of that time as diplomatic correspondent in Washington. His first book, "Fire on the Mountain," was featured in two documentaries by Dateline NBC and the History Channel. He has also written "Fire and Ashes" and "The Thirtymile Fire," both widely celebrated and crucially acclaimed. He and his wife divide their time between Washington, DC and the West.