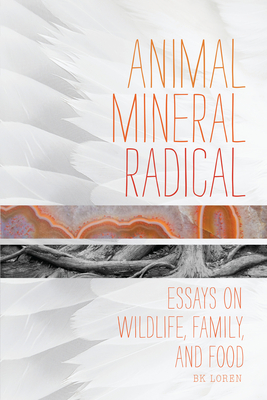 Animal, Mineral, Radical
Essays on Wildlife, Family, and Food
Paperback

* Individual store prices may vary.
Description
"Radical, before it meant a person who advocates strong political reform, meant getting to the root of things, the origin. It comes from the Latin radix, radicis,, meaning radish, a root vegetable."—BK Loren

These meditative essays range in subjects from a transcendental encounter with a pack of coyotes ironically juxtaposed with her neighbor's claim that nature "has gone out of vogue," to Loren's mother's slow yet all–encompassing deterioration from Parkinson's, and the unexpected way the Loma Prieta earthquake eroded her depression by offering the author a sense of her small place in a wild and worthwhile world.

Loren has an empathetic and gentle approach to the world. In detailing the intricacies of human relationships and consciousness—fear of death and time, cooperation born of clashing viewpoints, tradition's beauty even when destructive, a love of language, a sense of loss amid the fast–paced materialistic world—she peels back the film of popular thinking in order to expose herself to the secrets so few of us ever see.
Praise For Animal, Mineral, Radical: Essays on Wildlife, Family, and Food…
Praise for Animal, Mineral, Radical

"These essays are nurtured by a wisdom that shifts effortlessly from the evolutionary long view to the tragicomic flotsam of everyday life. Loren's prose style is measured, lyrical, carefully wrought, yet also open to sudden swift martial arts kicks. A beguiling collection." —Phillip Lopate

"Wise, intuitive, often witty, at times shocking . . . Animal, Mineral, Radical is a lyrical exploration of the timeless themes of nature, mortality, love and family—but most importantly, it is the frank, forthright voice of a writer who sees the world clearly and brings fresh insight to what it means to be human in a sometimes dark and challenging world." —Kristen Iversen, author of Full Body Burden: Growing Up in the Nuclear Shadow of Rocky Flats

"BK Loren has burst onto the Western literary scene like some Rocky Mountain angel of sense–making in these terribly upside down times. These essays are not only compassionate, clear–seeing, beautifully made and tender towards the world and all of the creatures (including humans) who inhabit it, they are essential in that they remind us, on a gut level, what we are a part of. This landscape, this planet, this collective (un)consciousness. Read it to get mad/find hope/maybe change your life." –Pam Houston, author, Contents May Have Shifted

"Tender, sinewy; downbeat, upbeat; gentle, demanding: Loren's dazzling prose is all of this and more. She's a wizard with words, a kindly sage with bite, and her work is among the very best around." —Philip Zaleski, editor of The Best Spiritual Writing series

"BK Loren is a smart, compassionate writer. There's not an excess word in Animal, Mineral, Radical. Her uniquely beautiful prose propelled me into a state wonder and discovery." —Harry Greene, author of Snakes: the Evolution of Mystery in Nature

"BK Loren's writing is good food for the soul. I love, love, love this book!" —Susan Feniger, Chef/Owner STREET & Border Grill Restaurants

"Some writers have ardent followings because seeing the world through their eyes is a rare and addictive treat, others because they write as beautifully as Yo–Yo Ma plays the cello. BK Loren's appeal encompasses both." —Candace Walsh, New Mexico Magazine


Praise for Theft:

"Theft is the best book I've read in as long as I can remember."—Catherine Ryan Hyde, author of Pay It Forward

"BK Loren writes sentences, paragraphs, chapters like lit fuses. Theft is an ambitious and distinctive fiction debut, taking us into the lives of two endangered species, Mexican wolves and a Southwest underclass family, equally hunted by fate." —Ivan Doig, author of Work Song

"Written with clarity and vision, with prose that is both lyrical and visceral, Loren brings us on a journey of love, human fragility and the meaning of family. Theft is a story about piecing together what was left behind, a bighearted tale delivered in language that is as lovely as the Southwestern landscape it describes. An amazing accomplishment." —Mary Gauthier

"Here's a debut worth celebrating. Theft has a compelling story to tell, a moving drama that takes us into the Colorado wilderness and keeps circling back to a fraught childhood and to a fierce and loving bond between a brother and sister. That aching bond lies at the core of Theft, making reading the novel a heartrending experience." —John Dalton, author of The Inverted Forest and Heaven Lake

"How often do we come across a novel that is an achievement in both narrative suspense and in poetry, that wrestles with politics while never giving story short shrift? Theft is such a book, part environmental novel, part elegy to place, part family tragedy, part murder mystery. Capturing heart–raw subjects in incandescent prose, Loren gracefully and unforgettably unites the seen and the unseen worlds, the dark and the light." —Ann Pancake

Praise for The Way of the River: Adventures and Meditations of a Woman Martial Artist

"Loren's careful, direct prose reflects the still gaze of the martial arts expert." –Publishers' Weekly

"Loren's beautifully written memoir addresses women's fears, life challenges, spiritual and physical empowerment." –The Women's Review of Books
Counterpoint, 9781619020733, 176pp.
Publication Date: February 12, 2013
About the Author
BK Loren has worked as a naturalist, assistant chef, ranch hand, furniture maker, UPS driver, college professor and many other things. She attended the Iowa Writer's Workshop and currently teaches writing at Chatham University's low residency program, the Iowa Summer Writing Festival, and other venues throughout North America. She is a winner of the Mary Roberts–Rinehart National Fellowship and also the author of the novel, Theft. Her work has been nominated for Pushcart Prizes three times. Loren lives with her partner, two dogs, and two cats in Colorado.
or
Not Currently Available for Direct Purchase