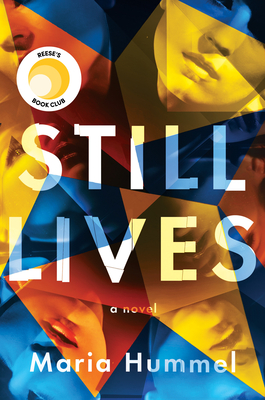 Still Lives
Hardcover

* Individual store prices may vary.
Other Editions of This Title:
Paperback (6/4/2019)
Compact Disc (6/5/2018)
Description
Twelve shocking paintings. Eleven famous murders. One missing artist . . . and one woman driven to find her--this Reese's Book Club x Hello Sunshine Selection is a "stunning achievement" (Los Angeles Times).
Kim Lord is an avant-garde figure, feminist icon, and agent provocateur in the L.A. art scene. Her groundbreaking new exhibition Still Lives is comprised of self-portraits depicting herself as famous, murdered women―the Black Dahlia, Chandra Levy, Nicole Brown Simpson, among many others―and the works are as compelling as they are disturbing, implicating a culture that is too accustomed to violence against women.
As the city's richest art patrons pour into the Rocque Museum's opening night, all the staff, including editor Maggie Richter, hope the event will be enough to save the historic institution's flailing finances.
Except Kim Lord never shows up to her own gala.
Fear mounts as the hours and days drag on and Lord remains missing. Suspicion falls on the up-and-coming gallerist Greg Shaw Ferguson, who happens to be Maggie's ex. A rogue's gallery of eccentric art world figures could also have motive for the act, and as Maggie gets drawn into her own investigation of Lord's disappearance, she'll come to suspect all of those closest to her.
Set against a culture that often fetishizes violence, Still Lives is a page-turning exodus into the art world's hall of mirrors, and one woman's journey into the belly of an industry flooded with money and secrets.
"Has a heck of a hook . . . It sucks you into a compelling story, before forcing you to contemplate the big, uncomfortable ideas it's considering. It's a fresh choice for Reese's Book Club, to be sure." ―Entertainment Weekly
Praise For Still Lives…
Praise for Still Lives

1 of My Top 5 Most Anticipated Reads of 2018 (PatienceRandle.com)

"The careful characterizations of the players . . . mean that, as the mystery unfolds to reveal them as suspects or victims, the reader feels deep empathy that comes from perceiving them as real people, not plot devices. Hummel builds visceral intimacy around 'women's oppressive anxiety about [their] ultimate vulnerability' in this often uncomfortable tale about the media's fetishistic fascination with the violent murders of beautiful women." —Publishers Weekly (starred review)

"In this taut take on noir, misogyny, and the art of responsible storytelling, Hummel (Motherland, 2014, etc.) balances the glitz and glam of the Los Angeles art world with the town tourists don't often see, from peeling, postwar bungalows to skid row tent cities and suffering junkies . . . This is a whip-smart mystery and a moving meditation on the consumption of female bodies all rolled into one." —Kirkus Reviews

"Hummel's novel ultimately offers an intriguing insider's view into a high-stakes, turbulent industry, from peculiar artists to fabulous exhibitions. With deliberate pacing increasing the tension, the story line revolving around the public's fascination with graphic crimes against women serves as a chilling reminder that such violence continues to occur in many forms." —Library Journal

"Hummel . . . presents a polished, droll, and provocative art-world thriller . . . With a cast of strong and complicated female characters, headed by a determined, reckless, funny, and imperiled amateur sleuth, Hummel crafts a shrewd and suspenseful inquiry into womanhood and the dark side of the art market, punctuated by striking variations on identity, portraiture, and 'still lives.'" —Booklist

"Still Lives offers its readers that delicious combination of entertainment and brilliance. It's at once profound and suspenseful, and while the plot kept me up nights (the ending had me gasping in surprise!), the book as a whole asks important questions about art and representation and how we, as a culture, objectify and endanger and victimize women. Maria Hummel has written a remarkable, relevant, and necessary novel." —Edan Lepucki, author of Woman No. 17 and the New York Times bestselling California

"There's nothing I like better than a well-written page-turner about the art world, and Maria Hummel has delivered this and more with her new literary thriller, Still Lives. Flawed characters abound as do clever plots and subplots along with irresistible peeks into hidden chambers of the L.A. art scene. Riveting." —B.A. Shapiro, New York Times bestselling author of The Art Forger and The Muralist

"A gripping mystery set inside the world of contemporary art, Still Lives is the kind of book we all hope to stumble upon: the perfect combination of terrific prose and compelling storytelling. Maria Hummel has delivered the smartest, most original page-turner I've read in a long time." —Maggie Shipstead, author of Astonish Me and the New York Times bestselling Seating Arrangements

"While her protagonist investigates the disappearance of a major artist, Maria Hummel runs a shrewd parallel investigation into culture, gender, violence, and art. Still Lives is a propulsive, carefully crafted mystery with real thematic focus and heft." —Chris Bachelder, author of The Throwback Special, finalist for the National Book Award

"As gritty and glittering as the L.A. art world it depicts, Maria Hummel's latest novel soars into the sun-swept heights of fame and beauty, then plunges us into violence. In Still Lives, Hummel does what she does best: delves with sensitivity and wit into complex, intertwined lives, lives that strain the frames that enclose them. Intelligent, vivid, and impeccably paced, this thrilling novel forces us to confront how dangerous art can be." —Kirstin Valdez Quade, author of Night at the Fiestas

"In Still Lives, Maria Hummel delivers not only a deftly plotted mystery, but also a rich and timely meditation on violence, authenticity, and the cool and deceptive exteriors of modern Los Angeles." —Jim Gavin, author of Middle Men

Praise for Motherland: A Novel

A San Francisco Chronicle Best Book of 2014

"Hummel's haunting novel is set in the ravaged landscape of Germany just before the country's collapse at the end of World War II…Searing and honest, her book illuminates the reality of war away from the front lines —betrayal and compromise, neighbor turning on neighbor, the unexpected heroism of ordinary people — with a compassion and depth of understanding that will touch your heart." —People Magazine, Four Stars

"…deeply researched, painstakingly written, and, above all, heartfelt." —New York Times Book Review

"Hummel's focus on the concrete, physical experiences of one family is a fine, brave antidote to abstraction, and does what good historical fiction does best: explores what has passed in those undocumented rests between the things we know to be true." —San Francisco Chronicle

"Fear, grief, and the will to survive fuse in this beautiful novel about the inner life of a German family in the final months of World War II… The humiliations and guilt that each family member endures for the others are described with grace and humanity. While stunningly intimate, Motherland is expansive in feeling and scope. Extending beyond a simple historical drama, this book is a reminder of the reach of love, how it can blind, and how it can heal." —Publishers Weekly (starred review)

"These characters appear to have, at best, blinders on and, at worse, to be in denial about the fate of their missing Jewish neighbors and what is actually going on at camps like Buchenwald. However, these all-too-human failings are so honestly rendered that a stark question emerges: Who among us, faced with similar circumstances, would have acted differently? Heart-rending and chilling." —Kirkus Reviews (starred review)

"This is a tender, profound novel of a young woman who steps into a shattered German family and makes it her own. The radiance of her sacrifice, and of Hummel's storytelling, illuminates this dark chapter of human history with heart and revelation." —Adam Johnson, author of The Orphan Master's Son, winner of the Pulitzer Prize

"In stunning, pitch-perfect prose, Maria Hummel gives us a deeply moving portrait of lives on the wrong side of history. This isn't just another World War II novel; it's a spectacular story about what it means to love and hope in the most difficult times." —Jesmyn Ward, author of Salvage the Bones, Winner of the National Book Award

"Through the intimate story of one German family at the end of the Second World War, Motherland weaves a universal tale of moral obligation, wartime complicity, and the lengths we will go to protect those we love. From the bare bones of her own family's history, Maria Hummel has built a visceral, magnificent creature." —Anthony Marra, author of A Constellation of Vital Phenomena

"Maria Hummel draws upon her family history to create a spellbinding novel that examines the many facets of motherhood, during a time of war and beyond. Motherland is a vivid, heart-stopping depiction of a German family's struggle to stay together during the devastating Allied bombing of their small town. You won't soon forget these characters or the stories they have to tell." —Susan Sherman, author of The Little Russian

"A courageous and unsettling novel arising from the questions that Maria Hummel had about her grandparents' lives during the Third Reich. How much did they know? How did they survive?" —Ursula Hegi, author of Stones from the River

"In prose that is both spare and heavily laden with the exhausted emotion of hard living, Hummel maintains a claustrophobic undercurrent of fear even when describing mundane daily tasks. Dark and uncompromising, Motherland illuminates a little-examined aspect of the war." —Booklist

"Hummel gathered her raw material from the life of her grandfather, reflected in letters written during the war and discovered in an attic wall. Just as Londoners suffered under the Blitz, German citizens spent the last year of the war living as no human being should, amid the horrors of daily air raids and the loss of those they loved. Hummel somehow manages, without sensationalism, to drive home the humanity and suffering of the people who are frequently considered only as the enemy. Without canceling out our sympathy for those targeted by the Nazis, this humane and compelling story may extend it to those who (often unwittingly) assisted in some of humanity's worst crimes—and who themselves got flicked by the tail of the beast." —BookPage

"Motherland is a moving tale of hope, compassion, and the lengths we go to for the ones we love. Petition your book club to add it to the roster." —PureWow

"Inspired by letters between her paternal grandparents towards the end of the Second World War, Motherland explores love through the unfamiliar lens of Nazi sympathizers. Romantic endeavors during wartime are not unusual by any means, but rarely are we given the chance to make sense of, and furthermore, sympathize with, a love between those finding themselves on the wrong side of history... Like Sebastian Faulk's Birdsong, Motherland is more than a story of separated lovers — it charts, with great poise and more than a little poetry, the challenges of a time when allegiances, to one side or the other, were both necessary and potentially disastrous." —Bustle


Praise for Wilderness Run: A Novel

"Maria Hummel has a way with the stuff of battle, turning the horrific sounds, sights and smells into evanescent moments of exquisite lyricism… Writing of death and drawing rooms with equal aplomb, Hummel has created an utterly devourable historical novel." —Los Angeles Times

"A gifted poet has immersed herself in the history of her home territory to write a mesmerizing first novel." —David Huddle, author of The Story of a Million Years

"A gripping debut, shot through with poetry and violence, Wilderness Run traces the demons that divide us, whether as a nation or in our hearts. At turns radiant and shocking, understated and unbearable, Wilderness Run proceeds with the force of a coming locomotive." —Nick Flynn, author of Another Bullshit Night in Suck City

"This carefully wrought historical novel is rich in period detail that Civil War scholars will certainly appreciate, while its appropriately tragic romance will appeal to those looking for an absorbing read." —Booklist

"The horrors of the Civil War are the crucible of romance for two Vermont cousins in Hummel's debut, which is gracefully and evocatively written… Hummel creates solid characters while capturing the day-to-day reality of military life during the Civil War, and her well-paced, elegant prose turns especially poignant at the end." —Publishers Weekly

"Hummel's language is lyrical and vivid, and her portrayal of the everyday life of the Lindsey family and of Laurence's regiment is detailed and realistic." —Library Journal


Counterpoint LLC, 9781619021112, 288pp.
Publication Date: June 5, 2018
About the Author
MARIA HUMMEL is the author of Motherland (2014), an SF Chronicle Book of the Year; House and Fire (2013), and Wilderness Run (2002). She worked at MOCA in Los Angeles, then received a Stegner Fellowship at Stanford University and taught there for many years. She is currently an assistant professor at the University of Vermont, and lives in Vermont with her husband and sons.