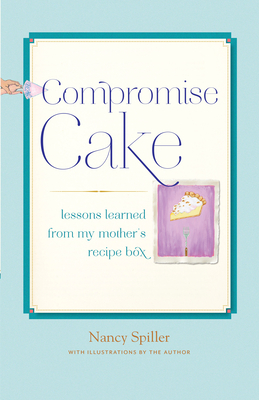 Compromise Cake (Hardcover)
Lessons Learned from My Mother's Recipe Box
Counterpoint LLC, 9781619021129, 160pp.
Publication Date: November 12, 2013
* Individual store prices may vary.
Description
When Nancy Spiller discovered her late mother's teaching credential buried in the midst of a long abandoned recipe box, she felt compelled to investigate the lingering mysteries of this troubled woman. Marguerite Lenore Soult had taught for only one year before marrying, having four children and a life surrendered to mental illness, divorce and social withdrawal. Spiller realized that she had probably been her mother's best and only student in the kitchen they had shared. Compromise Cake explores Spiller's life in the suburbs of Northern California in the 1960s, learning to cook by her challenging mother's side, as remembered through the recipe box's mid-century and heirloom offerings. It touches on lineage, and industrial changes; it is a meditation on men, women, marriage, community and the nature of compromise. What emerges is a portrait of a woman whose own desires for a career were tragically stifled by the conventional pressures to be a wife and mother, but found expression through her daughter, an author, artist and teacher. This is a memoir that weds Spiller's story to the universal of all mothers and daughters, and what, as they say, is baked into the cake.

About the Author
Nancy Spiller is a writer and artist living in Los Angeles. A fourth generation Californian and native of the San Francisco Bay Area, she was a staff writer at the San Jose Mercury News and Los Angeles Herald Examiner and editor at the Los Angeles Times Syndicate. Her articles and essays have appeared in numerous publications, including the Los Angeles Times, Salon.com, Cooking Light, and Town & Country. She is the author of Entertaining Disasters: A Novel (With Recipes) and teaches in the UCLA Extension Writers' Program.
Praise For Compromise Cake: Lessons Learned from My Mother's Recipe Box…
Praise for Compromise Cake

"Nancy Spiller dips into her mother's recipe box for a captivating confection of a memoir and out comes the history of sugar, family history, California history and anecdotes both humorous and of the heart. Illustrating the chapters are cozy watercolors in sugary pastels that, taken together with the delightful text, make Compromise Cake a great read and a perfect gift for the holidays. If you want to serve up a treat for your loved ones or just for yourself, this book is it." Susan Sherman, author of The Little Russian

"Nothing in Julia Childs is more telling than Nancy Spiller's mother's passed down instructions for a stolid "compromise cake" that turns out, in Spiller's deft description, to be a recipe for how to endure the hard parts of a woman's life. Ultimately, this lovely and often bittersweet book, reminds us that the food we share, no matter the unhappy provenance of the recipe, can bring us together with the people we never want to forget." Signe Wilkinson, winner of Pulitzer Prize for Editorial Cartooning

"Nancy Spiller understands that there's no one recipe for relationships. But she deftly uses cooking to narrate her own mother's fraught life, offering us a feast of insights on family, culture, and politics along the way. A wise book, written for anyone who appreciates that our past can only begin to make sense if we have the courage to dig into the artifacts we are left with - in Spiller's case, her mother's recipe box - with honesty and courage." Caroline Paul, Lost Cat, Fighting Fire and East Wind, Rain.

"Charming, delightful, whimsical illustrations. every page is a treat." Wendy MacNaughton, illustrator, Lost Cat, and Essential Scratch & Sniff Guide to Wine