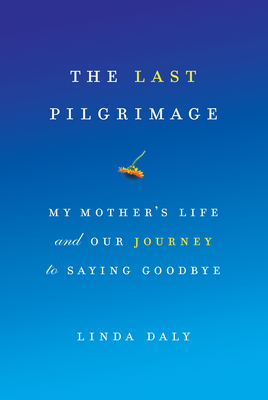 The Last Pilgrimage: My Mother's Life and Our Journey to Saying Goodbye (Hardcover)
My Mother's Life and Our Journey to Saying Goodbye
Counterpoint LLC, 9781619021174, 263pp.
Publication Date: May 7, 2013
Description
Linda Daly had a seemingly charmed life: her mother Nancy was married to the head of Warner Bros, and her parents were one of the most prominent couples in Los Angeles. Even their divorce couldn't test the bond between mother and daughter, and their family grew: her mother married Dick Riordan, mayor of L.A.; her father married songwriter Carole Bayer Sager. But then they encountered the one thing they could not overcome: Nancy's diagnosis of stage four pancreatic cancer. So mother and daughter began a search for a miracle cure - a roller-coaster ride through western medicine and alternative therapies. Out of choices and almost out of time, Linda and her mother put their faith in one last pilgrimage: a visit to a Brazilian faith healer during his residence in upstate New York. When that failed, and with Nancy's time quickly running out, Linda and her siblings embarked on a road trip, in a rented, unruly RV, to bring Nancy home. What Linda learned on their final pilgrimage together would change her forever and speaks to the issues faced by many adult sons and daughters today: how to help those who gave you life face the end of their own.

About the Author
Linda Daly is a former teacher, working for a decade with some of L.A.'s most challenging children, before starting a family of her own. Her philanthropic work began with development and fundraising at local nonprofit organizations, including a six-month consulting job at the International Medical Corps. She served as the environmental expert at the Los Angeles Times Magazine, where she also maintained the blog "Pretty in Green," focusing on the lighter side of green issues. Linda has been a founding Board member of Vintage Hollywood, which raises funds to help children in Southern California; and Global Hunger Foundation, which seeks to alleviate hunger around the globe through small grants to women's groups interested in sustainable farming. She has traveled to Eastern Chad to visit Darfuri refugee camps; to Rwanda to commemorate an anniversary of the genocide; and to the Kibera slum in Nairobi where she assisted women with AIDS. She currently lives in Los Angeles with her husband and two children. They have four dogs, a duck, a horse, and too many tomato plants.
Praise For The Last Pilgrimage: My Mother's Life and Our Journey to Saying Goodbye…
Praise for The Last Pilgrimage

This book is two stories, a child's and a dying parent's, and each of us has both of those stories in us too, whether we tell them in a book for the world to read or tell them for ourselves alone, around the family table, as our turn comes to care for the dying and then, eventually, to be among them." Patt Morrison, The Los Angeles Times

The Last Pilgrimage is a gorgeous love story and spiritual travelogue wrapped in a wonderfully written, funny, and fantastic memoir. It is the best kind of biography; like life, reality bites and blossoms on every page. A vivid and loving portrait of Nancy Daly, painted by her daughter's unflinching, touching, and warmly humorous reflections." Jamie Lee Curtis

Philanthropist and environmental activist Daly writes about her spiritual search as she shared her mother's courageous four-year battle with the ravages of pancreatic cancer a convert to Judaism with a profound connection to nature, [she] writes movingly of her spiritual journey as she faced the need to establish an independent identity. A daughter's tender tribute to a remarkable mother." Kirkus

"This is a beautiful book with an appropriate title, as sorrow over her mother's cancer became the author's conduit for her search for God. Linda Daly has mined the extraordinary depths of the love a daughter feels for her mother, and the sadness she feels at her passage from this world. A wonderful testament to the power of love." Marianne Williamson

I am so glad Linda chose to write this story for two reasons. One, I think Linda is a very good writer she writes with humor, sensitivity, insight, and depth. Two, because I believe that Linda's account of Nancy Daly's final days after her courageous battle with pancreatic cancer should be read. It is a story of love and strength; the importance of family and friends, and mostly about a woman who refused to see the bottle as half empty even when it was down to its last ounces." Carole Bayer Sager

The Last Pilgrimage presents the age-old archetype of a child facing a parent's death but with a unique voice and vision, namely the ability to mix the material with the metaphysical. I can't think of a more contemporary mother/daughter tale filled with questions of life and death, love and money, identity and family or a more qualified author/daughter to write it." Annie Jacobsen, bestselling author of Area 51: An Uncensored History of America's Top Secret Military Base.

There are so many elements to this journey both geographical and metaphorical it's like a scavenger hunt for salvation. But at the core, this is a story about a family coming together instead of falling apart when the glue that held them together is about to die. It's moving, compelling and, time and time again, downright funny." Nancie Clare, former editor of the Los Angeles Times Magazine

As Linda grew ever more determined to shining a light on the plight of others around the world, her mother, Nancy Daly, became more engaged in Linda's journey with International Medical Corps' efforts; their relationship deepened through this shared journey. Linda's life-altering experiences in these difficult environments have translated into extraordinary action. Her influence among thought leaders and her powerful writing has proved immensely valuable to us as we carry out our lifesaving work delivering health care and training in nearly thirty countries." Nancy A. Aossey, President & CEO, International Medical Corps

Daly offers a beautifully written and compelling account of a struggle with illness that showed all the fault lines in the mother-daughter relationship as they embarked on a roller coaster of treatments, setbacks, minor miracles, and the final descent." Booklist
Advertisement