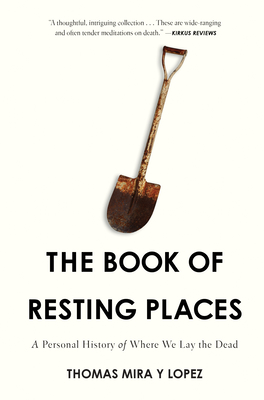 The Book of Resting Places
A Personal History of Where We Lay the Dead
Hardcover

* Individual store prices may vary.
Description
"The Book of Resting Places is Mira y Lopez's account of his travels, from a cemetery to a crematorium to a cryonics company . . . He's looking for the good death, somewhere, anywhere." —The New Yorker



In the aftermath of his father's untimely death and his family's indecision over what to do with the remains, Thomas Mira y Lopez became obsessed with the type and variety of places where we lay the dead to rest. The result is a singular collection of essays that weaves together history, mythology, journalism, and personal narrative into the author's search for a place to process grief.



Mira y Lopez explores unusual hallowed grounds—from the world's largest cryonics institute in southern Arizona to a set of Roman catacombs being digested by modern bacteria, to his family's burial plots in the mountains outside Rio de Janeiro to a nineteenth–century desert cemetery that was relocated for the building of a modern courthouse. The Book of Resting Places examines these overlooked spaces and what they tell us about ourselves and the passing of those we love—how we grieve them, and how we attempt to forget them.
Praise For The Book of Resting Places: A Personal History of Where We Lay the Dead…
Praise for The Book of Resting Places

"The Book of Resting Places is Mira y Lopez's account of his travels, from a cemetery to a crematorium to a cryonics company . . . He's looking for the good death, somewhere, anywhere." —The New Yorker

"In this insightful collection of personal essays, Lopez proves a poetic, thoughtful, and at times surprisingly funny narrator in his quest for the most meaningful way to remember the dead . . . Lopez's contemplation of mortality and memory makes for a collection of quietly profound essays." —Publishers Weekly

"At one point in this debut, a researcher compares excavation to arranging a tapestry—an apt analogy for Mira y Lopez's essay collection itself . . . Each chapter alternates—or weaves—between his personal experience and history, myth, and societal practice." —Booklist

"Mira y Lopez's first book is a thoughtful, intriguing collection of 10 personal essays dealing with the dead and where they end up . . . These are wide–ranging and often tender meditations on death." —Kirkus Reviews

"The Book of Resting Places is admirable for the restlessness and fierceness of its need to work through both its own elegy and the nature of elegies in general. From defunct cemeteries to Canaletto's genius for turning presence to absence to those museums of the self assembled by collectors or hoarders to the nature of parallax to cryonics, it's wryly deft in its associative deployment of useful metaphors in its attempt to come to terms with loss, and shame: what is the safest way to preserve the dead, and to acknowledge the love we sometimes failed to reciprocate?" —Jim Shepard, author of The World to Come and The Book of Aron

"Each place in The Book of Resting Places is haunted. But the deeper we go into Thomas Mira y Lopez's MC Escher painting of a collection, the more we realize that perhaps it is us, not the dead, who haunt the past. An excellent meditation on his father's death and his mother's preparations for her own, this book's loneliness is more than matched by its curiosity and its beauty." —Ander Monson, author of Vanishing Point

"Mira y Lopez is a stunning writer and his debut book, a tender and adventurous exploration of the intimate distances we share with the dead, deserves to be widely read. Artful sentences mirror, page after page, his artful mind. With formal intelligence and quiet wit, he has found death to be a spur to reflection and wholehearted embrace of life. This is a book to savor." —Alison Hawthorne Deming, author of Zoologies: On Animals and the Human Spirit
Counterpoint, 9781619021235, 208pp.
Publication Date: November 14, 2017
About the Author
Thomas Mira Y Lopez is from New York City. He earned an M.F.A. in creative nonfiction from the University of Arizona, and his work has appeared in The Georgia Review, Kenyon Review Online, and The Normal School, among other publications. He currently lives in North Carolina, where he is the 2017–2018 Kenan Visiting Writer at the University of North Carolina at Chapel Hill.
or
Not Currently Available for Direct Purchase