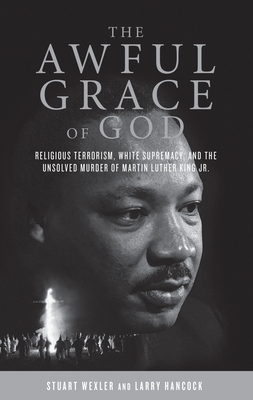 The Awful Grace of God (Paperback)
Religious Terrorism, White Supremacy, and the Unsolved Murder of Martin Luther King, Jr.
Counterpoint LLC, 9781619021549, 439pp.
Publication Date: April 9, 2013
Other Editions of This Title:
Hardcover (3/27/2012)
* Individual store prices may vary.
Description
The Awful Grace of God chronicles a multi-year effort to kill Martin Luther King Jr. by a group of the nation's most violent right-wing extremists. Impeccably researched and thoroughly documented, this examines figures like Sam Bowers, head of the White Knights of the Ku Klux Klan of Mississippi, responsible for more than three hundred separate acts of violence in Mississippi alone; J.B. Stoner, who ran an organization that the California attorney general said was "more active and dangerous than any other ultra-right organization;" and Reverend Wesley Swift, a religious demagogue who inspired two generations of violent extremists. United in a holy cause to kill King, this network of racist militants were the likely culprits behind James Ear Ray and King's assassination in Memphis on April 4th, 1968. Hancock and Wexler have sifted through thousands of pages of declassified and never-before-released law enforcement files on the King murder, conducted dozens of interviews with figures of the period, and re-examined information from several recent cold case investigations. Their study reveals a terrorist network never before described in contemporary history. They have unearthed data that was unavailable to congressional investigators and used new data-mining techniques to extend the investigation begun by the House Select Committee on Assassinations. The Awful Grace of God offers the most comprehensive and up-to-date study of the King assassination and presents a roadmap for future investigation.

About the Author
Stuart Wexler graduated from Tulane University with a degree in history. He now lives and teaches high school in New Jersey, where he won the prestigious James Madison Teachers' Fellowship in 2010. Larry Hancock graduated from the University of New Mexico with a triple major in anthropology, history, and education. He has worked on a variety of historical research projects, including November Patriots and Someone Would Have Talked. He lives in Oklahoma.
or
Not Currently Available for Direct Purchase