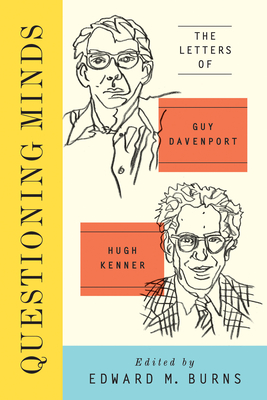 Questioning Minds (Hardcover)
The Letters of Guy Davenport and Hugh Kenner
Counterpoint LLC, 9781619021815, 2016pp.
Publication Date: October 9, 2018
Description
Hugh Kenner (1923-2003) and Guy Davenport (1927-2005) first met in September 1953 when each gave a paper on Ezra Pound at Columbia University. They met again in the fall of 1957, and their correspondence begins with Kenner's letter of March 7, 1958. In the next forty-four years, they exchanged over one thousand letters. Their correspondence about shared enthusiasm is a quarry for those interested in unique perspectives on Pound, Eliot, Joyce, Beckett, Basil Bunting, Charles Tomlinson, R. Buckminster Fuller, Stan Brakhage, Jonathan Williams, and the American modernists, William Carlos Williams, Marianne Moore, and Louis Zukofsky. The correspondence ends with Kenner's letter of August 9, 2002 lamenting how they had drifted apart. With his mentor, Marshall McLuhan, Kenner visited Pound at St. Elizabeth's Hospital in Washington, in June 1948. Later he visited Pound in Venice and Rapallo. Davenport also was a visitor to St. Elizabeths, and, like Kenner, visited Pound in Italy. These letters record their fascination with Pound's intellectual journey and explore how he translated the "brutality of fact" into The Cantos. The extensive notes and cross-referencing of archival sources in Questioning Minds are a major contribution to the study of literary modernism. The letters contained within explore how new works were conceived and developed by both writers. They record faithfully, and with candor, the urgency that each brought to his intellectual and creative pursuits. Here is singular opportunity to follow the development of their unique fictions and essays.
About the Author
GUY DAVENPORT was born in South Carolina and lived for more than forty years in Lexington, Kentucky, where he died in 2005. The author of more than twenty books, including Geography of the Imagination, Eclogues, and The Death of Picasso, he was also a distinguished professor at the University of Kentucky and a MacArthur Fellow in 1990. HUGH KENNER (1923-2003), literary critic and distinguished Joyce scholar, held academic posts at the University of California, Santa Barbara, Johns Hopkins University and the University of Georgia. He was the author of twenty books, including The Pound Era, Joyce's Voices and The Homemade World. EDWARD M. BURNS is Professor Emeritus at William Paterson University of New Jersey. He has edited The Letters of Alice B. Toklas, The Letters of Gertrude Stein and Carl Van Vechten, The Letters of Gertrude Stein and Thornton Wilder, A Tour of the Darkling Plain: The 'Finnegans Wake' Letters of Thornton Wilder and Adaline Glasheen, and A Passion for Joyce: The Letters of Hugh Kenner and Adaline Glasheen. He served as an editor of Text and its successor journal Textual Cultures.
Advertisement