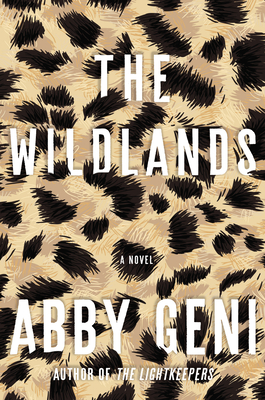 The Wildlands
Hardcover

* Individual store prices may vary.
Other Editions of This Title:
Paperback (8/13/2019)
Compact Disc (9/4/2018)
MP3 CD (9/4/2018)
Compact Disc (9/4/2018)
Pre-Recorded Audio Player (9/4/2018)
Description
Named one of BuzzFeed's Best Fiction of 2018 Geni's character-driven environmental thriller--think Silent Spring by way of Celeste Ng--centers on the survivors of a tornado that destroys an Oklahoma farm and kills the family's father. --O, The Oprah Magazine When a Category Five tornado ravaged Mercy, Oklahoma, no family in the small town lost more than the McClouds. Their home and farm were instantly demolished, and orphaned siblings Darlene, Jane, and Cora made media headlines. This relentless national attention in the tornado's aftermath caused great tension with their brother, Tucker, who soon abandoned his sisters and disappeared. On the three-year anniversary of the tornado, a bomb explodes in a cosmetics factory outside of Mercy, and the lab animals trapped within are released. Tucker reappears, injured from the blast, and seeks the help of nine-year-old Cora. Caught up in the thrall of her charismatic brother, whom she has desperately missed, Cora agrees to accompany Tucker on a cross-country mission to make war on human civilization. Cora becomes her brother's unwitting accomplice, taking on a new identity while engaging in acts of escalating violence. Darlene works with Mercy police to find her siblings, leading to an unexpected showdown at a zoo in Southern California. The Wildlands is another remarkable literary thriller from critically acclaimed writer Abby Geni, one that examines what happens when one family becomes trapped in the tenuous space between the human and animal worlds.
Praise For The Wildlands…
Praise for The Wildlands

"With skillful prose, you'll sympathize with Cora, a girl who must learn how to differentiate between love and family." —Women.com, 1 of 15 Awesome Books with Strong Female Protagonists

Praise for The Lightkeepers

Winner of the 2016 B&N Discover Great New Writers Award for Fiction
Longlisted for the Center for Fiction's First Novel Prize
Winner of the 2016 Chicago Review of Books Award for Fiction
AudioFile Earphones Award

"Abby Geni's sense of place in her magnificent novel The Lightkeepers reminded us of Eowyn Ivey's Alaska in The Snow Child; Geni's prose reminded us of last year's Discover Award winner (fiction), All the Birds, Singing by Evie Wyld." —Barnes & Noble Discover Great New Writers Spring 2016

"It's become customary—the fallback consolation of the book reviewer—to say that one is eager to see what a writer will do next. But in fact that is the case here. Ultimately, what engages us in The Lightkeepers, beyond its energetic plot, is the sense of watching its author discover her ability to construct a suspenseful narrative. And we finish this novel curious to find out what sorts of stories Abby Geni will choose to tell." —Francine Prose for the New York Times Book Review

"A book that never loosens its spell… The language is as startlingly rich as the terrain, making you look at everything as if you had never seen it before… Geni expertly propels her story into a breathtakingly shocking climax. The nature she describes has no sense of right or wrong. And what's more frightening, neither do her characters, and in this stunning debut, both pull you in and hold you like a riptide." —The San Francisco Chronicle

"Like many literary classics and novels that are destined to be classics, The Lightkeepers raises questions about humanity that are anything but light. Unlike many classics, it's an accessible page-turner whose surprises, both fictional and stylistic, unfold so satisfyingly that the novel is also a pleasure to read." —The Chicago Tribune

"1 of 10 titles to pick up now." —O, The Oprah Magazine

"Not to be missed." —Entertainment Weekly

"Great new fiction." —People Magazine, 1 of 12 Best New Books for January

"The success of every Hitchcock film ever was built on three things: suspense, surprise and shock. The same could be said of The Lightkeepers, Abby Geni's unnervingly fun new novel… Murder mystery meets psychological thriller meets Darwinian ode in this compelling debut. Geni is a master of elegant plot twists, and her poignant payoff will leave you satisfied but also wanting a bit more time on the island." —PureWow

"Chimeric, constantly shifting from mystery to travelogue to natural horror and beyond. For the first one hundred pages, Geni is content to build tension and atmosphere through pure, distilled prose, foregoing any direct attempts to kickstart the plot. And then, violence. In the end, Geni's transcendent novel is as merciless, strange, and coldly beautiful as the islands she describes... The Lightkeepers is a haunting, brutal, rain- and blood-soaked story of humans at the mercy of nature... With The Lightkeepers, Geni joins the ranks of Barbara Kingsolver and Annie Proulx—novelists for whom nature is a driving narrative force instead of a backdrop. However, Geni's debut is a few shades darker than Prodigal Summer or Close Range, and instead of Kingsolver and Proulx's architectural prose, Geni writes in small, perfect sentences stripped of ornamentation, often single clauses. It's a beautiful effect; pages pass quickly and effortlessly. By the novel's end, you'll crave another journey with Geni to some other wild, forgotten corner of the globe." —Chicago Review of Books

"With her debut novel The Lightkeepers, a beautifully written literary thriller, Abby Geni cleverly ushers the Farallons into the literary fold… Geni's book joins Island of the Blue Dolphins, an old childhood favorite of mine, in something I've deemed the "California Island" literature canon… The corporeal, technicolor sentences in The Lightkeepers allow us to visit, to inhabit a wild gem of the Bay Area, without actually interfering—as humans are prone to do—with the island's brutal grace." —KQED Arts

"Abby Geni's debut novel The Lightkeepers is as wild as the landscape it describes: a nature photographer embarks on a one-year residency in an isolated, dangerous archipelago of islands off the Californian coast, only to encounter violence and a set of companions she cannot trust. Mysterious, vivid, and original, The Lightkeepers will quickly ensnare readers in its cruelly beautiful world." —Buzzfeed

"The six biologists of the Farallon Islands, like the animals they observe, survive on instinct. Even as they analyze and obsess, they act upon each other with ferocity, with tenderness, with primal need. We are as captivated by, as trapped by, these islands as the characters—and no one in this hypnotic story, including the reader, stands on solid ground. The Lightkeepers is a stunner: intense, surefooted, masterful. This is a book to swallow whole." —Rebecca Makkai, author of Music for Wartime

"What a strange, wonderful novel this is. At once a soaring paean to the natural world and a story filled with mystery and intrigue as deep and dark as the sea. The Lightkeepers is mesmerizing." —Cristina Henriquez, author of The Book of Unknown Americans

"Part ghost story, part murder mystery, part meditation on the cruel impartiality of nature, The Lightkeepers holds the reader enthralled in the grasp of an achingly vulnerable, creepingly unreliable narrator. Evocative of Lily King's Euphoria, this riveting debut novel is both an exotic escape from the familiar world and an unflinching exploration of the universality of human nature." —Gina Frangello, author of Every Kind of Wanting

"A remarkable debut novel." —Bustle

"The strange and desolate Farallon Islands serve as the backdrop for this evocative and enchanting debut novel. Geni writes with the clear, calm confidence of a master storyteller. This is a haunting and immersive adventure, set in an unforgettable, wild habitat of its own." —Publishers Weekly (starred and boxed review)

"Geni follows her distinctive short story collection, The Last Animal (2013), with a first novel of gripping, talon-sharp intensity… As the plot turns violent and suspenseful, and the mesmerizingly vivid descriptions reach shivery crescendos of shocking revelations, Geni dramatically meshes the grand, menacing power of the ruthless wild with the mysteries and aberrations of the equally untamed human psyche." —Booklist (starred review)

"Miranda's travelogue, at once emotional and dreamy and rendered in crisp, stunning prose, is so central to the book that readers may at times forget the underpinnings of the locked-room mystery or brush off the question of her reliability as a narrator. And yet, at other times, the expository velocity is so unrelenting that the prose could almost get lost in the momentum. But not entirely—Geni may be unmatched in her ability to describe nature in ways that feel both photographically accurate and emotionally resonant. Natural wildness, human unpredictability, and the subtle use of literary devices are woven here into a remarkable, vertiginous web." —Kirkus Reviews (starred review)

"A dazzling debut. With The Lightkeepers, Geni has crafted a novel filled with wide-open spaces and also a creeping claustrophobia. The setting takes on the role of a character, and the Farallons are masterfully brought to life on the page through Geni's luminous prose. There is a soothing, hypnotic quality to Geni's writing—and an unexpected tenderness, too, one that belies the thick sense of malice and increasing sense of dread that swirls about Miranda's island home. Though some of the plot points are predictable, the story is rife with satisfying surprises, in large part because of the successful air of uncertainty that surrounds Miranda's narration. Riveting from beginning to end, The Lightkeepers is unsettling in all the best ways." —BookPage

"The Lightkeepers is an easy recommendation for readers of all genres. The excitement of the novel lies in its undercurrent of suspicion. Each character is just complicated enough, each excursion just dangerous enough, and each passage just suspicious enough to keep the reader on edge and guessing until the last page." —BookBrowse

"As Geni's novel makes explicit from its earliest pages, the islands are dangerous, and they emerge immediately as a character, vivid as the protagonist despite having no voice of their own… Geni has taken her time to build up to a closing revelation, and the passages of nature writing, of which there are many, are fascinating; some can evoke both the mystery and the menace of the wilds, demonstrating how people can simultaneously be enchanted by and terrified of unknowable and impenetrable life." —Full Stop

"Geni's novel The Lightkeepers is the perfect ghost story, and so much more. It is full of a deep, detached sorrow—it is frightening, upsetting, disturbing. It creeps up on you. It embodies the sensation of looking over your shoulder in a dark room, and finding nothing there... What The Lightkeepers does so successfully is moor us in a fog of unreality, where it is unclear what is real and what is merely a shape in the mist... Rarely have I ever seen a piece of literature capture loss so accurately, and so beautifully. It paints loss as an absence so powerful that it becomes its own presence—like the light and dark that define a black-and-white photograph... The Lightkeepers is not a novel that can be summed up in a neat concluding line. It is brutal. It is lovely. It is both of these things at once. The darkness borders the light, defining its limits, lending greater depth. In the end, they are inextricable." —The Literary Review

Praise for The Last Animal
A Finalist for the 2014 Orion Book Award for Fiction
Indies Introduce Debut Authors (Selection, Fall 2013)
2014 Friends of American Writers Literary Award

"I have known for a while that Abby Geni is a brilliant writer, and I'm happy that at last the world will find out. These are sharp, incisive, thoughtful, and utterly original stories, and I recommend this book with all my heart!" —Dan Chaon, National Book Award Finalist, author of Ill Will

"Abby Geni's worlds exist at the boundary between desolation and abundance, civilization and nature, love and loneliness. It is as if everything and everyone in these beautiful stories is at least half wild." —Ramona Ausubel, author of Sons and Daughters of Ease and Plenty

"Abby Geni is a sharpshooter, a tamer of wild animals, a clear-eyed wonder. The Last Animal is a phenomenally ambitious debut collection and announces Geni's many talents to the world with the volume of a herd of stampeding elephants. I loved this book, and you will, too." —Emma Straub, author of Modern Lovers

"Combining the cool precision of a naturalist with the heart of a born storyteller, Abby Geni catalogues an astounding array of characters whose lives have been undone by the mysterious departures and disappearances of loved ones. Instead of solving these mysteries, she plunges us deeper into them, and the results, like so many of the creatures in this book, are strange, haunting, and beautiful." —Jim Gavin, author of Middle Men

"The Last Animal is a work of rare insight and beauty. Abby Geni's vision is expansive and haunting and wholly new, and she illuminates her characters' loneliness and longing in a way that will break your heart. This book is about love and animals and loss and the whole world; you must read it." —Karen E. Bender, author of Refund

"It's rare to find a single story that's both highly imaginative while also unflinchingly earnest, thrilling while also deeply moving and wise. With The Last Animal we get ten stories that fulfill this ambitious criteria, and an amazing collection that announces Abby Geni as a powerful and original new voice in fiction." —Alan Heathcock, author of Volt

"Human predicaments are complemented by the wild natural world in this excellent debut story collection from Chicago-based author Geni. The characters and events here are unusual and far-reaching, but Geni's careful craftsmanship renders them immediate and real. Each story is threaded with page-turning, deeply felt tension, yet each has also been planted with a seed of magic in varying stages of growth.. An entrancing collection, recommended even for those who generally shy away from short story." —Kirkus Reviews (starred review)

"The short stories in Geni's debut collection beautifully reveal how exposure to nature helps people in emotional pain to recover. In each well-researched piece, Geni vividly depicts the setting, as well as the animals or plants that play important roles… All ten stories here are wonderfully written, with precise language and a true compassion for the hardships of the characters. Highly recommended." —Library Journal (starred review)

"Geni's first book puts us on notice. Here is a fiction writer who perceives the many forms of consciousness at work on the planet. In shrewd, sure stories, Geni registers the life force of trees, deciphers the confusions of human emotions, and considers the mystery of our interactions with other species… Endangerment, disappearance, isolation, love adrift, the attempt to hold on to and define life—Geni illuminates each condition and effort with keen realism and empathetic imagination to wondrously disquieting effect." —Booklist

"The Last Animal by Abby Geni is the rare short story collection that's as coherent and powerful as a well-constructed novel. It begs to be read straight through rather than sampled casually. Although each story stands on its own, as an ensemble, their brilliance becomes apparent… Geni's prose is clean and slightly dreamlike, in an intimate voice that lingers occasionally on glimmering sensory details… Reading The Last Animal is like glimpsing a distant, hauntingly familiar shore illuminated by the rotating beam of a lighthouse." —Shelf Awareness, (starred review)

"Abby Geni's debut short story collection, The Last Animal, seeks, in her own words, to explore 'one of the great illusions of the human experience… that we are somehow outside of nature—beyond the food chain—that we are not animals ourselves.' It's an enduring premise that still feels ripe with possibility—a post-Romantic examination of man vs. nature, prehistory vs. technology, intellect vs. instinct. It's eons subtler than Planet of the Apes, far less satirical than Animal Farm, less epic than Moby Dick, and absent of anthropomorphism. Rather, it's a plainspoken, earnest collection that finds its home somewhere between Megan Mayhew Bergman's quietly moving Birds of a Lesser Paradise and Lydia Millet's darkly absorbing How the Dead Dream." —KGB Bar & Lit Journal


Counterpoint LLC, 9781619022348, 368pp.
Publication Date: September 4, 2018
About the Author
Abby Geni is the author of The Lightkeepers, winner of the 2016 Barnes & Noble Discover Great New Writers Award for Fiction and the inaugural Chicago Review of Books Award for Best Fiction.