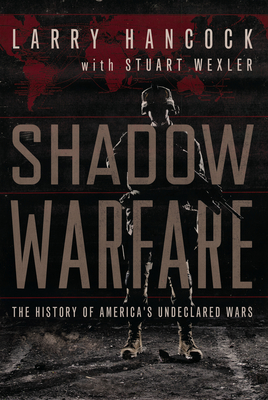 Shadow Warfare
The History of America's Undeclared Wars
Hardcover

* Individual store prices may vary.
Other Editions of This Title:
Paperback (3/17/2015)
Description
Contrary to its contemporary image, deniable covert operations are not something new. Such activities have been ordered by every president and every administration since the Second World War. In many instances covert operations have relied on surrogates, with American personnel involved only at a distance, insulated by layers of deniability.

Shadow Warfare traces the evolution of these covert operations, detailing the tactics and tools used from the Truman era through those of the contemporary Obama Administrations. It also explores the personalities and careers of many of the most noted shadow warriors of the past sixty years, tracing the decade–long relationship between the CIA and the military.

Shadow Warfare presents a balanced, non–polemic exploration of American secret warfare, detailing its patterns, consequences and collateral damage and presenting its successes as well as failures. Shadow Wars explores why every president from Franklin Roosevelt on, felt compelled to turn to secret, deniable military action. It also delves into the political dynamic of the president's relationship with Congress and the fact that despite decades of combat, the U.S. Congress has chosen not to exercise its responsibility to declare a single state of war – even for extended and highly visible combat.
Counterpoint, 9781619022447, 368pp.
Publication Date: March 18, 2014
About the Author
Larry Hancock is considered one of the top investigative researchers in the areas of intelligence and national security. He is the author of four books, including Nexus: The CIA and Political Assassination, and coauthor of The Awful Grace of God, a study of religious terrorism, white supremacy, and the murder of Martin Luther King Jr. Hancock's books have received endorsements and praise from former House Select Committee of Investigations staff members and the former Joint Historian for the State Department and Central Intelligence Agency. He lives in Oklahoma.

Stuart Wexler is coauthor of The Awful Grace of God. His work has been featured in the The Boston Globe, USA Today, and on NBC News. Wexler's work on forensics and historical crimes helped win him a national award from the American Statistical Association in 2008. He lives in New Jersey.
or
Not Currently Available for Direct Purchase