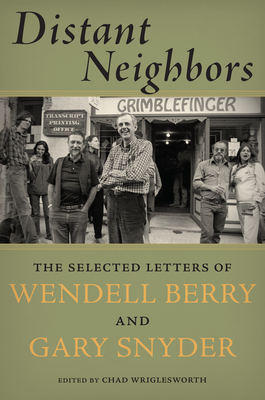 Distant Neighbors: The Selected Letters of Wendell Berry and Gary Snyder (Hardcover)
The Selected Letters of Wendell Berry and Gary Snyder
Counterpoint LLC, 9781619023055, 288pp.
Publication Date: June 3, 2014
Description
In 1969 Gary Snyder returned from a long residence in Japan to the Sierra foothills, where he intended to build a house and settle with his wife and sons. He had just published his first book of essays, Earth House Hold. A few years before, Wendell Berry left New York City for farmland in Port Royal, Kentucky, where he built a small studio and lived with his wife. Berry had just published Long-Legged House. These two founding members of the counterculture had yet to meet, but they knew each other's work and soon began a correspondence. Neither man could have imagined the impact their work would have on American political and literary culture, nor the impact they would have on one another. They exchanged more than 240 letters from 1973 to 2013, bringing out the best in each other as they grappled with faith and reason, discussed home and family, worried over the disintegration of community and commonwealth, and shared the details of the lives they'd chosen with their wives and children. None can be unaffected by the complexity of their relationship, the subtlety of their arguments, and the grace of their friendship. This is a book for the ages.

About the Author
Wendell Berry continues to live and work with his wife, Tanya Berry, on their hillside farm in Kentucky. Gary Snyder still lives on his homestead in the Sierra foothills, and is a neighbor and community activist in the Yuba River Watershed. Chad Wriglesworth is Assistant Professor of English at St. Jerome's University in the University of Waterloo.
Advertisement