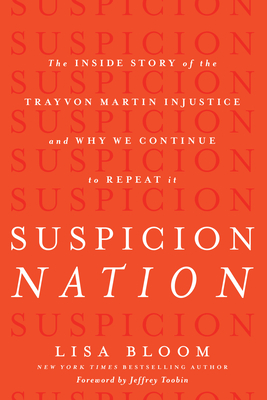 Suspicion Nation (Hardcover)
The Inside Story of the Trayvon Martin Injustice and Why We Continue to Repeat It
Counterpoint LLC, 9781619023277, 318pp.
Publication Date: February 25, 2014
Other Editions of This Title:
Paperback (2/10/2015)
MP3 CD (9/16/2014)
Compact Disc (2/3/2015)
Compact Disc (3/4/2014)
MP3 CD (3/4/2014)
MP3 CD (3/4/2014)
Compact Disc (3/4/2014)
* Individual store prices may vary.
Description
What went wrong behind the scenes in the Trayvon Martin case? Why does America endure so many tragic shootings like this one? These are the questions at the heart of Suspicion Nation. Bestselling author, trial attorney, and NBC News analyst Lisa Bloom covered the murder trial and was appalled by what she witnessed. Bloom now exposes the injustice, conducting new in-depth interviews with key trial participants and digging deeper into the evidence. Suspicion Nation outlines the six biggest mistakes made by the state of Florida that guaranteed it would lose this "winnable case," and the laws and biases that created the conditions for this tragedy. The only nonwhite juror tells her story of painful isolation in the jury room. Rachel Jeantel, the state's star witness, reveals how poorly the state prepared her to testify and what went through her mind on the stand. The medical examiner reveals scientific evidence he wasn't allowed to present. And a new examination of Trayvon's school suspensions raises questions about racial profiling, all in a country divided over issues of race, gun laws, and violence. Suspicion Nation is a riveting courtroom drama that shines a bright light on a case we only thought we knew.

About the Author
Lisa Bloom is an award-winning journalist, legal analyst, trial attorney, and is currently the legal analyst for the Today Show and NBC News. A daily fixture on American television for the last decade, Lisa regularly appears on CNN, HLN, and MSNBC. Bloom is also the author of the bestselling Swagger and Think. She has been featured on Oprah, Nightline, Today, Good Morning America, and many other shows. She has written numerous articles for the New York Times, the Los Angeles Times, Huffington Post, the National Law Journal, CNN.com, the Daily Beast, and many more. She has also been profiled, featured, and quoted in hundreds of publications, including the New York Times, the Washington Post, Elle, Ladies' Home Journal, California Lawyer, Vegetarian Times, and Variety. She currently lives in Los Angeles where she runs her law firm, The Bloom Firm.
Praise For Suspicion Nation: The Inside Story of the Trayvon Martin Injustice and Why We Continue to Repeat It…
Praise for Suspicion Nation:

A smart, fresh, powerful telling of the trial that riveted our country. Suspicion Nation is a stunning eye-opener about the Zimmerman case -- a 'must-read' for every intelligent American." Linda Fairstein, New York Times bestselling author

"With the mind of a lawyer and the eye of a journalist, Bloom achieves a remarkable double success: meticulously examining the evidence in this case while also placing the whole Zimmerman saga in a broad historical and cultural context." Jeffrey Toobin, New York Times bestselling author of The Nine and The Oath

Lisa Bloom brings her expert legal eye to the lethal cocktail of racial inequality, ludicrously outdated gun laws, and a culture of violence that led to the senseless killing of an unarmed seventeen-year-old boy. Read this book, get angry, and demand change." Piers Morgan, host of CNN's Piers Morgan Live.

"Riveting and brilliantly done. Suspicion Nation reads like a great courtroom drama and will ignite major re-examination of this iconic case." Joy-Ann Reid, MSNBC Anchor

Suspicion Nation gets to the heart of all matters, both legal and racial. Lisa Bloom has given us a riveting analysis of one of the most profoundly disturbing cases of our time. Don't miss this book." Marcia Clark, New York Times bestselling author and lead prosecutor, California v. OJ Simpson

This book is a crusading call for change and a penetrating inventory of our racially divided country. It is a tribute to Bloom's candor that Suspicion Nation will make readers squirm. Her message has the potential to inspire a national dialogue, if we have the courage to read it." Jami Floyd, Legal Contributor, Al Jazeera America

We know that somewhere the Trayvon Martin case went awry, but in Suspicion Nation Lisa Bloom shows us how wrong and reveals a lot we don't know about the case. Like a great civil rights lawyer Lisa has fought the good fight and exposed injustice." Toure, author of Who's Afraid of Post-Blackness
or
Not Currently Available for Direct Purchase