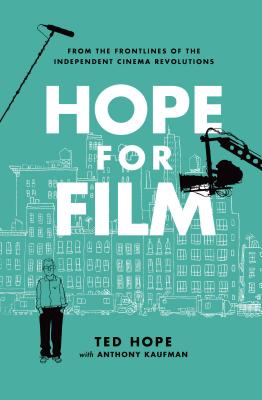 Hope for Film (Hardcover)
From the Frontlines of the Independent Cinema Revolutions
Soft Skull Press, 9781619023321, 308pp.
Publication Date: August 5, 2014
Description
An inspiring, tell-all look at the indie film business from one of the industry's most passionate producers, Hope for Film captures the rebellious punk spirit of the indie film boom in 1990s New York City, its collapse two decades later and its current moment of technology-fueled regeneration. Ted Hope, whose films have garnered 12 Oscar nominations, draws from his own personal experiences working on the early films of Ang Lee, Eddie Burns, Hal Hartley, Michel Gondry, Nicole Holofcener, Todd Solondz and other indie mavericks, relating those decisions that brought him success as well as the occasional failure. Whether navigating negotiations with Harvey Weinstein over final cuts or clashing with high-powered CAA agents over their clients, Hope offers behind-the-scenes stories from the wild and often heated world of low-budget cinema--where art and commerce collide. As mediator between these two opposing interests, Hope offers his unique perspective on how to make movies while keeping your integrity intact and how to create a sustainable business enterprise out of that art while staying true to yourself. Against a backdrop of seismic changes in the indie-film industry, from corporate co-option to the rise of social media, Hope for Film provides not only an entertaining and intimate ride through the ups and downs of the business of art-house movies over the last 25 years, but also hope for its future.
About the Author
Ted Hope is one of the most respected voices in independent film. As the creator, editor and regular contributor to HopeForFilm.com blog, Hope provides a must-read forum for discussion and engagement about the critical issues faced by filmmakers, artists, and the film industry in today's global, market-driven economy. A true expert in the field, a survey of his 65 plus films includes many highlights and breakthroughs in independent cinema, including Ang Lee's "The Ice Storm, " Shari Springer vBerman and Robert" Pulcini's "American Splendor, " Alejandro Gonzalez Inarritu's "21 Grams, " Todd Solondz's "Happiness, " Sean Durkin's "Martha Marcy May Marlene, " and Greg Mottola's "Adventureland, " amongst many others. In 1990 he cofounded with James Schamus the production and sales powerhouse Good Machine, which was sold to Universal in 2002. Known within the industry for having an extraordinary ability to recognize emerging talent, Hope has more than 20 first features to his credit, including those of Alan Ball, Todd Field, Michel Gondry, Hal Hartley, Nicole Holofcener, et al. In September 2012, Hope left a lifetime in New York City to take leadership of the San Francisco Film Society as Executive Director, where he is providing a launchpad for film lovers and filmmakers to participate in the broadest definition of cinema by creating innovative programs for the creation, appreciation and monetization of the art form. He is also an exciting and prolific voice on Twitter with over 30,000 followers, and has contributed to numerous publications, including "The New York Times" and "Filmmaker Magazine. "
Advertisement