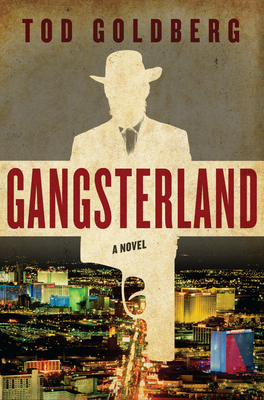 Gangsterland
A Novel
Hardcover

* Individual store prices may vary.
Other Editions of This Title:
Digital Audiobook (2/2/2015)
Paperback (8/11/2015)
Compact Disc (2/3/2015)
MP3 CD (2/3/2015)
Compact Disc (2/3/2015)
Description
"[An] exciting and darkly funny crime novel." —C. Moon Read, Las Vegas Weekly, 1 of Our 20 Favorite Books of the Past Twenty Years

Sal Cupertine is a legendary hit man for the Chicago Mafia, known for his ability to get in and out of a crime without a trace. Until now, that is. His first–ever mistake forces Sal to botch an assassination, killing three undercover FBI agents in the process. This puts too much heat on Sal, and he knows this botched job will be his death sentence to the Mafia. So he agrees to their radical idea to save his own skin.

A few surgeries and some intensive training later, and Sal Cupertine is gone, disappeared into the identity of Rabbi David Cohen. Leading his growing congregation in Las Vegas, overseeing the population and the temple and the new cemetery, Rabbi Cohen feels his wicked past slipping away from him, surprising even himself as he spouts quotes from the Torah or the Old Testament. Yet, as it turns out, the Mafia isn't quite done with him yet. Soon the new cemetery is being used as both a money and body–laundering scheme for the Chicago family. And that rogue FBI agent on his trail, seeking vengeance for the murder of his three fellow agents, isn't going to let Sal fade so easily into the desert.

Gangsterland is the wickedly dark and funny new novel by a writer at the height of his power—a morality tale set in a desert landscape as ruthless and barren as those who inhabit it.
Praise For Gangsterland: A Novel…
Praise for Gangsterland:

Criminal Element, 1 of 15 Crime Novels as Funny as They Are Gritty

"In his plotting, dialogue and empathy for the bad guys, Goldberg aspires to the heights of Elmore Leonard. For those who miss the master, Gangsterland is a high–grade substitute." —New York Times Daily Review

"…[a] cleverly spun novel that forced me to abandon my wiseguy moratorium. Goldberg has an amusing flair for contemporary hard–boil, and he knows his crime and crime–fighting procedures." —Las Vegas Weekly

"As sharp as a straight razor. But a lot more fun. Count me a huge fan." —Lee Child, New York Times bestselling author of Personal: A Jack Reacher Novel

"Gangsterland is rich with complex and meaty characters, but its greatest strength is that it never pulls a punch, never holds back, and never apologizes for life's absurdities. If this novel were a person, you could ask it for a bookie." —Brad Meltzer, bestselling author of The Fifth Assassin

"Tod Goldberg is a one–of–a–kind writer, and this is his best novel to date. Harrowing, funny, wise, and heretical,Gangsterland is everything a thriller should be."—T. Jefferson Parker, author of Full Measure

"Let's get this part out of the way: Gangsterland is a thriller, and provides a crackling good read for any fan of the genre. But the truth is, to call this book merely a thriller is inaccurate. It's also a whip–smart comedy, a sublime morality play, and a gleefully blasphemous investigation of what and why we worship. There's something for everyone here. Just make sure you set aside a good chunk of time, because once you start reading you won't want to stop." —Ron Currie, Jr., author of God is Dead

"Clearly influenced by the great Elmore Leonard, Goldberg puts his own dry comic spin on the material…Clever plotting, a colorful cast of characters, and priceless situations make this comedic crime novel an instant classic." —Kirkus, Starred Review

"Goldberg injects Talmudic wisdom and a hint of Springsteen into the workings of organized crime and FBI investigative techniques and makes it all work splendidly."—Publishers Weekly Starred Review

" The Mafia plus the Torah makes for a darkly funny and suspenseful morality tale...[Goldberg] can spin a good yarn." —The Millions

"Sal's transformation—and intermittent edification—into Rabbi Cohen is brilliantly rendered, and Goldberg's careening plot, cast of memorably dubious characters, and mordant portrait of Las Vegas make this one of the year's best hard–boiled crime novels."—Booklist, Starred Review

"Goldberg's new book is clever bordering on wise, like Get Shorty on antacid." — David Kipen, Los Angeles Magazine

"Gangsterland is Tod Goldberg at the height of his hilarious and incisive and hell–bent powers as a writer of who we are and what we thought we wanted and how we tried to stay alive in America —if we were insanely funny and contemplative hit men. No one does Vegas, the desert, money, and mayhem like Goldberg. I stayed up six nights in a row reading, unable to put this book down because I couldn't wait to see how he'd play each card." —Susan Straight, author of Between Heaven and Here

"Infinitely readable, infinitely funny, and infinitely better than anything else you'll read this year!" —Craig Johnson, author of the Walt Longmire Mysteries and the basis for A&E's hit series Longmire

"This ribbing of contemporary Jewish life — or taste–challenged American affluence in general — runs through the book, though it's mostly gentle. The book's real bite comes from its exposure of corrupt religious authority, and the story is at its best when it's mocking our unquestioning acceptance of whatever morsels of wisdom our leaders decide to feed us. (For all we know, they could moonlight as hit men. Or writers.).... Gangsterland... is a modern story, written for readers who like their imaginary characters to live in the real world." —Los Angeles Book Review

"Just when you thought the mafia novel was dead, Tod Goldberg breathes new life into it. Gangsterland, the best mafia novel in years, is a dark, funny, and smart page–turning crime story. It's also a moving, thoughtful meditation on ethics, religion, family, and a culture that eats itself. I loved this book." —Sara Gran, author of Claire DeWitt and the Bohemian Highway

"With his eye for human detail and trademark wit, as dry as a desert breeze, Tod Goldberg charts Sal Cupertine's unlikely transition from stone–cold mob hitman to Las Vegas rabbi. This tale of witness relocation–by–mob—part Elmore Leonard, part Theatre of the Absurd—is a compelling examination of salvation, which comes in various guises and moves in elusive ways. A wholly unique tale from a wholly unique voice." —Gregg Hurwitz, New York Times bestselling author of Don't Look Back

"Tod Goldberg has long been one of the most interesting writers around, and Gangsterland is his biggest and best book so far." —Thomas Perry

Praise for Tod Goldberg:

"Tod Goldberg is a gifted writer, a surveyor of the soul and Other Resort Cities is powerful fiction. He catches his characters at moments of great stress, then reveals their depths to us with compelling insight and great empathy. He sure as hell knows the details that convince. These are inventive and fresh stories that might have been merely clever in lesser hands, but Goldberg's talent and compassion extends dignity even to the most fucked–up and misbegotten lives." —Daniel Woodrell, author of The Death of Sweet Mister and Winter's Bone.

"A keen voice, profound insight...Tod Goldberg's fine ear for dialogue and for the spoken nuances of social microstrata enable him to dispense with reams of descriptive background and cut straight to the heart of the matter. If sometimes his overwhelmed characters fail to fully engage emotionally, their deadpan delivery of jolting ironies reaches to laugh–out–loud heights of insight. Even the collection's title has a sardonic ring. While hardly simple, "Simplify" is devilishly entertaining." —Los Angeles Times

"Everybody dies at the end of a Tod Goldberg story. Well, almost. The ones who don't die — violently, through hangings, shots to the heart, slit wrists, drownings, murders — are left to deal with the emotional and psychological fallout. They are the mothers, fathers, younger brothers and sisters in Goldberg's creepy, strangely sardonic, definitely disturbing version of Middle America...And that, of course, is where the fun begins." —LA Weekly

"Goldberg's work is an eclectic collection of realist and surrealist storytelling...startling and shuddersome." ––TimeOut Chicago

"It's rare to find a book that can evoke such strong emotions within a single collection, however, Tod Goldberg's Simplify is a force to be reckoned with." ––Bookslut.com

"The stories on the whole are powerful, provocative and a pleasure to read. The title entry, in particular, is a minor masterpiece." ––Crime Fiction Dossier

"The stories in this collection hum with speed and ferocity and a raw energy that exposes your nerve endings, wakes up places inside of you that you had happily lulled to sleep. The sharp–edged, hard–luck boys that populate these pages know exactly how you feel at two in the morning and are telling the truth about it. Simplify is ruthless and tender, truthful, full of heart and scary in all the right ways." —Pam Houston, Cowboys Are My Weakness

"Energized, engaging, highly readable–– each one of Tod Goldberg's stories is a nugget of originality. I started each new story with fresh interest, wondering where he would take me next–– to bleeding Elvis, or the Salton Sea, or through the strange way childhood cruelty rearranges adulthood. A terrific collection." —Aimee Bender, The Color Master and The Particular Sadness of Lemon Cake

"[Living Dead Girl is] an evocative read full of seductive prose, sharply focused characters, and a microcosmic world fraught with human sadness." —Library Journal

"Tod Goldberg is an amazing true original who plunges deep into the scary heart of our American life. Hilarious and unnerving, charming and creepy, dusted with a strange, ineffable melancholy, these stories made the hair on my head stand up and my eyes fall out." —Dan Chaon, Among The Missing and Await Your Reply

"Tod Goldberg's stories are not like faceted jewels. They are like glinting barbed wire, actually, roped across the field where you are reading, racing, wondering what's next, and then pierced with longing, regret, or revelation. His new collection kept me reading like that – racing to find out what would happen next to these people only Tod Goldberg could create." —Susan Straight, Highwire Moon and Between Heaven and Here

"Goldberg continues his examination of the human condition, detailing the struggle between a corporeal existence versus an ethereal wane, with each character asking the questions: is this really my reality or have I simply dreamed the whole damn thing?" —NewPages

"Goldberg's prose is deceptively smooth, like a vanilla milkshake spiked with grain alcohol, and his ideas are always made more complex and engaging by the offbeat angles his stories take." —Chicago Tribune

"These are eerie, obliquely compassionate, darkly humorous, and ensnaring stories of misery and catharsis." —Booklist
Counterpoint, 9781619023444, 464pp.
Publication Date: September 9, 2014
About the Author
Tod Goldberg is the author of more than a dozen books, including Gangsterland, a finalist for the Hammett Prize; The House of Secrets, which he coauthored with Brad Meltzer; and the crime–tinged novels Living Dead Girl, a finalist for the Los Angeles Times Book Prize, and Fake Liar Cheat, plus five novels in the popular Burn Notice series. He is also the author of the story collection Simplify, a 2006 finalist for the SCIBA Award for Fiction and winner of the Other Voices Short Story Collection Prize, and Other Resort Cities. His essays, journalism, and criticism have appeared in many publications, including the Los Angeles Times, The Wall Street Journal, Los Angeles Review of Books, Las Vegas Weekly, and Best American Essays, among many others, and have won five Nevada Press Association Awards. He lives in Indio, California, where he directs the Low Residency MFA in Creative Writing & Writing for the Performing Arts at the University of California, Riverside.
or
Not Currently Available for Direct Purchase