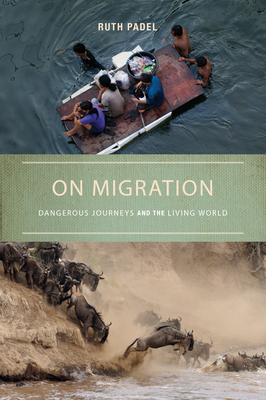 On Migration (Paperback)
Dangerous Journeys and the Living World
Counterpoint LLC, 9781619024335, 272pp.
Publication Date: September 9, 2014
* Individual store prices may vary.
Description
"Life began with migration." In a magnificent tapestry of life on the move, Ruth Padel weaves poems and prose, science and religion, wild nature and human history, to conjure a world created and sustained by migration. "We're all from somewhere else," she begins. "Migration builds civilization but also causes displacement." From the Holy Family's Flight into Egypt, the Lost Colony on Roanoke, and the famous photograph 'Migrant Mother', Padel turns to John James Audubon's journey from Haiti and France, heirlooms carried through Ellis Island, Kennedy's "society of immigrants" and Casa del Migrante on the Mexican border. But she reaches the human story through the millennia-old journeys of cells in our bodies, trees in the Ice Age, Monarch butterflies travelling from Alaska to Mexico. As warblers battle hurricanes over the Caribbean and wildebeest brave a river filled with the largest crocodiles in Africa, she shows that the truest purpose of migration for both humans and animals is survival.

About the Author
Ruth Padel is a British poet and writer devoted to conservation, music and Greece. She has published a novel, eight poetry collections including a lyric biography of her great great grandfather Charles Darwin, and eight works of non-fiction including a firsthand account of wild tiger conservation. She is a Fellow of the Royal Society of Literature, a Council Member for the Zoological Society of London, and writes and presents BBC Radio 4's Poetry Workshop. She lives in London.
or
Not Currently Available for Direct Purchase