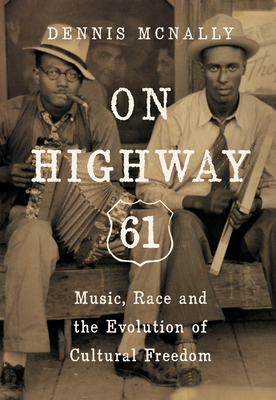 On Highway 61
Music, Race, and the Evolution of Cultural Freedom
Hardcover

* Individual store prices may vary.
Description
On Highway 61 explores the historical context of the significant social dissent that was central to the cultural genesis of the sixties. The book is going to search for the deeper roots of American cultural and musical evolution for the past 150 years by studying what the Western European culture learned from African American culture in a historical progression that reaches from the minstrel era to Bob Dylan.

The book begins with America's first great social critic, Henry David Thoreau, and his fundamental source of social philosophy:–––his profound commitment to freedom, to abolitionism and to African–American culture. Continuing with Mark Twain, through whom we can observe the rise of minstrelsy, which he embraced, and his subversive satirical masterpiece Huckleberry Finn. While familiar, the book places them into a newly articulated historical reference that shines new light and reveals a progression that is much greater than the sum of its individual parts.

As the first post–Civil War generation of black Americans came of age, they introduced into the national culture a trio of musical forms—ragtime, blues, and jazz— that would, with their derivations, dominate popular music to this day. Ragtime introduced syncopation and become the cutting edge of the modern 20th century with popular dances. The blues would combine with syncopation and improvisation and create jazz. Maturing at the hands of Louis Armstrong, it would soon attract a cluster of young white musicians who came to be known as the Austin High Gang, who fell in love with black music and were inspired to play it themselves. In the process, they developed a liberating respect for the diversity of their city and country, which they did not see as exotic, but rather as art. It was not long before these young white rebels were the masters of American pop music – big band Swing.

As Bop succeeded Swing, and Rhythm and Blues followed, each had white followers like the Beat writers and the first young rock and rollers. Even popular white genres like the country music of Jimmy Rodgers and the Carter Family reflected significant black influence. In fact, the theoretical separation of American music by race is not accurate. This biracial fusion achieved an apotheosis in the early work of Bob Dylan, born and raised at the northern end of the same Mississippi River and Highway 61 that had been the birthplace of much of the black music he would study.

As the book reveals, the connection that began with Thoreau and continued for over 100 years was a cultural evolution where, at first individuals, and then larger portions of society, absorbed the culture of those at the absolute bottom of the power structure, the slaves and their descendants, and realized that they themselves were not free.
Praise For On Highway 61: Music, Race, and the Evolution of Cultural Freedom…
"No one can deny that On Highway 61 richly expands our appreciation of the dense gumbo of American culture."—UMASS Amherst Alumni Magazine

"On Highway 61 is America's most iconic stretch of asphalt, a vital artery of blues, stories and dreamers. Dennis McNally charts that sacred ground from Congo Square to the Canadian border, riding shotgun with Mark Twain, Robert Johnson and Bob Dylan in this gripping, new history of race, revolutionary expression and a nation busy being born at every mile." –– David Fricke, Rolling Stone

"Don't let the somewhat serious subtitle of Dennis McNally's thrilling new book throw fear into the brain, because this is a wild ride through musical history. Before it's over, centuries have been traversed, opinions expressed that throw new light on everything we listen to, and appreciation created where none might have been before.. . .The expression and inspiration are all intertwined on the road to freedom, and Dennis McNally turns on the lights in a room full of revelations and re–imaginings in a way that's never been done. Right on time." —The Morton Report

"Ultimately, On Highway 61 is a book about the journey of our music and the way it helped to expand the eye of the culture, honing its collective clarity, giving it a heartfelt purpose.. . .During its best moments, On Highway 61 flows like a living room conversation with somebody who helped to change the course of pop music and lived to tell about it. Every serious fan of rock and roll, jazz or blues should read this book: It has much to say, and it says it with depth and grace." —Electric Review

"On Highway 61 is an essential volume for music lovers." —Oakland Tribune

"McNally, author of Desolate Angel: Jack Kerouac, the Beat Generation, and America, is adept at putting art in perspective, placing it within the conditions under which it has been made.. . .he makes a strong case that music is not just an expression of freedom but a way of spreading it. Like McNally, we come to believe that 'the essence of the American idea [centers] on the pursuit of freedom," and that achievements in that pursuit are often spurred by word and song.'"—The Santa Fe New Mexican/Pasatiempo

"In On Highway 61, McNally re–traces the roots of America's counterculture, focusing the hundred years that followed the Civil War. . .McNally riffs around that core, layering on the details, character by character, covering the same time period from many different points of view. He tracks the evolution of music itself, how particular techniques begin with one individual and spread from musician to musician, from city to city." —Relix Magazine

"This scholarly examination of the roots of American music and its cultural evolution encompasses ragtime, blues, jazz, folk, country, big band, swing and good ol' rock 'n' roll. At the party, we meet the key players of the day." —Sacramento Bee, Notable Fall Nonfiction Title

". . .the book's best qualities are McNally's ability as a storyteller combined with his exhaustive scholarly research on the country's rich African–American musical history and the response of the white audiences along the road." —Chino News & Review

"Dennis McNally has unraveled a tapestry of historical and societal collisions that inspired, drove, and conjured –– through the seemingly unlikely strands of Thoreau, Twain, Louis Armstrong, Ellington, W. C. Handy, Coltrane, Seeger, and Dylan––a distinctly American conversation in perpetual pursuit of cultural freedom; an unflinching legacy with reverberations felt throughout the world." –– Bill Payne, co–founder of Little Feat

"This book is about cultural alchemy and the multicultural, transnational nature of artistic growth and aspirations of political freedom. McNally's interdisciplinary approach to cultural history has too seldom been applied to race–bound considerations of what constitutes the 'folk' in American culture." —Toronto Star

"For those who lived through the era and who still care about issues of class, race, and gender, Highway 61 is the book to read about American music, the book that will awaken memories, stir the heart, and evoke the sounds of Bessie Smith, Lead Belly, and Bob Dylan." —The Rag Blog

"This intelligently assembled book is a vivid American portrait full of contradictions and unlikely but pivotal collaborations." —The Journal of Wild Culture

"Dennis McNally is but the latest guide to take the reader on its byways. The job he does is matched by few and his perspective is his alone. Indeed, McNally rocks, rolls, burns, cruises and kills it in this book, his petal to the metal from beginning to end." —Counterpunch

"...offers an extensive analysis of and tribute to the popular music that grew along Route 61..."—Kirkus

"There is much here of interest to serious lovers of innovative music in America." –– Booklist
Counterpoint, 9781619024496, 384pp.
Publication Date: October 14, 2014
About the Author
Dennis McNally received his Ph.D. in American History from the University of Massachusetts at Amherst in 1977 for a biography of Jack Kerouac which was published by Random House in 1979 under the title Desolate Angel: Jack Kerouac, the Beat Generation, and America. He became the Grateful Dead's authorized biographer in 1980 and the band's publicist in 1984. In 2002, he published A Long Strange Trip/The Inside History of the Grateful Dead with Broadway Books, a division of Random House. It made the New York Times best seller list.
or
Not Currently Available for Direct Purchase