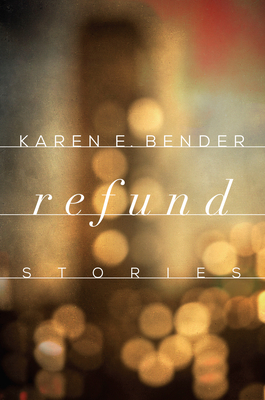 Refund
Stories
Hardcover

* Individual store prices may vary.
Other Editions of This Title:
Digital Audiobook (1/28/2016)
Description
This collection of stories set in contemporary America--a finalist for the National Book Award--herald a work of singular literary merit by an important writer at the height of her power.

We think about it every day, sometimes every hour: Money. Who has it. Who doesn't. How you get it. How you don't.

In Refund, Bender creates an award-winning collection of stories that deeply explore the ways in which money and the estimation of value affect the lives of her characters. The stories in Refund reflect our contemporary world--swindlers, reality show creators, desperate artists, siblings, parents--who try to answer the question: What is the real definition of worth?

In "Theft," an eighty-year-old swindler, accustomed to tricking people for their money, boards a cruise ship to see if she can find something of true value--a human connection. In "Anything for Money," the creator of a reality show is thrown into the real world when his estranged granddaughter reenters his life in need of a new heart; and in the title story, young artist parents in downtown Manhattan escape the attack on 9/11 only to face a battle over their subletted apartment with a stranger who might have lost more than only her deposit.
Praise For Refund: Stories…
NATIONAL BOOK AWARD FINALIST

"Bender's short stories were shortlisted for the National Book Award and brilliantly weave money, economics, education, emotion, and fear into each distinct tale."—Washington Review of Books

"somewhere around its titular story, Refund turns toward the remarkable. Stick with it. If fiction's task is to distill what it was like to live in a specific time and place, I can give no better example than this, from "Refund," which is set in New York in the weeks after 9/11"—VOX

"In these 13 keenly drawn tales, hope and human connection are commodities as coveted as decent health insurance. [Bender's] writing is small–scale but impactful, and undeniably topical." —Entertainment Weekly

"In this tale, as in some of the others, Bender ends on notes of hope and despair: hope because one is still loved and can love, despair at a life fraught with worry and disappointment. The author's sharp observations and fine, crisp writing keep these stories crackling with energy and wit, while they excavate the buried secrets of 21st century America." —Miami Herald

"'Refund' meets the challenge of the short–story writer — to create a vivid, believable world in which compelling characters pull the reader up and over a taut narrative arc, all within the space of a few pages. Taken separately, each of the "Refund" stories is an impeccably constructed miniature, a ship in a bottle that makes the reader wonder how the author got all that detail, all that craft, into such a small container. Taken as a whole, the collection is a 13–stop journey into some richly imagined worlds." —LA Times

"[E]xquisitely composed portraits of modern life, and chances are you will encounter characters that remind you a little or a lot of yourself. That's the brilliance of Bender's storytelling." Chicago Tribune

"Bender probes the depths people will sink to for love and money in this poignant, absorbing collection of finance–themed tales. Worth investing time in." —People

"Bender'sevocative prose takes us immediately to a place that we recognize, even if we haven't yet lived there ourselves...I lovedRefund. Highly recommended." —The Billfold

"These stories are replete with poignant, tragic moments, where the characters delude themselves in the hopes of escaping their circumstances, taking foolish risks that, in better times, they would have scoffed at....[H]er graceful and sensitive treatment of her characters reminds us that in difficult times, it's important to remember that everyone is fighting a hard battle." —Boston Globe

"In an American moment where money rules and anxieties fester, Karen Bender has stepped in to tell all our stories with unsettling honesty, an eye for our absurdities, and an openness to the moments of grace that keep us going. Bender is a master storyteller and Refund is a superb collection." —Tom Barbash, Stay Up With Me

"Each day Bender's cast of ordinary people struggle to make sense of their debts, their fears, and how to be satisfied with what they've got, in short stories that are both lean and expansive." —O Magazine

"There are some astonishing characters in this collection. . .the stories' strengths stem from Bender's beautiful writing and her ability to convey the wonder and dread of ordinary life, the things we might notice—whether with terror or with joy—if we weren't too busy worrying about paying the bills." —Publishers Weekly

". . .a masterful new collection. . ." —Atlanta–Journal Constitution

"Every once in a while a book steps onto the stage and convinces readers all over again that literature is the great companion and interpreter of life. This is one of those books. In these eleven absolutely masterful stories by Karen E. Bender, the reader gets the most intimate education in politics, language, love, family. The book cares about every single idea it comes across— in a way it is political to the core. On the other hand, the writing is affectionate and attentive to the way life feels, to the way a phrase can grasp a moment so entirely. This is the book of the season, and the book everyone should read who wants to understand the depth and capability of the short story." —Rebecca Lee, author of Bobcat and Other Stories, Finalist for the Story Prize and Winner of the Believer Book Award, and The City is a Rising Tide

"These stories are among the best fiction I've read in a generation. From the chains of straw and coins and angels that bind us to earth, Bender weaves not only gold, but the rings of Saturn." — Jacquelyn Mitchard, author of The Deep End of the Ocean and Second Nature

"In Refund, Karen Bender offers us a vision of contemporary life that is tragic and deeply funny, disturbing and––most of all––true. These are stories about us, women and men living with the trappings of comfort and security, while anxiety thrums under the surface and a sense of calamity looms. This collection moved and enthralled me throughout." —Danny Senna, author of Caucasia and You are Free

"Money, money! The things we'll do to get it, the distortions (especially when children are involved) of the space between desire and satisfaction: these are Karen Bender's subjects, which she handles with savage wit, great economy, and a brilliant instinct for the telling situation. Her stories floored me." —Andrea Barrett, author of Archangel and Servants of the Map

"A fictional bonanza for penny–pinching times." —More Magazine

Praise for A Town of Empty Rooms

"In the very best of fiction, an intimate, spiritual communion momentarily transpires between reader and author. In the case of Bender's novel, these moments occur during these flawless passages of authentic longing and isolation. Like some of today's best contemporary realistic authors, Bender skillfully excavates and animates the human fragilities and missteps of life, transporting the reader deeper into the narrative and the interior lives of her characters. Taken together, "A Town of Empty Rooms" elicits both great pleasure and heartache." – The Boston Globe

"Conversations — about love, faith, belonging, and the nature of God — rattle and hum throughout Karen Bender's outstanding new novel, "A Town of Empty Rooms." The book itself is a series of conversations, though it is the ones we don't have, Bender suggests, that matter the most." –Atlanta Journal–Constitution

"Bender's a keen observer of marriage and the psychological bonds that tie mothers, daughters, fathers, and sons. The novel excels in stirring the reader's sympathy and outrage. . .Bender offers an absorbing and often touching look at the struggles of an urban middle–class family to adjust to an unfamiliar America—rural, provincial and homogeneous." –Publisher's Weekly

Praise for Like Normal People

"This is marvelous writing: energetic, precise, sympathetically alive to the strangeness of ordinary life." —New York Times Book Review

"Graceful and beguiling—distinguished by lyrical language and a real generosity of spirit." Washington Post Book World

"A remarkable fictional debut." —Newsday

"Poignantly and brilliantly portrayed." Timeout New York

"Three richly textured characters whose irreducible idiosyncracies, griefs, longings, and loves will surely expand our sense of what it means to be like normal people." –Chicago Tribune

"A luminous, meditative novel on the boundaries between childhood, adulthood and old age. A." –Entertainment Weekly

"Irreverant and affectionate." –Vogue

"Radiant. . .rendered in delicate yet indelible prose. . .Like Normal People is quietly reminiscent to structure and sensibility of Marilynne Robinson's Housekeeping. –Portland Oregonian

"To this vivid portrayal of family dynamics, Bender brings a persuasive understanding of the human condition." –Guardian

"Grand. . .Like Normal People is an uplifting and bittersweet testament to uncompromising love. –New York Post

"A distinguished first novel. . .a remarkably complex work that attempts to explore lives of three different people in one day." –Baltimore Sun

"Sweet, funny, and melancholy. . .Lena has a compelling presence, radiating love, humour, and difficulty in equal measure." Elle (London)
Counterpoint, 9781619024557, 256pp.
Publication Date: January 13, 2015
About the Author
Karen E. Bender is the author of the novels Like Normal People and A Town of Empty Rooms. Her fiction has appeared in The New Yorker, Granta, Zoetrope, Ploughshares, Story, Harvard Review, The Iowa Review, and other magazines. Her stories have been anthologized in Best American Short Stories, Best American Mystery Stories, New Stories from the South: The Year's Best, and have won two Pushcart prizes. She has won grants from the Rona Jaffe Foundation and the NEA. She is also co–editor of the anthology Choice: True Stories of Birth, Contraception, Infertility, Adoption, Single Parenthood, and Abortion. She has taught creative writing at Antioch University Los Angeles, the University of North Carolina at Wilmington, and Tunghai University in Taiwan. She lives in North Carolina with her husband, novelist Robert Anthony Siegel, and their two children.
or
Not Currently Available for Direct Purchase