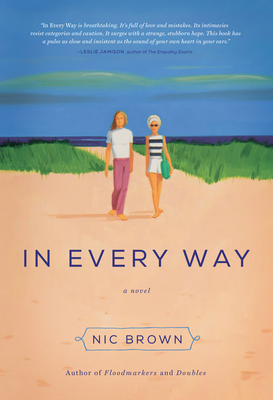 In Every Way
A Novel
Hardcover

* Individual store prices may vary.
Other Editions of This Title:
Paperback (2/9/2016)
Description
Chapel Hill college student Maria finds herself in a predicament—unexpectedly pregnant at nineteen. Still reeling from the fresh discovery of her mother's diagnosis with cancer, Maria's decision to give her daughter up for adoption is one that seems to be in everyone's best interest, especially when it comes to light that the child's father hasn't exactly been faithful to her following the birth of her daughter. So when her mother proposes an extended trip to sleepy coastal town Beaufort—the same town that the adoptive couple Maria chose for her daughter just happens to live in—Maria jumps at the chance to escape.



Perhaps not surprisingly, Maria finds herself listless and bored soon after her arrival in Beaufort, and a summer job seems like a cure. She has kept close watch on the couple she chose to adopt her daughter—they live mere blocks away—and, as opportunity demands, she accepts a position as their nanny. Maria ingratiates herself into the family—hesitantly, at first, and then with all the confused and chaotic fervor of a mother separated from her child.



In Every Way is a heartfelt novel that brings to light the unknowing destruction that heartache can manifest, and brims with the redemptive power of new.
Praise For In Every Way: A Novel…
"A book you can and will want to read in a long afternoon: Nic Brown's In Every Way."

"Nic Brown crafted a poignant, lovely story that is surprisingly uplifting and well worth the read."—Wilkes Barre Times–Leader

"Brown's prose is confident, intelligent, and never precious. Its steady tone of understated realism serves the story well…"—New York Times Book Review

"In Every Way is breathtaking. This tale told at the edge of a continent – full of salt breezes and huge betrayals and minor miracles – is wise and aching and true. It's full of love and mistakes. Its intimacies resist categories and caution. It surges with a strange, stubborn hope. I read it in less than 48 hours and was utterly consumed by it, charmed by it, haunted by it. Nic Brown's sensitivity to the absurdity and fragility of the world is wrinkled with nuance and unafraid of difficulty. This book has a pulse as close and insistent as the sound of your own heart in your ears." —Leslie Jamison,The Empathy Exams

"…the novel is well worth the wait. Brown crafts a complicated tale of moral ambiguity about a woman who couldn't say goodbye to her baby after the paperwork was signed." —Kirkus

"…this meditation on what it means to be a mother is memorable and affecting." —Publishers Weekly

"[Nic} Brown (Doubles, 2010) has a lovely touch with prose that ranges from funny to playful to moving in portraying birth, death, and relationships and examining what it really means to be a mother, making this novel as insightful as it is entertaining." —Booklist

"With seductive precision and elegant calm, Nic Brown conjures an utterly believable young woman, full of yearning, regret, and hard–won wisdom. In Every Way is a humane wonder." — Eli Horowitz, The Silent History: A Novel

"Intimate, poignant and filled with the delicate lurches and dark surprises of life, Nic Brown's In Every Way is a gem. As our protagonist Maria hazards down an increasingly crooked path, we feel our sympathy for her—and our attachment to her—grow powerfully. That's a testament both to Brown's skill and empathy, and to the novel's keen emotional truths. " —Megan Abbott, The Fever: A Novel

"How can a novel so sad be so funny? And one so funny so sad? Nic Brown catches us when we're not looking. He shines light in our corners. He is a master at his craft and a tremendous talent. I loved this book." — Tom Franklin, author of Crooked Letter, Crooked Letter

"I've long admired Nic Brown's wise, funny, and mischievous writing, and IN EVERY WAY offers those delights and more. A poignant, wonderful, and wonderfully original novel."—Edan Lepucki

"Haunting, darkly sweet, and piercingly insightful. Inside the bones of a thriller, Nic Brown has created a novel full of grace."—Rosecrans Baldwin, author of You Lost Me There and Paris, I Love You but You're Bringing Me Down

"Extraordinary. Nic Brown has entered the mind of Maria, a 19–year–old woman, and rendered her utterly real, cruel, sensual, and funny. Sentence by sentence, Nic Brown has the eye of a craftsman. It seems Brown can do anything."—Daniel Wallace, author of Big Fish

Praise for Doubles

"Brown may be the John Updike for a new generation." Library Journal, Starred Review

Praise for Floodmarkers

"What Brown does so expertly is to summon the brief, intimate moments—the single word shared between two characters, the simple gesture that quietly reveals hope." New York Times Editor's Choice Pick
Counterpoint, 9781619024595, 256pp.
Publication Date: February 10, 2015
About the Author
Nic Brown is the author of the novel Doubles and the story collection Floodmarkers, which was selected as an Editor's Choice by The New York Times Book Review. His writing has appeared in The New York Times, the Harvard Review, Glimmer Train, and Epoch, among many other publications. A graduate of the Iowa Writers' Workshop and Columbia University, he has been the John and Renee Grisham Writer in Residence at the University of Mississippi and an assistant professor at the University of Northern Colorado. Currently he is an assistant professor of English at Clemson University.
or
Not Currently Available for Direct Purchase