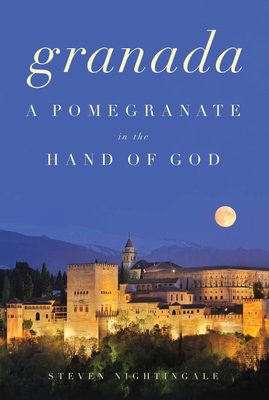 Granada
A Pomegranate in the Hand of God
Hardcover

* Individual store prices may vary.
Other Editions of This Title:
Paperback (2/9/2016)
Description
Andalusia: ancient homeland of the mysterious Iberians, birthplace of Roman emperors, seedbed of modern Anarchism, and unmarked gravesite of Spain's greatest lyric poet. Perhaps most importantly, Andalusia is home to the city of Granada, where a hybrid culture composed of Islamic, Jewish, and Christian traditions gave rise to an intellectual vanguard whose achievements can be compared only with those of classical Athens, Ming China, or Renaissance Italy.



Granada resident Steven Nightingale excavates the rich past of his adopted city and its surrounding countryside, finding there a lavish story of utopian ecstasy, political intrigue, and finally anguish. Part of that region in southern Spain named by its Islamic rulers "Al–Andalus," medieval Granada witnessed a flourishing of poetry in several languages, the first modern translations of Greek philosophy, the birth of algebra, and the construction of architectural masterpieces such as the Alhambra and the Generalife. Yet with Ferdinand and Isabella's sack of Granada in 1492, regarded as the culmination of the Reconquista, which sought to reclaim Spain for the Vatican, a Catholic mythology of Spain began to erode Granada's centuries–old reputation as an artistically vital haven for multiple ethnic and religious groups.



Linking the disastrous afterlife of the Reconquista to the Catholic nationalism of the Franco regime—whose execution of Granadan poet Federico Garcia Lorca symbolizes the suppression of Andalusia's cultural heritage—Nightingale demonstrates the extent to which this Catholic triumphalism also obscured the source of much cultural wealth bequeathed by Al–Andalus to Christian Europe. Nightingale's own account of the region's medieval zenith recovers the intellectual pageantry and aesthetic splendor of this astounding period in Western history and the marvelous city that was its cultural center.
Praise For Granada: A Pomegranate in the Hand of God…
"His book is not only a memoir of one family's communion with a dream house, it's the unearthing of a long–buried dream of civic harmony, a reawakening. Even if you have visited Granada and walked the labyrinthine ways of the Albayzín, Nightingale makes you want to go there again, to see it with new eyes."—New York Times Book Review

"An exuberant and beautifully written book and as packed with information as a pomegranate is with seeds…Nightingale possesses a keen tactile sense of the place; his approach is refreshingly sensuous."—Wall Street Journal

"Armchair travel enthusiasts and those who are interested in Spanish and Islamic history will enjoy this tale."—Library Journal

"[I]n poetic prose,...Nightingale's intimate reflections and succulent style present a textured picture of the city and its people, culture, and antiquity. Armchair travelers will find themselves easily lured through the portals of history hidden in brick and mortar, tiles and tilled gardens." —Publishers Weekly

"…rhapsodic paean to the Spanish city…A romantic…homage to a city "perfected by catastrophe" and transformed into a place of "concentrated joy.""—Kirkus

"…an unabashed love song to Granada…a fascinating historical overview…"—Booklist

"Steven Nightingale's Granada: A Pomegranate in the Hand of God is the rarest delight –– a book that is as wise as it is vibrant and alive. To read its pages is to be transported back in time through centuries, interwoven with folklore, history and with the dreams of mankind. I recommend this book most highly. It opens a window into a magical world, an Andalucian garden all of its own, one inspired by Paradise." — Tahir Shah, Author of The Caliph's House

"One of the delicious literary genres is the book about a writer's love affair with a city. Mary McCarthy's Stones of Florence and Edmund White's Inside a Pearl: My Years in Paris come to mind. Steven Nightingale's Granada takes its place in that radiant company." —Robert Hass, author of What Light Can Do and The Apple Trees at Olema

"In flowing precise poetic speech, Stephen Nightingale bequeaths us the beautiful and tragic essence of Spanish history, philosophy and literature,…None since Gerald Brenan in the 50's has so lovingly mastered Spain in its Gothic, Muslim, Jewish, and Spanish faces. Who reads this book relives all Iberia, from medieval convivencia to Franco nightmare. El cante hondo, the deep song persists. A profound delight." —Willis Barnstone, author of Sunday Morning in Fascist Spain

"Opening Steven Nightingale's lyrical Granada is to split a pomegranate that pours out a galaxy of seeds. Take the book with you to a garden. There, as you read, the seeds will give forth branches of poetry, music, science, mathematics, philosophy, agriculture, medicine, and all the marvels of Andalusia. Twining, they stretch up toward the brilliant sun—maybe beyond, to the divine. Yet even as they transport you on their various journeys they remain rooted in a family garden in Granada—a beautiful garden that, thanks to the author, you will know and love as he does." —Thomas Christensen, author of 1616: The World in Motion

"This is a highly sensitively written book written by a very fortunate American author who records his visit to Andalusia (Spain) with his family to discover the immense gift to civilization the earlier Spanish community has been. I can certainly recommend this book to all who have yet to learn how vibrant and productive the integration of Judaism, Christianity and Islam can be." —Keith Critchlow, author of Islamic Patterns and The Hidden Geometry of Flowers

"This beautiful book is a love story: that of, first, a young family falling hopelessly in love with an old house in the medieval quarter of Granada, and their painstaking restoration of the house and its gardens.…But this is also a story of what love can do when various peoples put aside differences and work together: for nearly eight centuries, from 711 to 1492, Jews, Christians and Muslims lived in productive, collaborative harmony, translating one another's holy texts and sharing collective wisdoms, from literature to algorithmic logic to color theory. Thanks to Steven Nightingale's glorious and inspiring book we can glimpse what life might become were we not plagued, as we are in these modern times, by religious fundamentalism and hyper mechanized tools of war." —Jane Vandenburgh, author of The Wrong Dog Dream

"Each page of this deeply personal book is a revelation, and a confirmation that darkness is never permanent. Darkness begets beauty. Nightingale writes that conviction into every sentence." —Robert Leonard Reid, author of Arctic Circle and Mountains of the Great Blue Dream

"Granada… is a primordial history of Andalusia, the rose and the magdalena, the throne and the cross—but more than these, it is a sinuous and searching biography of the heart of southern Spain. Nightingale has woven us in its antiquarian spell…like García Lorca, Nightingale summons the duende, the creative force that emanates from this sorrow, so that in the end, this book is really a testament to what can be possible with the spiritual attainment of peace. I cannot remember the last time I have read a story that is literally blood and truth born across two millennia of human understanding. Like a wind from the Sufi masters, it will shake the most austere and humane alike." —Shaun T. Griffin, author of This is What the Desert Surrenders
Counterpoint, 9781619024601, 400pp.
Publication Date: February 10, 2015
About the Author
Steven Nightingale is the author of two novels and six books of sonnets, as well as numerous essays. His poetry has been widely anthologized, and he has taught poetry in more than fifty schools and universities. He lives in Woodside, California, with his family.
or
Not Currently Available for Direct Purchase