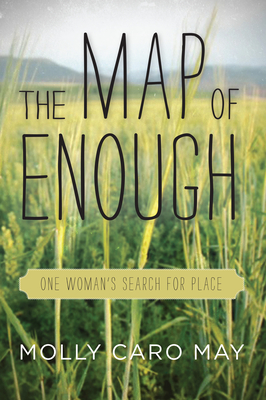 The Map of Enough
One Woman's Search for Place
Paperback

* Individual store prices may vary.
Description
Molly Caro May grew up as part of a nomadic family, one proud of their international sensibilities, a tribe that never settled in one place for very long. Growing up moving from foreign country to foreign country, just like her father and grandfather, she became attached to her identity as a global woman from nowhere. But, on the verge of turning thirty years old, everything changed.



Molly and her fiancé Chris suddenly move to 107 acres in Montana, land her family owns but rarely visits, with the idea of staying for only a year. Surrounded by tall grass, deep woods, and the presence of predators, the young couple starts the challenging and often messy process of building a traditional Mongolian yurt from scratch. They finally finish just on the cusp of winter, in a below–zero degree snowstorm. For Molly it is her first real home, yet a nomadic one, this one concession meant to be dissembled and moved at will.



Yurt–life gives her rare exposure to nature, to the elements, to the wildlife all around them. It also feels contrary to the modern world, and this triggers in Molly an exploration of what home means to the emergent generation. In today's age, has globalization and technology taught us that something better, the next best thing, is always out there? How does any young adult establish roots, and how do we decide what kind of life we want to lead? How much, ever, is enough?
Praise For The Map of Enough: One Woman's Search for Place…
"The story of a young couple's year on family land in Montana, building a yurt. Wonderful feeling for the land and its wildlife, and a compelling story of the couple's adventures in yurt building, living on the land, and how the year changes them."—Georgiana, Magnolia's Bookstore, Seattle, WA

"The Map of Enough offers readers a richly considered perspective and, for many, a glimpse of a sweet settled life lived far away." —Orion Magazine

"The Map of Enough is moving, poetic, and addictive. May's sense of wonder at her new world and adventurous spirit is admirable and contagious, but even more important is the way she inspires us to question our own deeply–held beliefs about home and happiness."—Elle

"a more homegrown version of Eat, Pray, Love [...] readers will find much to ponder in this journey to home and family. An obvious choice for book groups eager for rich discussions on the road less traveled." —Booklist

"In an impressive debut memoir, a self–proclaimed "Woman of the World" chronicles her journey to find a home. May joins the ranks of Gretel Ehrlich and Annie Proulx, celebrants of sagebrush, big skies, and journeys of self–discovery… May's poetic, gleaming prose makes palpable the wildness and wind, freezing and thawing earth, delicate fragrances of grass and budding trees—and her own profound transformation." —Kirkus Starred

"More than a story of building an adobe, it's about yurt life and its connections to nature and the elements, and offers keys to understanding the lure of a nomadic home that can be disassembled and moved at the blink of an eye. Any interested in mobile living and yurts will find this an inspirational, revealing autobiography packed with insights and encouragement." —The Midwest Book Review

"Could a wanderer learn to stay put without stagnating? Could a woman brought up without survival skills learn to build her own shelter, split firewood, grow food? Could a browser of the Internet keep from drowning in the electronic sea of possibilities? Could she learn to be fully present to her life without hankering to be elsewhere? Molly Caro May tackles all these questions, and more, in prose as candid and lucid as an April morning. She holds the hard–won answers lightly, open to correction from fresh experience." —Scott Russell Sanders, Earth Works: New & Selected Essays.

"In her beautifully written memoir [May] explores the challenge and allure of creating a real home in an age of ever–more–virtual interactions – and reminds us why we love the West."—Sunset Magazine
Counterpoint, 9781619024748, 320pp.
Publication Date: January 13, 2015
About the Author
Molly Caro May is the author of The Map of Enough and Body Full of Stars. She received a writing fellowship at the Taft–Nicholson Environmental Humanities Center, and her work has appeared in Salon, The Hairpin, Orion, and Fourth Genre. After living in six countries and eight U.S. states, she has now made a home in Montana, where she lives with her husband, two young daughters, and Great Dane mutt. Find out more at mollycaromay.com
or
Not Currently Available for Direct Purchase