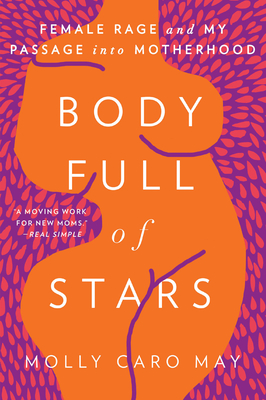 Body Full of Stars
Female Rage and My Passage into Motherhood
Hardcover

* Individual store prices may vary.
Other Editions of This Title:
Paperback (4/9/2019)
Description
"In this honest memoir, May recounts how she came to feel connected with her body again. It's a moving work for new moms about a subject that is often overlooked in conversations about postpartum depression." —Real Simple



Molly Caro May grapples with questions of grief and rage as she undergoes several unexpected health issues after the birth of her first child. Body Full of Stars both reveals deeper truths about how disconnected many modern women are from their bodies and celebrates the greatest story of all time: mothers and daughters, partners and co–parents, and the feminine power surging beneath it all.
Praise For Body Full of Stars: Female Rage and My Passage into Motherhood…
"If you or someone you love is experiencing postpartum depression, pick up this book. The isolation the author felt after the birth of her child made her realize how little acknowledgement society gives to the mental burdens placed on new moms." —Kaitlyn Pirie, Good Housekeeping

"In this honest memoir, May recounts how she came to feel connected with her body again. It's a moving work for new moms about a subject that is often overlooked in conversations about postpartum depression." —Real Simple, a Best Book of the Year

"What a beautiful, heart–filled, and honest account of motherhood and womanhood overall. We need more brave voices like Molly Caro May's." —Abby Epstein and Ricki Lake, creators of The Business of Being Born and authors of Your Best Birth

"Her brutally honest account is both deeply personal and comfortingly universal. She doesn't shy away from the pain—emotional, physical, cultural, generational—of what she calls her 'passage into motherhood' . . . Her best, clearest, most lyrical writing practically dances off the page when she's describing her love for her daughter." —PureWow

"Oh, you thought motherhood was all sweetness and light? Then this book is here, finally, to set you straight . . . I have never read anything so honest about the transition into motherhood before . . . Everyone who reads this book will also benefit from a generous, accurate, and hopeful story that ends not with a happily ever after but with honesty, dignity, and strength in the face of life's ongoing challenges, whether we are mothering our children, or just ourselves." —The Rumpus

"Grapples with questions of love, grief, and healing as she undergoes several unexpected health issues after the birth of her first child." —Kerri Jarema, Bustle

"May's writing is intensely, beautifully visceral and she brings a new perspective to the postpartum period." —Book Riot

"In this raw and lyrical book, the author holds nothing back. From the blinding rages to the blackest emotional abysses, she records all with an eloquence that is both powerful and restorative . . . A searingly eloquent memoir." —Kirkus Reviews

"Her healing memoir unabashedly begins a long–neglected conversation about postpartum rage and the power of reconnecting with your body that many a mom will appreciate." —Pregnancy & Newborn

"If there was ever a person who could express through her tender use of language, the pain, upset and rage that so many new mothers feel in the dark, it's Molly Caro–May." —Mama Glow

"Radiant. Bursting with wisdom and wit, raw with honesty, full of the truth. This book is nothing short of remarkable, life affirming, and breathtaking." —Mira Ptacin, author of Poor Your Soul

"This book is an ancient call from our first mothers to connect to our bodies—for our own good and for the good of humanity. Through sharing her fierce and shattering story, Molly May goes straight to the pelvis of female rage and echoes the legacy of the sacred feminine. It is healing, illuminated." —Laura Munson, New York Times bestselling author of This Is Not The Story You Think It Is...

"This is the biggest story of humanity that is rarely told—the way in which birth isn't just the passage for our existence on the planet, but how it breaks, transforms, and emboldens women worldwide. Molly May's unflinching telling of her own rage and reconstitution after birth is beyond brave. It's paradigm–shifting." —Courtney E. Martin, author of Perfect Girls, Starving Daughters: How the Quest for Perfection Harms Young Women
Counterpoint, 9781619024892, 272pp.
Publication Date: January 16, 2018
About the Author
Molly Caro May is the author of The Map of Enough and Body Full of Stars. She received a writing fellowship at the Taft–Nicholson Environmental Humanities Center, and her work has appeared in Salon, The Hairpin, Orion, and Fourth Genre. After living in six countries and eight U.S. states, she has now made a home in Montana, where she lives with her husband, two young daughters, and Great Dane mutt. Find out more at mollycaromay.com
1. The book opens with two epigraphs, one of which states, "what we profoundly need are rituals that take into regard the blood, the shock, the heat, the shit, the anguish, the irritation, the glory, the earnestness of the female body." Later, May details how she makes "space to go within every single day," imagining herself with a weighted yoke around her body. What do you think this ritual of "going within" means for May? Do you have your own rituals toward your body, gender, or family? How else can catharsis be possible for mothers and women more generally?
2. May frequently goes into nature when emotionally or physically distraught. Why do you think that is? What is the connection, if any, between the experience of postpartum and going outdoors?
3. Discuss the presence of rage and femininity in Body Full of Stars. How do rage and femininity interact in this book? How do they impact Molly's beginning as a mother?
4. Did Body Full of Stars portray rage in way you haven't read before? Why do you believe female anger is so under-voiced?
 5. Body Full of Stars examines the difficult and frequently unspoken-of topic of postpartum struggles. How might this memoir be a resource for new parents, doctors, nurses, and others? Why is it important to speak frankly on this subject?
6. If you are a parent, what kind of reactions did you have while reading Body Full of Stars? If you aren't a parent, did your reading of this memoir differ from those of the parents in the group and, if so, how?
7. Discuss May's style of writing. Does it differ from other books you've read about parenthood, birth, and transition? How? What impact does the style have on your experience reading the book?
or
Not Currently Available for Direct Purchase