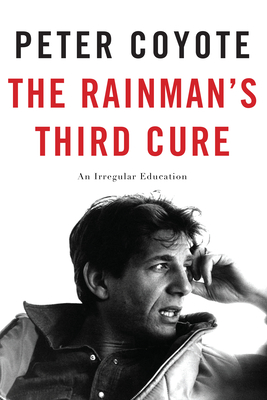 The Rainman's Third Cure
An Irregular Education
Hardcover

* Individual store prices may vary.
Other Editions of This Title:
Paperback (12/15/2015)
MP3 CD (1/19/2016)
Description
"The rainman gave me two cures
And he said, 'Just jump right in.'
The one was Texas Medicine
And the other was railroad gin.
And like a fool I mixed them
And they strangled up my mind
Now people just get uglier
And I have no sense of time."
––Bob Dylan, "Stuck Inside of Mobile with the Memphis Blues Again"

The guiding metaphor in Peter Coyote's new spiritual biography is drawn from a line in an early Bob Dylan song. For Coyote, the twin forces Dylan identifies as Texas Medicine and Railroad Gin – represent the competing forces of the transcendental, inclusive, and ecstatic world of love with the competitive, status–seeking world of wealth and power. The Rainman's Third Cure is the tale of a young man caught between these apparently antipodal options and the journey that leads him from the privileged halls of power to Greenwich Village jazz bars, to jail, to the White House, lessons from a man who literally held the power of life and death over others, to government service and international success on stage and screen.

Expanding his frame beyond the wild ride through the 1960's counterculture that occupied so much of his lauded debut memoir, Sleeping Where I Fall, Coyote provides readers intimate portraits of mentors that shaped him—a violent, intimidating father, a be–bop Bass player who teaches him that life can be improvised, a Mafia consiglieri, who demonstrates to him that men can be bought and manipulated, an ex game–warden who initates him into the laws of nature, a gay dancer in Martha Graham's company who introduces him to Mexico and marijuanas, beat poet Gary Snyder, who introduces him to Zen practice, and finally famed fashion designer Nino Cerruti who made the high–stakes world of haute monde Europe available to him.

What begins as a peripatetic flirtation with Zen deepens into a life–long avocation, ordination as a priest, and finally the road to Transmission–––acknowledgement from his teacher that he is ready to be an independent teacher. Through Zen, Coyote discovers a third option that offers an alternative to both the worlds of Love and Power's correlatives of status seeking and material wealth. Zen was his portal, but what he discovers on the inside is actually available to all humans. In this energetic, reflective and intelligent memoir, The Rainman's Third Cure is the way out of the box. The way that works.
Praise For The Rainman's Third Cure: An Irregular Education…
Praise for The Rainman's Third Cure:

"Remarkably forthright and insightful, this memoir may inspire others to add a bit of Zen to their lives."—Library Journal Starred Review

"Coyote has emerged, over the past few decades, as the unofficial yet authentic voice of America. His own personal voice echoes across every page of his memoir...As a memoir of one man's adventures, it's appealing because it shows what happened to a generation caught up in sex, drugs and political protest, and who dreamed the dream of the utopian '60s...The archival photos of Coyote's parents, father figures, mentors and friends bring them to life, enhance the prose and help make this memoir unforgettable."—San Francisco Chronicle

"[A] descriptively brilliant biographical odyssey....Presented with so many well–defined faces, there's guaranteed to be at least one Coyote, and probably more, that readers enjoy meeting." —Kirkus

"Peter's Coyote's new memoir is just plain wonderful––richly textured, beautifully written, sad, sweet, sometimes funny, always wise. It is about childhood losses and joy, growing up, mentors, loyalty, the search for Truth, survival, the sixties, the seventies, transcendence, healing, disasters. It is told by a writer of deep wisdom, self–knowledge and charm, yet I gobbled it up, like a novel." —Anne Lamott

"As he showed in Sleeping Where I Fell, Peter has lived a life most of us could only dream of. In this insightful and beautifully expressed follow–up, we get a deeper view not only of his own path, but of the currents underlying so much of our own shared histories. Viewed through this prism of three transformational relationships, his story is as moving as it is fascinating. A remarkable book." —Bonnie Raitt

Praise for Sleeping Where I Fall

"Sleeping Where I Fall Chronicles with uncommon honesty a chaotic social movement that aimed to radically reform American society . . . the tales that make the final cut in Coyotes memoir are skillfully rendered, mixing hilarity and tragedy." –The Los Angeles Times

"Coyote reflects with maturity on the mistakes he and his peers made, but he affirms that the dream was worth having." –Washington Post

"Coyote not only survived the excesses of the Sixties and Seventies but emerged from years of journeying through the counterculture to achieve success as an actor. Considering the numerous casualties among radicals, who, like Coyote, were heroin junkies living on the edge of society, this is a rare feat. In this frank yet sensitive memoir of those years, Coyote contradicts romantic notions of communes by recalling the discord and petty disagreements typical in his own communal living experiences . . Coyote's thoughtful, articulate writing displays a compassionate wisdom that puts this chronicle in a class above the typical actor's autobiography. Highly recommended for relevent subject collections in academic as well as public libraries." –Library Journal

"Coyote's evolution from callow thespian to revolutionary communard to seasoned philosopher is fascinating, as much a social and political history as it is a reminiscence. The stories unravel like tender after–dinner tales in prose that captures the rasp and tickle of Coyote's corduroy voice. In the end, Sleeping Where I Fall reveals a man as complex and unpredictable as the totem animal from which he takes his name." ––L.A. Smith
Counterpoint, 9781619024960, 288pp.
Publication Date: April 14, 2015
About the Author
An ordained practitioner of Zen Buddhism and a politically engaged actor, Peter Coyote began his work in street theater and political organizing in San Francisco. In addition to acting in over 140 films, and working with directors such as Martin Ritt, Steven Spielberg and Roman Polanski, Coyote has won an Emmy for narrating the award–winning documentary "Pacific Century." He has also narrated "The West, " "The Dust Bowl," "Prohibition," and "The Roosevelts" for Ken Burns. In 1993 he was awarded a Pushcart Prize for "Carla's Story," published in Zyzzyva. He lives in Mill Valley, California.
or
Not Currently Available for Direct Purchase