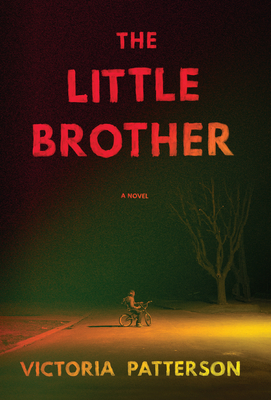 The Little Brother
A Novel
Hardcover

* Individual store prices may vary.
Other Editions of This Title:
Paperback (8/9/2016)
Description
Life is pretty sweet for Even Hyde. Despite his parents' divorce in 2001, he's doing just fine, having chosen to live with his richly successful father in Newport Beach, California. When not spending 'bonding' time with his partially absent father, he has his run of the house, where he more or less comes and goes as he pleases.



Even's older brother Gabe continues to live in Cucamonga with their emotionally unstable mother. Though he feels discarded and left behind, Gabe visits Even and their father on the weekends.



Even doesn't seem too worried about Gabe's quick–to–ignite temper or his evolving addiction to skipping school and smoking weed.



But then Gabe commits a crime so unbelievably heinous that Even can't forgive his own flesh and blood for it. In his personal recounting for THE LITTLE BROTHER, Even shares the events immediately following his brother and two of his friends savagely gang raping (while videotaping) an unconscious girl. When Gabe somehow ends up losing the video tape (which ends up in Even's hand) it is up to Even to make the life–changing decision: does he do the right thing and turn his own brother in to the police or does family come first?



This jaw–dropping novel, reminiscent of Louise Erdrich's The Round House and Herman Koch's The Dinner, shows how cruel the awfulness of human behavior can be and how sometimes even the right decisions feel wrong, no matter how you convince yourself otherwise.
Praise For The Little Brother: A Novel…
"Victoria Patterson is a capable and canny writer, and she would have to be to take on the subject of her newest novel The Little Brother, and produce so arresting and haunting an experience.... Here Patterson stacks the decks against anyone's chances at virtue or connection [...] But there's also real love and loyalty, and these feelings become unbearable when the balance of good and bad, between Jekyll and the irrepressible Hyde, is upset at last..."—New York Times Book Review

"It is horrific, unapologetically honest, lacking easy answers, and the best thing I have ever read about what is popularly called Rape Culture on the wild and often irresponsible Internet. Victoria Patterson is a ridiculously under–sung, under–appreciated novelist.... a ripping good summer read."—Three Guys One Book

"Patterson's (The Peerless Four, 2013) well–crafted novel explores a dilemma as old as time: Where is the moral ground when family loyalty and the law become opposing forces?...Patterson turns a gimlet eye on this age–old predicament and imbues it with gripping twenty–first century relevance."—Booklist

"Those who gobble up social issues novels will enjoy"—Kirkus

"In The Little Brother, Victoria Patterson focuses her unflinching eye on the dark heart of American male privilege. With empathy and dazzling skill, she illuminates an unspeakable crime and the depraved culture that made its reality not only possible, but inevitable. This is an important novel, both terrifying and redemptive, and another reminder that Victoria Patterson is one of our most fearless writers." —Jim Gavin, author of Middle Men

"The Little Brother takes on a real–life situation from the headlines, but Victoria Patterson etches it into fiction – the sad and scary kaleidoscope of family, loyalty and betrayal." —Susan Straight, author of National Book Award Finalist Highwire Moon

"As with many a real–life disaster story, The Little Brother begins with just the slightest tug of something not–quite–right and in practically no time we find ourselves in a dangerous, stomach–churning conflict between decency, loyalty, truth, lies, the good life, and the not–so–good one. Patterson has chosen to tell her unsettling tale through Even, the brother of a man accused of rape, and the ordeal for his own flawed family and his brother's victim turns out to be unfailingly horrifying, heartbreaking and, of all things, unexpectedly humane." —Jim Krusoe, author of Parsifal

Praise for The Peerless Four:

"Quietly scathing about the outrageous treatment of female athletes, the novel also shows the toll that competitive pressure takes on a quiet, shy male runner. Surviving, Patterson suggests, is more important than winning… Elegantly written." —Kirkus

"Patterson mates genres—sports and period fiction—and the result is surprisingly rich and resonant. Finding and giving voice to her characters' innermost lives, their best and worst selves, the author not only transcends categories but creates something poignant and memorable." —Publishers Weekly

"Talented, political, beautiful "local" author Victoria Patterson, whose third book, a novel about women Olympians of all things, marks her first efforts to write beyond the class and sex critique of our funny… Victoria Patterson has focused her keen eye and significant research skills on a deeper history of both (!) sexism and classism… The ease with which this talented writer seems to be provocative and entertaining and still popular impresses everybody. Maybe it's because her writing is so good that the rest of it sneaks up on you… But Mel's own writing, her biography of a distant and also pioneering women relative called startling and beautiful attention to the layering of stories here, and the meaning of peerless (as in voiceless, as in loud voices sometimes not heard or ignored) in terms of a woman–centered and class conscious worldview, well, that's what peerless also means." —The OC Weekly

Praise for This Vacant Paradise:

"Patterson beautifully parses the consequences of one woman's fall in this memorable, penetrating, fully achieved novel." —The New York Times Book Review

"Patterson writes with the exuberance of a natural storyteller. Her cast is rich, her narrative sinuous and masterfully structured."—San Francisco Chronicle

"With echoes of a modern–day House of Mirth, Patterson's elaborate tale examines the complexities and contradictions of society, family, and personal desire." —Booklist

"Patterson's debut novel is surprisingly sophisticated and nuanced . . . [with] echoes of Nathanael West and early Bruce Wagner." —Publishers Weekly
Counterpoint, 9781619025387, 320pp.
Publication Date: August 11, 2015
About the Author
Victoria Patterson is the author of the novel The Peerless Four. She also wrote This Vacant Paradise, selected as an Editor's Choice by The New York Times Book Review. Drift, her collection of interlinked short stories, was a finalist for the California Book Award and the 2009 Story Prize. The San Francisco Chronicle selected Drift as one of the best books of 2009. Her work has appeared in various publications and journals, including the Los Angeles Times, Alaska Quarterly Review, and the Southern Review. She lives with her family in Southern California and teaches at the Antioch University's Master of Fine Arts program and as a Visiting Assistant Professor at UC Riverside.
or
Not Currently Available for Direct Purchase