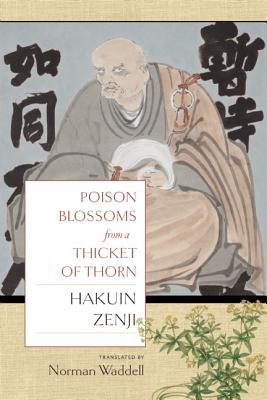 Poison Blossoms from a Thicket of Thorn (Paperback)
Counterpoint LLC, 9781619025547, 608pp.
Publication Date: August 18, 2015
* Individual store prices may vary.
Description
Hakuin Enkaku Zenji (1686-1769) was one of the greatest Zen masters to ever live. In additional to being the author of the most famous koan ever written, "What is the sound of one hand clapping?" he is credited with reviving the Rinzai sect of Zen in Japan, perhaps the most important and most rigorous branch in the Golden Age of Buddhism. His "Song of Zazen" is chanted in monasteries daily all over the world. Hakuin taught that there are three essentials to Zen practice: Great Faith, Great Doubt, and Great Resolve. Only Dogen comes close to matching the power and breadth of his writing and teaching. Norman Waddell has spent his life reading and commenting on the vast work of Hakuin. He has published several previous selections, all leading to his work on this major, monumental gathering, the Keiso Dokuzui, never before translated in any foreign language. Translating sacred texts requires years of practice and intimate familiarity with the material in its original language, as well as complete mastery of the available commentary. There's no one alive better capable of handling this important and difficult offering. For this collection Hakuin gathered more than 200 individual pieces, consisting of commentaries, memorials, poems, koans, and teisho (lectures). They were offered to the many students living around his temple as well as to the countless lay followers around the country, and Hakuin spent his life offering these teachings together with his own commentary. Result is an organic, growing collection of understanding and advice, certain to engage Zen students as well as religious practitioners in other spiritual disciplines

About the Author
Hakuin Zenji was born in Hara, Japan in January 18, 1686. He began monastic studies as a teenager, studied with the great master Shiju Rojin, and developed his own teaching with Torei Enji, his first Dharma heir. On enormously popular teacher during his lifetime, he died one day shy of his 84th birthday, in Hara where he had begun, and is said to have left more than ninety dharma heirs. Norman Waddell was born in Washington, DC in 1940. He studied by University of California, at the Monterey Institute of Foreign Studies, and took his Ph.D at Otani University in Kyoto, where he had lived for many years. He has published more than a dozen books and is considered one of the finest translators of Japanese sacred texts of our time.
or
Not Currently Available for Direct Purchase