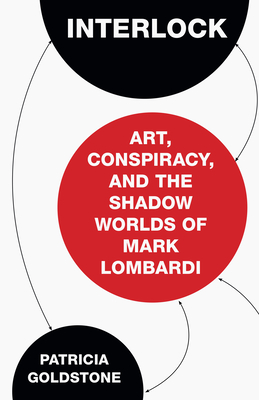 Interlock
Art, Conspiracy, and the Shadow Worlds of Mark Lombardi
Hardcover

* Individual store prices may vary.
Other Editions of This Title:
Paperback (10/11/2016)
Description
In the fateful month of March 2000, shortly after opening a hugely successful show in New York that unveiled the more nefarious financial connections of Presidential candidate George W. Bush, the hugely ambitious Conceptual artist Mark Lombardi was found hanged in his studio, an apparent suicide. With museums lining up to buy his work, and the fame he had sought relentlessly at last within his reach, speculation about whether his death was suicide or murder has titillated the art world ever since. Lombardi was an enigma who was at once a compulsive truth–teller and a cunning player of the art game, a political operative and a stubborn independent, a serious artist and a Merry Prankster, a metaphysicist if not a scientist.



Lombardi's spidery, elusive diagrams describing the evolution of the shadow–banking industry from a decades–old alliances between intelligence agencies, banking, government and organized crime, may have made him unique in art history as the only artist whose primary subject, the CIA, has turned around and studied him and his art work. Exhaustively researched, this is the first comprehensive biography of this immensely contradictory and brilliantly original artist whose pervasive influence in not only the art world, but also in the world of computer science and cyber–security is only now coming to light.
Praise For Interlock: Art, Conspiracy, and the Shadow Worlds of Mark Lombardi…
"Goldstone has impressively mined the artist's archives and interviewed many who knew him, dutifully recording all their contradictory gossip." —Kirkus

"This isn't a story about an artist. This is a story about something more deep and meaningful… This book is very well–researched, it's very detailed." —Forward Thinking

"Goldstone is a deft guide to her subject, managing to write up all of his conspiracy research without making him sound like a loon, while also providing a thorough examination of the art scene in Houston and New York." —Bookslut

"The first major book about the artist…" —Newsweek

"Patricia Goldstone has written the first comprehensive biography of the conceptual artist… which is full of details from those who were closest to him: family, friends, colleagues, and past loves. Goldstone weaves US historical records into the course of the artist's life, citing scandals, political intrigue, and economic turbulence along the way." —Artnet
Counterpoint, 9781619025653, 408pp.
Publication Date: October 13, 2015
About the Author
Patricia Goldstone has been a reporter for the Los Angeles Times and a bureau chief for Cablevision. She has written for the Washington Post,Maclean's, the Economist Intelligence Unit, and the Abu Dhabi National, among others. She holds a Master's Degree in Literature from Trinity College in Dublin and is the author of Making the World Safe
for Tourism (Yale University Press, 2001) and Aaronsohn's Maps (Harcourt, 2007). She is a national award–winning playwright. She divides her time between New York and Los Angeles.
or
Not Currently Available for Direct Purchase