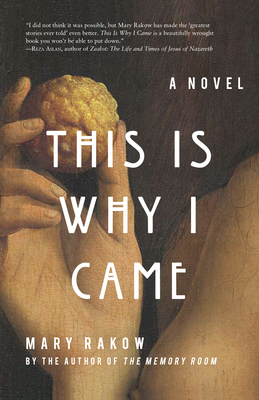 This is Why I Came
A Novel
Hardcover

* Individual store prices may vary.
Other Editions of This Title:
Paperback (11/15/2016)
Description
A woman sits in prayerful meditation, waiting to offer her first confession in more than thirty years. She holds a small book on her lap, one that she's made, and tells herself again the Bible stories it contains, the ones she has written anew, for herself, each story told aslant, from Jonah to Jesus, Moses to Mary Magdalen. Woven together and stitched by hand, they provide a new version, virtually a new translation, of the heart of this ancient and sacred text. Rakow's Bernadette traces, through each brief and familiar story, a line where belief and disbelief touch, the line that has been her home, ragged and neglected, that hidden seam.

The result is an amazing book of extraordinary beauty, so human and humorous, and yet so holy it becomes a work of poetry, a canticle, a song of lament and praise. In the private terrain of silence and devotion, shared with us by a writer of power and grace, Rakow offers, through Bernadette, her own lectio divina for the modern world.

No reader will forget this book or be able to read the Bible itself without a new perspective on this text that remains, arguably, Western civilization's greatest literary achievement.
Praise For This is Why I Came: A Novel…
Praise for This Is Why I Came:

"Rakow's prose sings at this register of humanistic truth, infused with the sacred power of language and feeling..."—Harvard Divinity Bulletin

"These stories, both Old and New, are awash in dread and terror and beautify. They aren't lifeless myths; they are mythic stories once again given flesh and blood"—Commonweal Magazine

"This Is Why I Came is a new mode of transportation. It elevates...unnerves and unsettles... And you finally arrive home, tenderly consoled. Glad tidings." Gregory Boyle, author of Tattoos On The Heart

"Examine the book thoroughly: it's miraculous."—Christian Century

"But the reader starts to see a different kind of faith form, built on her revision of the testaments (particularly the Old, which is more vivid and startlingly rendered than the New). In Bernadette's Bible, man and God are both vulnerable to each other's disappointment, both culpable for their own mistakes. Whether God made man in his image or vice versa begins to seems moot. Either way, we're in the soup together."—Bookslut

"Mary Rakow's quite extraordinary book is billed as a novel, but "agnostic gospels" would be more accurate labeling. . . Rakow's feat in these fragments is to blend the gnomic and the prosaic, skepticism and wonder. At the close, the priest doesn't just absolve the woman of sin. "To doubt the God you believe in is to serve him," he tells her. "It's an offering. It's your gift." No faith is required to pay Rakow a similar tribute. Mere mortals can use imaginative jolts like the one she delivers."—The Atlantic

"The outlines of the Bible stories are familiar, but their characters are more rounded, more poignant in Rakow's spare but poetic telling. . . These tales, and the dozens others in this short book, are all ultimately human. If we are created in God's image, Rakow seems to say, then this deity must have the same failings we do. How we resolve them — by reaching out to each other or, at the very least, like poor Cain, coming to a greater understanding of ourselves — may be the true moral of all these tales."—The Boston Globe

"Rakow's latest novel brims with wildly imagined Bible stories, into which she infused new layers of mystery and mysticism, ambiguity and wonder. In her hands, tales we've heard all our lives achieve the miracle of surprise."—O Magazine

"[Rakow has] cast off her academic robe for this delicate work of fiction, which is informed by the most basic human desires and disappointments. ...the Old Testament chapters that open the book feel more imaginative, less constrained by fighting against theological dogma. Rakow moves unpredictably from the simple, stark details of the Sunday School versions we know to her own striking emendations and elaborations....brief as these prose poems are, they're still capable of arresting moments and startling insights ... the novel is tremendously poignant as it follows the life of Joseph, who speaks no words in the Gospels but finds his voice here."—Ron Charles, Washington Post

"I did not think it was possible but Mary Rakow has made the 'greatest stories ever told' even better. This is Why I Came is a beautifully wrought book you won't be able to put down"—Reza Aslan, author of No god but God and Zealot: The Life and Times of Jesus of Nazareth

"filled with brief, often poetic recastings of the Old and New Testaments....Rakow thoughtfully offers sensitive and complex readings that are free of moral thundering....An affecting flash–fiction reimagining of the Good Book."—Kirkus

"This is Why I Came is made salvific by its searching; rather than confronting the fact of human suffering with assertions of light, the novel voyages further into the darkness of essential mystery. Resistant to crystalline denouement and wary of firm answers, it beautifully bares the ragged edges of uncertainty. In cracking open ancient texts and considering them anew, Rakow insists on the value in still grappling with those ageless, unresolvable matters—questions of where we came from, and why, and how we might be now that we are here." —Ploughshares

"There are some novels that are nearly impossible to describe, that eviscerate us with their power and resonance. Mary Rakow's, This is Why I Came, gathers ancient stories like worn and dried kindling, and ignites them with a blue incandescent light. The smoke catching in my lungs, my eyes wet and red. Yet I stayed to be warmed by this new, uttering transfixing reinvention of the stories of the Bible. Through the poetry of her phrases I stood breast to breast, hearts beating, breathing the same scented air as those who have been trapped within the pages. I felt unyielding love of the two Mary's, the vessel and the whore; the blood spattered on stone—the humanity and divinity of a questioning, complex Jesus and his disciples, and so much more. Rakow has indeed created the Newest Testament. I will never look at Scripture in quite the same way."—Cynthia Bond, author of Ruby


"In a gorgeous melding of fable, theology, and poetry, Mary Rakow offers us versions of Bible stories that restore the gift of those stories' strangeness, which is to say their deep humanness. This disquieting, consoling novel is a book of questions, a book of doors: a companion for the long night of our unknowing." —Garth Greenwell, author of What Belongs to You

"This Is Why I Came is a remarkable and remarkably unclassifiable book. Neither revisionist text, nor compendium of Bible tales made palatable to post–modern sensibilities, Rakow's scripture (what else can I call it?) is an entirely new creation. These holy narratives aren't summoned forward to meet us in our present time and place. Instead, it is us she coaxes back to the when of the events as they occur. And in this book, they do occur. There is no metaphor here. A miracle is exactly that. And miracles don't always end well. Mary Rakow has written through (and against and underneath and between) the stories we already know—or think we know. Her cadence is incantatory. The wisdom, ancient. This is a book of great and dangerous grace." —Jill Alexander Essbaum, New York Times bestselling author of Hausfrau

"In these few exquisite pages, Rakow strips the skin of centuries from the central narratives of Western Culture, exposing the rawly human in all our grief and yearning. She portrays religion not as refuge, as gift, but as an arena of mistakes, passion and error, delusion––the profoundly disruptive encounter with God. An inflammatory, Blakean tour de force."—Janet Fitch, author of White Oleander and Paint it Black

"This lean volume filled my soul. Rapturously beautiful, tender, complex, Mary Rakow has written sentences and entire passages you need to read aloud to really hear the symphony of language. You can debate the message of This is Why I Came, but you must acknowledge its wisdom."
––Samantha Dunn, author of Failing Paris and Not By Accident

"Who would dare re–imagine the stories of the Bible? Mary Rakow, that's who. Author of a brilliant debut novel, The Memory Room, a Harvard Divinity School graduate gifted with the ear of a poet, Rakow's long awaited second novel, This is Why I Came is unusual, effortlessly lyrical and philosophically direct. The product of someone, rare in our time, who seems possessed of a biblical imagination. That the novel is controversial and culturally timely is clear, entering the current belief/disbelief debate in an intimate and original way. Yet the novel gifts us with far more than that. It is a ticket into a dream where the opaque feels transparent again, the shallow, profound and the presumed irrelevance of biblical characters, including God himself, is explored. In place of this rumor of our shared smallness, the transcendent quality of the world, of the ordinary, feels not only possible but logical, natural and true. As I read the last page, I was caught up in a trance where new meanings and understanding found a place to take flight."—David Francis, author of The Great Inland Sea, Stray Dog Winter and Wedding Bush Road

"We think we know the Bible. We think we know these old stories like we know our bodies. But Rakow explores the silences in these texts imagining realities yet undreamt. The startling result is her long–awaited second novel, This is Why I Came. Boldly and reverently she collapses time in her treatment of these biblical figures, grows forms and lifts the framework so that word becomes breath. She calls us to envision consciousness not enclosed in our heads or the spine of a book, even an ancient, and to many, a sacred book, but to celebrate it as alive, in constant interaction. This is what we look for in art. A vision that adds to the quality of our own consciousness, that breaks through reality as we know it. Our transfiguration.If all great art is praise, as she asserts, quoting Ruskin on her website, then This is Why I Came is praise of the most high. In the first chapter, she imagines Adam as the Maker, driven to despair because he cannot make the form he longs to see, the form that will tell him who he is. In this, Rakow succeeds where her Adam failed. Through her protagonist Bernadette, she has made a new form that tells us who we are. In her hands, words become cups of light and symbols are given their potential to reveal, again and anew, what it is to be human."—Julianne Ortale, Women on the Edge

Praise for The Memory Room:

"Once you have read the last line and closed the cover, the world will not look quite the same. This is fiction as art, the page as canvas."
–Sam Dunn, author of Failing Paris and Not By Accident

"In her suspenseful, poetic, mysterious and profound novel The Memory Room, Mary Rakow addresses the big questions–how do we live with our knowledge of evil? And then what do we do with this knowledge, and how can we reconcile it with an equally profound awareness of the depth of the world's beauty and the possibility of faith? Approaching these fundamental issues not as a philosopher but as an artist using a subtle poet's touch, she explores the great paradoxes of the human condition without simplification or denial. The Memory Room marks the rarest of occurrences—the debut of a literary master."
–Janet Fitch, author of White Oleander and Paint It Black

"Powerfully imagined and profoundly insightful."
–Kirkus Review

"When I became aware that this book would be threading Paul Celan's words all throughout its own texture, I wondered if an American novel's contemporary language and concerns could sustain those of a tragic, brilliant Holocaust survivor. But I needn't have worried. Mary Rakow has seamlessly, subtly composed her own memory fugue, distant from Celan yet profoundly connected. It's at once intense and crystalline on every page."
–John Felstiner, author of Paul Celan, Poet, Survivor, Jew and Selected Poems and Prose of Paul Celan

"Haunting and profound, The Memory Room refracts personal history and puts it back together as powerful art. Reading this utterly unique—and very surprising—novel, is like being awake 150 consecutive nights, watching, exquisite brushstroke by brushstroke, the painting of a mural depicting the navigation of a human soul through the transcendent severities of love, unspeakable loss, exhaustive and bold questioning of beauty and faith itself. Mary Rakow has written a daring, brilliant book."
–Howard Norman, author of The Museum Guard and The Haunting of L

"It is the moral seriousness of Rakow's book, as much as the literary inventiveness, that elevates her work to the realm of literature."
–Jonathan Kirsch, "Art After Auschwitz" The Los Angeles Times.

"With subtlety, restraint and an extraordinary eye for detail, Rakow has constructed a breathtaking debut that avoids the clichés of abuse narratives as it tests the boundaries of prose and poetry. . .. Drawing from the Psalms and the poems of Paul Celan, Rakow has written a novel that distills the mysteries of suffering, faith and salvation into a complex yet accessible whole. The horror of her tale is ultimately redressed by the sensitivity and skill with which it is told."
–Publishers Weekly, starred review
Counterpoint, 9781619025752, 204pp.
Publication Date: December 15, 2015
About the Author
Mary Rakow is the recipient of two Lannan Foundation Residencies and a Lannan Foundation Literary Fellowship. The Memory Room was shortlisted for the Stanford University Libraries International Saroyan Prize in Literature, a PEN USA/West Finalist in Fiction and was listed among the Best Books of the West by The Los Angeles Times. She comes to fiction from theology (Masters, Harvard Divinity School, Ph.D., Boston College) and lives in San Francisco where she is a freelance editor.
or
Not Currently Available for Direct Purchase