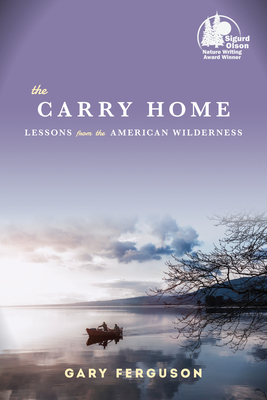 The Carry Home
Lessons From the American Wilderness
Paperback

* Individual store prices may vary.
Other Editions of This Title:
Hardcover (11/11/2014)
MP3 CD (8/2/2016)
Description
The nature writing of Gary Ferguson arises out of intimate experience. He trekked 500 miles through Yellowstone to write Walking Down the Wild and spent a season in the field at a wilderness therapy program for Shouting at the Sky. He journeyed 250 miles on foot for Hawks Rest and followed through the seasons the first fourteen wolves released into Yellowstone National Park for The Yellowstone Wolves. But nothing could prepare him for the experience he details in his new book.



The Carry Home is both a moving celebration of the outdoor life shared between Ferguson and his wife Jane, who died tragically in a canoeing accident in northern Ontario in 2005, and a chronicle of the mending, uplifting power of nature. Confronting his unthinkable loss, Ferguson set out to fulfill Jane's final wish: the scattering of her ashes in five remote, wild locations they loved and shared. The act of the carry home allows Ferguson the opportunity to ruminate on their life together as well as explore deeply the impactful presence of nature in all of our lives.



Theirs was a love borne of wild places, and The Carry Home offers a powerful glimpse into how the natural world can be a critical prompt for moving through cycles of immeasurable grief, how bereavement can turn to wonder, and how one man rediscovered himself in the process of saying goodbye.
Praise For The Carry Home: Lessons From the American Wilderness…
"[A] haunting, deeply personal account of tragedy, grief and recovery...[Ferguson] sheds rich, nuanced light on the influence of nature on generations past, present and future."—Canoe and Kayak

"Ever–evocative nature writer Ferguson (Shouting at the Sky) pens a memoir that doubles as an intensely personal, sweet, and melancholy love song to his lost beloved and to the wild places of America.…In the background, observations of both the timelessness of nature and of the moods of a whole generation of itinerant nature lovers…give a quiet universality to Ferguson's private thoughts…" —Publisher's Weekly

"Gary Ferguson writes under the influence of poetry, especially that of beat poets Kenneth Rexroth and Gary Snyder, known as the poet laureate of Deep Ecology. But Ferguson's prose is clear and engaging, and he uses it to convey his hard–earned knowledge of fear and freedom and the failings of the boomer generation." —High Country News

"With the same exceptional skill and astute observations about our environmental heritage that he displayed in 22 previous nonfiction works on nature and science…Elegiac and deeply moving, Ferguson's memoir is both a heartfelt eulogy to his late, beloved wife and an introspective meditation on the healing power of nature over grief." —Booklist

"Gary Ferguson has told an exquisite and heart–rending tale. It is a journey into the deepest parts of the human soul and the wildest places in wilderness. I defy any reader to finish this brilliant book with dry eyes." —Luis Alberto Urrea, author of The Devil's Highway, Finalist for the Pulitzer Prize

"The Wilderness Act turns 50 this year, making it an ideal time to reflect on the impact of nature on our lives. For nature writer Gary Ferguson, however, the subject is deeply personal. After his wife Jane died in a 2005 canoeing accident, he traveled across America to scatter her ashes in wild spaces. The resulting powerhouse of a book is not to be missed." —Backpacker Magazine

"In his memoir, The Carry Home, he taps into reverent, almost spiritual incantations of nature, and genuinely so. He highlights lively imagery and derives wisdom from his interactions with the wild outdoors. This memoir is a tribute to his late wife as much as it is a work of memory or close connection with the environment.…At the end of the memoir, the author presents a vibrant and hopeful beginning as he learns to move on and embrace recovery and healing that come with coping with the loss of a loved one. Ultimately, it is a graceful portrait of a life lived and loved, adorned by the illustrious and expansive wilderness that we call life. The Carry Home is a quiet journey of introspection for the little things and the big things that life requires of us."—Deseret News

"Praise Gary Ferguson, for taking us on the most intimate journey from utter loss and devastation through rebirth and all the way to wonder, for letting the wilderness that had always saved him, save him again. Praise him for this big hearted, lyrical, and loving reminder of why we went to the wilderness in the first place, of how it saved us and made us—and how it might still. If we are courageous enough to love it in all its diminishments, if we are brave enough to fight for what remains." —Pam Houston, author of Contents May Have Shifted

"Here is alchemy; equal parts intellect, courage, and honesty. In The Carry Home Gary Ferguson has accomplished what only the best of us can hope to achieve in a lifetime; he has spun grief into a golden exultation of the natural world and its ability to heal our wounds." —Mark Spragg, author of Where Rivers Change Direction and An Unfinished Life

"...the author twines this talent for alert, panoptical movement through spaces and places…Throughout the author emphasized and explores the couple's love of, and devotion to, the natural world…Pearly sentences slide one to another as Ferguson travels 'deeper into grief' — but he never fully gave in to despair, and that is to readers' benefit…A sprawling, lovely, nourishing tonic for all those who dip into it." —Kirkus

Hawk's Rest

"A sharp and ironic sense of what it's like to live in the American outback, twenty–first–century style." —Natural History Magazine

"A well–written work ... if you love Yellowstone, a great treat." —Desert News

"Dazzling ... an Edward Abbey–esque book, full of snappy vignettes and chiseled writing." —San Francisco Chronicle

"Ferguson evoke(s) feelings of solitude, timelessness, and aching beauty in the smallest details." —The Oregonian

"Mournful and defiant as a wolf howl ... an eloquent tribute to a threatened place and its lone protectors." —Los Angeles Times

Decade of the Wolf

"This should be your book if you care at all about preserving wildness in the world." —William Kittredge, author of The Nature of Generosity

"Respectful and intriguing, this in an indispensable historical document on the West, all the more so for the elegance of the story and the clarity of writing." —Rick Bass, author of The New Wolves and The Ninemile Wolves

"Wolf biologist Smith and nature writer Ferguson (Hawks Rest) deliver a compelling inside look at the Yellowstone Wolf Recovery Project, covering the 10 years that have passed since the U.S. Fish and Wildlife Service made the controversial decision to reintroduce wolves into the national park. Their book is a detailed look at how the return of the wolves—once among the most numerous of North American predators—has provided scientists with a chance to witness "the dynamic forces of nature that drove this region before the coming of the Europeans" as well as to puzzle out what wolves mean to the area's ecosystem...It's a perfect balance to Hank Fischer's Wolf Wars and will please fans of that well–received overview of the controversy." —Publishers Weekly

"A marvelously intimate look at the ups and downs of wolf reintroduction...this intimate history of the return of the top predator to Yellowstone will find an eager audience." —Booklist, Starred Review

Select Awards and Honors
High Plains Book Festival Lifetime Achievement Award
University of Idaho Visiting Writer, Spring 2011
2005 Montana Book of the Year for Decade of the Wolf
Mountains & Plains and Pacific Northwest Booksellers Associations Nonfiction book of the Year for Hawks Rest
Lowell Thomas Award for The Sylvan Path
Seigle Scholar, School of Political Science, Washington University, St. Louis, 2002
William Kittredge Distinguished Visiting Writer, University of Montana, Spring 2007
Counterpoint, 9781619025837, 296pp.
Publication Date: September 15, 2015
About the Author
Over the past twenty–five years Gary Ferguson has established himself as an expert chronicler of nature, having written for a wide variety of publications from Vanity Fair to The Los Angeles Times. He is the author of nineteen books on science and nature, including the award–winning Hawk's Rest. He is also a highly regarded keynote speaker at conservation and outdoor education gatherings around the country and is currently on the faculty of the Rainier Writing Workshop Masters of Fine Arts program at Pacific Lutheran University.
or
Not Currently Available for Direct Purchase