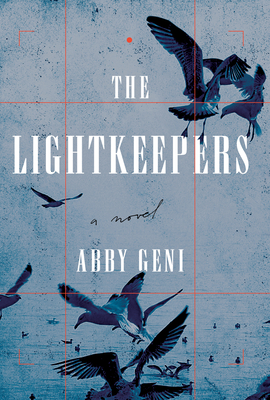 The Lightkeepers
A Novel
Hardcover

* Individual store prices may vary.
Other Editions of This Title:
Digital Audiobook (1/11/2016)
Paperback (12/13/2016)
Compact Disc (1/12/2016)
MP3 CD (1/12/2016)
Compact Disc (1/12/2016)
Description
Winner of the 2016 B&N Discover Great New Writers Award for Fiction

In The Lightkeepers, we follow Miranda, a nature photographer who travels to the Farallon Islands, an exotic and dangerous archipelago off the coast of California, for a one–year residency capturing the landscape. Her only companions are the scientists studying there, odd and quirky refugees from the mainland living in rustic conditions; they document the fish populations around the island, the bold trio of sharks called the Sisters that hunt the surrounding waters, and the overwhelming bird population who, at times, create the need to wear hard hats as protection from their attacks.

Shortly after her arrival, Miranda is assaulted by one of the inhabitants of the islands. A few days later, her assailant is found dead, perhaps the result of an accident. As the novel unfolds, Miranda gives witness to the natural wonders of this special place as she grapples with what has happened to her and deepens her connection (and her suspicions) to her companions, while falling under the thrall of the legends of the place nicknamed ""the Islands of the Dead."" And when more violence occurs, each member of this strange community falls under suspicion.
Praise For The Lightkeepers: A Novel…
"Readers . . . will find themselves carried along by a sturdy, rather old–fashioned thriller ramped up by some modern, ecologically themed plot twists . . . The plot is structured like that of a horror film, moving from one alarming event to another, and in between, maintaining a tension around the question of how much worse the situation will get . . . [a] peculiar, atmospheric novel . . . It's become customary—the fallback consolation of the book reviewer—to say that one is eager to see what a writer will do next. But in fact that is the case here. Ultimately, what engages us in The Lightkeepers, beyond its energetic plot, is the sense of watching its author discover her ability to construct a suspenseful narrative. And we finish this novel curious to find out what sorts of stories Abby Geni will choose to tell." —New York Times Book Review

"Spending a year documenting the harsh beauty of California's Farrallon Islands is a dream come true for photographer Miranda—until her idyll turns deadly." —People Magazine, Great New Fiction

"Violence in the small community seems to be everywhere, and everyone and everything seems culpable." —Marie Claire

"Geni's haunting debut takes place on an island just 30 miles from San Francisco, but it might as well be another planet—killer sharks circle the water, violent birds rip the skin off of seals and peck humans in the head, and the waters are so rough, there isn't even a dock for boats. Miranda, a nature photographer, applies for short–term residence on the island, living in a cabin with a few quirky biologists. But things change when she suffers a violent attack—and then her attacker is mysteriously killed the next day. Geni's writing about the natural world is marvelous and her atmospheric novel is not to be missed." —Entertainment Weekly, 11 Books You have to Read in January.

"[A] dazzlingly unsettling first novel . . . The language is as startlingly rich as the terrain, making you look at everything as if you had never seen it before . . . Geni expertly propels her story into a breathtakingly shocking climax. The nature she describes has no sense of right or wrong. And what's more frightening, neither do her characters, and in this stunning debut, both pull you in and hold you like a riptide." —Caroline Leavitt, San Francisco Chronicle

"Part murder mystery, part psychological thriller, part ode to one of the western world's wildest landscapes, this dark, compelling tale is an astonishingly ambitious debut . . . Like many literary classics and novels that are destined to be classics, The Lightkeepers raises questions about humanity that are anything but light. Unlike many classics, it's an accessible page–turner whose surprises, both fictional and stylistic, unfold so satisfyingly that the novel is also a pleasure to read." —Meredith Maran, Chicago Tribune

"Mysterious, vivid, and original, The Lightkeepers will quickly ensnare readers in its cruelly beautiful world." —Buzzfeed

"With The Lightkeepers, Geni joins the ranks of Barbara Kingsolver and Annie Proulx—novelists for whom nature is a driving narrative force instead of a backdrop. However, Geni's debut is a few shades darker than Prodigal Summer or Close Range, and instead of Kingsolver and Proulx's architectural prose, Geni writes in small, perfect sentences stripped of ornamentation, often single clauses. It's a beautiful effect; pages pass quickly and effortlessly. By the novel's end, you'll crave another journey with Geni to some other wild, forgotten corner of the globe." —Chicago Review of Books

"The strange and desolate Farallon Islands serve as the backdrop for this evocative and enchanting debut novel . . . Geni writes with the clear, calm confidence of a master storyteller. This is a haunting and immersive adventure, set in an unforgettable, wild habitat of its own." —Publishers Weekly, (starred and boxed review) 

"Miranda's travelogue, at once emotional and dreamy and rendered in crisp, stunning prose, is so central to the book that readers may at times forget the underpinnings of the locked–room mystery or brush off the question of her reliability as a narrator . . . Geni may be unmatched in her ability to describe nature in ways that feel both photographically accurate and emotionally resonant. Natural wildness, human unpredictability, and the subtle use of literary devices are woven here into a remarkable, vertiginous web." —Kirkus Reviews (starred review)

"The six biologists of the Farallon Islands, like the animals they observe, survive on instinct. Even as they analyze and obsess, they act upon each other with ferocity, with tenderness, with primal need. We are as captivated by, as trapped by, these islands as the characters—and no one in this hypnotic story, including the reader, stands on solid ground. The Lightkeepers is a stunner: intense, surefooted, masterful. This is a book to swallow whole." —Rebecca Makkai, author of The Hundred–Year House
Counterpoint, 9781619026001, 340pp.
Publication Date: January 12, 2016
About the Author
Abby Geni is the author of The Lightkeepers, winner of the 2016 Barnes & Noble Discover Great New Writers Award for Fiction and the inaugural Chicago Review of Books Award for Best Fiction.
or
Not Currently Available for Direct Purchase