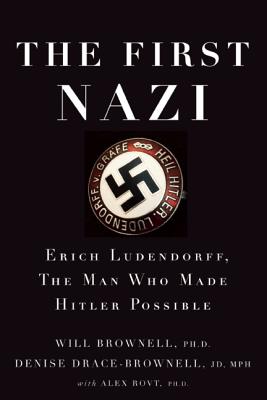 The First Nazi (Hardcover)
Erich Ludendorff, the Man Who Made Hitler Possible
Counterpoint LLC, 9781619026094, 356pp.
Publication Date: March 15, 2016
* Individual store prices may vary.
Description
..". T]he authors deliver a chilling, well-researched biography that opens a whole new window on the world wars and the German psyche at the time."--Kirkus "A brilliant tactician and an abysmally poor politician and strategist, Ludendorff summed up the strengths and weaknesses of the German General Staff. His is a fascinating story of talent, discipline, obsession, and denial."--Professor Isabel Virginia Hull, PhD, Cornell University One of the most important military individuals of the last century, yet one of the least known, Ludendorff not only dictated all aspects of World War I, he refused all opportunities to make peace; he antagonized the Americans until they declared war; he sent Lenin into Russia to forge a revolution in order to shut down the Russian front; and in 1918 he pushed for total military victory, in a slaughter known as "The Ludendorff Offensive." Ludendorff created the legend that Germany had lost the war only because Jews had conspired on the home front. He forged an alliance with Hitler, endorsed the Nazis, and wrote maniacally about how Germans needed a new world war, to redeem the Fatherland. He aimed to build a gigantic state to dwarf even the British Empire. Simply stated, he wanted the world.

About the Author
Will Brownell, Ph.D. is a scholar with both military and academic experience. Militarily, he has served as a translator and interpreter for the US Army and State Department. He was educated at Exeter, Cornell, Columbia, plus the Universities of Madrid and Paris. An expert in European military history, he is the author of So Close to Greatness, the biography of Ambassador William C. Bullitt, the first US Ambassador to the Soviet Union. He lives in New York. Denise Drace-Brownell, JD, MPH is a technologist, inventor, and international business executive. She has negotiated complex, high profile multi-state and global agreements. She was educated at Columbia and Rutgers, plus the Universities of Pennsylvania and Illinois. She lives in New York.
or
Not Currently Available for Direct Purchase