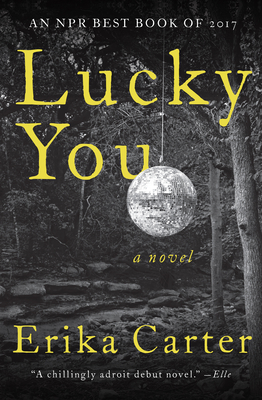 Lucky You
A Novel
Paperback

* Individual store prices may vary.
Other Editions of This Title:
Hardcover (3/21/2017)
Description
An NPR Best Book of 2017



"A chillingly adroit debut novel." —Elle



"Lucky You is a marvel of a book, partly because Carter does a perfect job balancing humor and tragedy . . . As an author, she's both unsparing and compassionate, and among her greatest gifts is an ability to find a savage kind of beauty in the unlikeliest of places." —Michael Schaub, NPR



Ellie, Chloe, and Rachel are friends (sort of), waitresses at the same dive bar in the Arkansas college town they've stuck around in too long, each becoming unmoored in her own way. When Rachel falls under the sway of a messianic boyfriend with whom she's agreed to live off–grid for a year, she convinces Ellie and Chloe to join them in "The Project." With startling exactitude and wickedly deadpan humor, Lucky You, lays bare the emotional core of its characters with surgical precision.
Praise For Lucky You: A Novel…
Praise for Lucky You

An NPR Best Book of 2017

An official Book of the Month Club selection.

1 of 6 New Paperbacks You Should Read in August (Vulture)

"[A] cooly enigmatic debut."—O Magazine

"If your fever dreams of going off–grid remains unfulfilled, sublimate with Erika Carter's chillingly adroit debut novel, Lucky You, about three twentysomethings who, bored with life in a college town, move to the no–paced Ozarks—where life lessons in sexual tensions, isolation, and personal foibles shift into fast–forward."—Elle

"Beautifully, sharply, humorously deployed prose." —Southern Living, one of the Best Books of the Year

"...[A] rich and observant debut."—Marie Claire

"Carter has written a wonderful novel, intelligent but unpretentious. As an author, she's both unsparing and compassionate, and among her greatest gifts is an ability to find a savage kind of beauty in the unlikeliest of places . . . Lucky You is, in the end, challenging, intelligent and, yes, quite beautiful." —Michael Schaub, NPR online

"[A] perceptive debut novel . . . The women's journey of self–discovery, or lack thereof, make them perfect 21st–century heroines." —Vulture, 1 of 6 New Paperbacks You Should Read in August

"A darkly funny and melancholic look at the inevitable uncertainty of early adulthood." —PureWow

"As a novel about detached youth, Lucky You absolutely fits the bill . . . Certain moments of linguistic detail shine like the disco ball depicted on the book's cover . . . It's rare to see the plight of millennials cast outside of urban centers, out in the country, with frat couches on lawns and Old Crow Kentucky bourbon as well whiskey. Lucky You accurately and empathetically depicts the struggles of certain Southerners, and for that alone, it's worth a read." —BOMB

"Carter's ambitious debut novel delves into the ennui that comes with being young and unsure... Carter's no–nonsense prose is darkly witty, lacking the self–indulgence or mean–spiritedness often seen in stories about modern youth... Carter's compassion for her lost young women is clear, and the story never falters from the starkly realistic trajectories marked out for the protagonists. The result is a clever and honest look at the consequences of youthful malaise." —Publishers Weekly

"Throughout the novel, Carter's language is surprising, even tactile... A melancholy, elliptical tale of friendship and alienation in the South." —Kirkus Reviews

"Carter's sharp debut novel reads like a long–remembered nightmare, eerily realistic and subtly horrifying . . . Off–grid–living stories have become quite popular as of late . . . and Lucky You is a nice addition to the canon . . . Readers will be hard–pressed to put the book down as the girls make their breaks back to civilization." —Booklist

"With lean and impressionistic prose, Erika Carter casts a most compelling light on three young women trying to bloom into their very selves. But this blooming is never easy, and Carter renders it gorgeously with street–wise compassion, grit, and a kind of dark, life–loving humor that is absolutely irresistible to read. Lucky You is not only a superb novel, it heralds a strong and authentic new voice among us. From here on out, I will read whatever Erika Carter writes!" —Andre Dubus III, New York Times bestselling author of Townie

"Lucky You is a wry and unflinching portrait of three young women navigating dark and complicated issues of love and sex and loneliness, depicted with a sharply observant eye, precision prose, wicked humor and courageous insights into the hearts of these characters. This is a powerful and touching book written with the wisdom and control of a seasoned novelist, and Erika Carter has announced herself with a bold, honest, and emotionally scorching debut." —Nic Pizzolatto, author of Galveston, creator and writer of True Detective

"Erika Carter has that rare combination of tough intelligence—almost, as it were, the rough straightforward shrewdness of old–style city–beat newspaper writers—and the musical, sensual, subtle touch of the poet. Her story of these three young women will keep you reading, and you won't soon forget them. What a marvelously talented young writer." —Richard Bausch, author of Before, During, After


"The most beautiful novels read like fevered whispers, a shared secret, and Carter's prose lingers like that. For a book that features haikus, the novel has some of that style, desperately distilling life down to our dreams and desires." —Joshua Mohr

"With Lucky You, Erika Carter has written a magnificent novel that pitches and swirls forward as love stories pivot toward heartbreak, power poisons sex, drunkenness turns to sobriety and back to drunkenness again, and misguided people search for things that aren't to be found, from dark basement bars to the rolling wooded landscape of the Arkansas Ozarks. Lucky You is an utterly captivating novel, written in precise, surprising sentences with a charge so electric they snap across the page like lightning."—Benjamin Hale, author of The Evolution of Bruno Littlemore and The Fat Artist

"By turns dark and funny, Lucky You is a stunningly honest novel about the inner lives of three women. Sexy, risky, with a pleasurably dangerous tension. Erika Carter's writing is effortlessly remarkable." — Janis Cooke Newman, author of A Master Plan for Rescue

"The 'you' in this novel's title might refer to the reader, who's lucky to have discovered this book. Sexy, wise, wryly funny, it covers two years in the lives of three young women searching for—what?—love, health, happiness, or any combination of the three. It's brilliantly observed and masterfully paced, and its voice will resonate long after the last page. You lucky, lucky reader."—Tom Franklin, author of Crooked Letter, Crooked Letter
Counterpoint, 9781619027169, 288pp.
Publication Date: August 28, 2018
About the Author
Erika Carter's work has appeared in the Colorado Review, Meridian, CutBank, and the South Carolina Review, among other literary journals and magazines. She lives in Richmond, Virginia, with her husband, the artist Rob Carter.
or
Not Currently Available for Direct Purchase