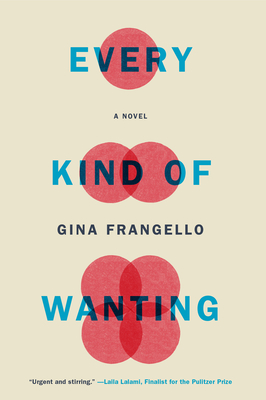 Every Kind of Wanting
A Novel
Hardcover

* Individual store prices may vary.
Other Editions of This Title:
Digital Audiobook (9/5/2016)
Paperback (8/15/2017)
MP3 CD (9/5/2017)
Compact Disc (9/6/2016)
Description
Every Kind of Wanting explores the complex intersection of three unique families and their bustling efforts to have a "Community Baby." Miguel could not be more different from his partner Chad, a happy–go–lucky real estate mogul from Chicago's wealthy North Shore. When Chad's sister, Gretchen offers the couple an egg, their search for a surrogate leads them to Miguel's old friend Emily, happily married to an eccentric Irish playwright, Nick, with whom she is raising two boys. Into this web falls Miguel's sister Lina, a former addict and stripper, who begins a passionate affair with Nick while deciphering the mysteries of her past.



But every action these couples make has unforeseen consequences. As Lina faces her long–hidden demons, and the fragile friendships between Miguel and Chad and Nick and Emily begin to fray as the baby's birth draws near, a shocking turn of events—and the secret Lina's been hiding—threaten to break them apart forever.



By turns funny, dark and sexy, Every Kind of Wanting strips bare the layers of the American family today. Tackling issues such as assimilation, the legacy of secrets, the morality of desire, and ultimately who "owns" love, the characters—across all ethnicities, nationalities, and sexualities—are blisteringly alive.
Praise For Every Kind of Wanting: A Novel…
Praise for Every Kind of Wanting

Finalist for the 2016 Chicago Review of Books Award

"Urgent and stirring." —Laila Lalami, Pulitzer Prize finalist for The Moor's Account

"A darkly funny tale." —Marie Claire

"Powerful, provocative, multilayered...As in Gina Frangello's entire body of work, the nefarious, neurotic and quintessentially human qualities of her characters compel the reader to relate to them and root for them, despite or because of the sexy, scintillating messes they make of their lives." —Chicago Tribune

"The families in Frangello's latest novel are truly in a category all their own...behind all the potential melodrama is a story that takes a serious look at race, class, sexuality, and loyalty — in short, at the new American family." —The Millions, Great Anticipated Book List of 2016

"Frangello's characters are flawed but sympathetic, and she brings up important points about race, class and sexuality. Read this if you've ever wondered how you'd fare in such a situation—or if you're just deeply curious about how such nontraditional pregnancies might play out in the real world." —PureWow, 10 Best Books to Read This Fall

"Every Kind of Wanting deals with the kind of trauma that cracks you open over time...Frangello...is a sculptor who has carved out the truest and most intimate parts of a human life. The root of the novel is about lives being upended." —Chicago Review of Books, 10 Best Books to Read This September

"Every Kind of Wanting is grand in scope but intimate in detail. Like Love Actually, people cheat on each other, harbor secret loves, resent members of their own family, and confront the worst parts of themselves. Just don't expect a happy ending in the London airport." —Chicago magazine, The Year's Best Books About Chicago, by Chicagoans

"Every Kind of Wanting is a powder–keg disguised as a domestic drama that detonates every one of out expectations of what it means to be a family." —San Diego CityBeat

"No one breathes complexity and compassion into their characters quite like Gina Frangello, and her latest novel, Every Kind Of Wanting, features another stellar ensemble." —Coast Magazine

"Frangello is an author who pushes boundaries...[T]he story fascinates and never falters. Frangello takes on an enthralling range of issues, from sexuality to assimilation, and keeping secrets is her greatest talent. Every page brings a new revelation, making the bitter end even sweeter." —The Globe and Mail

"[Frangello] has subverted the old–fashioned suburban narrative, and filled it with a constellation of quirky characters...Frangello threads conflicts over ethnicity, class, and sexuality into the novel, and injects a smart topicality that gives it special resonance."—National Book Review

"A twisted novel of family...which poses big questions about love, fidelity, and parenthood...Fans of Frangello's work will enjoy this intricate portrait of the connections between an immigrant Latino family and moneyed North Shore magnates."—Kirkus

"It's the balance between interior and exterior, tidiness and chaos, that makes Every Kind of Wanting so winsome. The reader sees the imperfections of these collective lives like a great tableau, as rich and human as a hand–hewn tapestry." —Shelf Awareness

"[A] poised and intuitive handling of the complexities of damaged and fragmented families." —Booklist

"Funny and also dark, with likable characters, Frangello's novel is recommended for fans of witty fiction such as titles by Curtis Sittenfeld." —Library Journal

"Every Kind of Wanting is not only a study in great character development, it is a consummate,emotionally sophisticated, and fiercely readable survey of the yearnings that shape our lives. Frangello is a writer's writer, and Every Kind of Wanting finds her at the top of her game." —Jonathan Evison, bestselling author of The Revised Fundamentals of Caregiving

"A brilliant fusion of deep secrets, stunning lies, the murky past and the uncertain future, all couched around the very human cost of desire. So fearless and ambitious, the pages practically ignite." —Caroline Leavitt, New York Times bestselling author of Is This Tomorrow and Pictures of You

"Desire is at the heart of Frangello's work, and whether we can survive it is central to this raw, wonderful, and unmistakably contemporary novel. This is the future that our conservative forebears were scared of, in all its messy, hopeful glory." —J. Ryan Stradal, New York Times bestselling author of Kitchen of the Great Midwest

"Frangello unspools an exquisitely layered story about desire that takes us to astonishing heights and necessary depths. In a novel that is sensual, shocking, and wise, she delivers truth after truth about lust—whether for a lover, for a baby, for (in)fidelity, for hidden meaning, or, as she so powerfully redefines it, for love." —Dylan Landis, author of Rainey Royal

"This is a novel about how we matter to each other, and why, and to what end. It is a labyrinthine story, complex, recursive, and crafted around the unflinchingly intimate honestly that marks everything Gina Frangello writes. What a brutal book. What a beautiful book." —Jill Alexander Essbaum, New York Times bestselling author of Hausfrau

"Gina Frangello's gifts are countless...Every Kind of Wanting is a tour de force, and Gina Frangello is a genius. Read this to discover her, but better yet: read it to discover your own heart." —Rebecca Makkai, author of The Hundred Year House

"Every Kind of Wanting left me breathless in the best way...like bodies love–wrestling, like language's sweet sweat and suction. I'd follow her words anywhere." —Lidia Yuknavitch, author of The Small Backs of Children

"Frangello masterfully captures the craziness of everyday life: messy and complicated and still, always, worth living. Every Kind of Wanting is a wonder." —Marcy Dermansky, author of The Red Car and Bad Marie

"No one, NO ONE, captures the urgency and heartbreak of the contemporary family, in all its complexity, better than Gina Frangello. Gorgeously written, sharply observed, Every Kind of Wanting is the literary equivalent of a hand grenade. I loved it."—Joanna Rakoff, author of My Salinger Year

"Gina Frangello is a miracle worker. She keeps introducing me to characters who I initially have every intention of hating, but then, miraculously, come to love. In this gorgeous, complex, funny, sexy, and thoroughly modern story, she unpacks the origins of selfishness with unparalleled honesty and compassion. I couldn't put this down." —Sarah Hollenback, Women & Children First
Counterpoint, 9781619027220, 350pp.
Publication Date: September 13, 2016
About the Author
Gina Frangello is the author of the Target Emerging Authors selection A Life in Men, which was a book club selection for NYLON magazine, The Rumpus, and The Nervous Breakdown. She is also the author of two other books of fiction: Slut Lullabies, a Foreword Magazine Best Book of the Year finalist, and My Sister's Continent. She is the founder of Other Voices Books, has served as the Sunday editor for The Rumpus, the fiction editor for The Nervous Breakdown, Executive Editor for Other Voices magazine, and the faculty editor for TriQuarterly Online. Her short fiction, essays, book reviews, and journalism have been published in Ploughshares, the Boston Globe, the Chicago Tribune, the Huffington Post, Fence, FiveChapters, Prairie Schooner, the Chicago Reader, and many others.
or
Not Currently Available for Direct Purchase