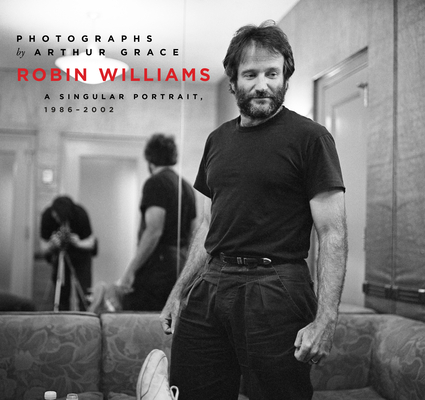 Robin Williams (Hardcover)
A Singular Portrait, 1986-2002
Counterpoint LLC, 9781619027275, 192pp.
Publication Date: August 9, 2016
* Individual store prices may vary.
Description
I had always thought that when I was around 84 and Robin was 80 we could collaborate on a book about the golden years of his career where he could look at my photographs and reminisce about the events and his feelings at the time. Unfortunately, that book was never to be . . . . Photographer Arthur Grace first met Robin Williams in April 1986, at a comedy club in Pittsburgh where Williams was working to polish what would eventually become his award-winning special "Evening at the Met." The two hit it off immediately, and thus blossomed a close friendship that carried them through their increasingly successful careers. Told through a series of stunning photographs of Williams taken by Grace over the course of this decades-long partnership, Robin Williams: A Singular Portrait offers a touching and up-close look at the real Robin Williams--the manic and happy, the pensive and weary, the engaged and disengaged, a true portrait of one of America's greatest comics and most beloved actors. For the millions of people around the globe that Robin Williams has touched, these images, more than 150 photographs, a glorious mixture of stunning color and resonating black and white presented in exhibit format, will be something to embrace and cherish, not simply because of their exclusivity, but because of their intimacy and their honesty.
About the Author
Arthur Grace began his professional career in 1973 as a staff photographer for United Press International. During his award-winning thirty-year career, his photos have been featured on the cover of "Life," "Time," "Newsweek," "The New York Times Magazine," are in the permanent collections of numerous museums including the J. Paul Getty Museum, the National Portrait Gallery, and the High Museum of Art. He has published four critically-acclaimed photographic books: "Choose Me: Portraits of a Presidential Race," "Comedians," "State Fair," and "America 101."