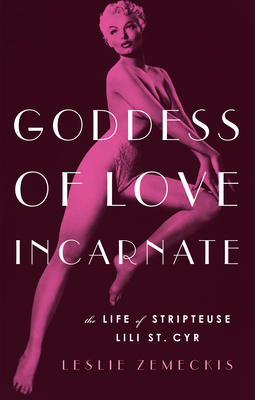 Goddess of Love Incarnate
The Life of Stripteuse Lili St. Cyr
Paperback

* Individual store prices may vary.
Other Editions of This Title:
Hardcover (9/15/2015)
Description
Lili St. Cyr was, in the words of legendary reporter Mike Wallace, the "highest paid stripteaser in America." Wallace was so fascinated by Lili that out of all the presidents and celebrities he interviewed over a long career, towards the end of his life, she was the one he remained fixated on. Her beauty had that kind of effect.



Lili St. Cyr, the one time queen of burlesque, led an incredible life –six marriages, romances with Orson Wells, Yul Brenner, Vic Damone, a number of suicide attempts, all alongside great fame and money. Yet despite her fierce will she lost it all; becoming a recluse in her final decades, she eked out a living selling old photos of herself living with magazines taped over her windows.



Goddess of Love Incarnate will be the definitive biography of this legendary figure, done with the cooperation of Lili's only surviving relative. But the book does more than fascinate readers with stories of a byone era. St. Cyr was ahead of her time in facing the perils and prejudices of working women, and the book offers a portrait of a strong artistic figure who went against the traditional roles and mores expected of women at that time St. Cyr was the first stripper to work in the swanky nightclubs on Sunset Boulevard. She was the first stripper to work Las Vegas. She was at the top of her game for over thirty years. And though she would feel conflicted by it, as do many women who feel the push/pull of careers – especially controversial, button–pushing careers – Lili would dismiss what she did as having no importance. But she wouldn't give it up – not for millionaires and most certainly not for love.



Based on years of research, Goddess of Love Incarnate contains information and memorabilia that was almost lost forever. As an award winning documentary filmmaker and expert writer, Zemeckis brings St. Cyr back to life the way no other writer can, restoring Lili to her rightful place in American history.
Praise For Goddess of Love Incarnate: The Life of Stripteuse Lili St. Cyr…
Praise for Goddess of Love Incarnate

"With tireless detail, Zemeckis brings an enigmatic and forgotten star back in the limelight
and raises tough questions about beauty, sex, womanhood, and success in this fascinating, lavishly (and racily) illustrated biography."—Booklist

"In her dazzling new book, Leslie Zemeckis captures the life and times of one of burlesque's true legends. A magnificent portrait of a complicated woman who once captured the fascination of America." —Karen Abbott, New York Times bestselling author of Liar, Temptress, Soldier, Spy: Four Women Undercover in the Civil War

"I remember hearing my mother, who had seen many beautiful women working for my father, saying that Lili St. Cyr had the most beautiful body of any woman on stage. She did indeed." —Barbara Walters

"What's most resonant in Leslie Zemeckis's biography of Lili St. Cyr is how utterly human this Goddess of Love truly was. This is the story of a disciplined artist, a deeply generous woman, a girl who loved and lost (and loved and lost again and again), and a lady committed to living a determined life. This book, like its subject, is seductive and absolutely captivating." —Jill Alexander Essbaum, New York Times bestselling author of Hausfrau

"The book is well–written and loaded with photos"—Kirkus

Praise for Behind the Burly–Q documentary:

"Utterly entertaining Behind the Burly Q is a painstakingly researched love letter to the women and men who once made up the community of burlesque performers…its treasure trove of vintage photographs and performance footage is enough to make historians and fans of classic erotica swoon…insightful, fascinating." –Ernest Hardy, The Village Voice

CRITICS' PICK! "Intriguing…fans of theatrical history are well advised to check it out"
–New York Magazine

"Charming, entertaining…a delight!" –Manohla Dargis

"Provides a privileged front–row seat to sample several of the form's most memorable practitioners… stories run from raunchy to touching to funny to flat–out incredible." –Ronnie Scheib, Variety

"Taps into a world of burlesque as we've never seen it before." – Linnea Covington, New York Press

"Affectionate and engaging…wonderful vintage footage, a fascinating glimpse into a corner of American history." –New York Daily News

"Fascinatingly strips away at the myths surrounding the most popular American entertainment form of the first half of the 20th century." –Michael Musto, The Sundance Channel

"Quickly paced, absorbing." –Kyle Smith, The New York Post

FOUR STARS(EXCELLENT)! "A fun–filled tribute which elevates the Golden Age of Burlesque to its rightful place in history."–Kam Williams, The Leader

"RUN, DO NOT WALK, TO SEE THIS MOVIE! It is the most thorough, balanced, rich and probing documentary possible about the history of classical burlesque."–Trav S.D., Travelanche

"History done right: informative, entertaining, funny and finally rather moving…jam–packed with juicy detail, and most of that jam is tasty indeed."–James van Maanen, Trustmovies

"Delightful, engaging…A veritable who's who of the grande dames of the burlesque stage…for sheer fun, this is a winner."–George Robinson, Cine–Journal

"Fascinating, colorful and yes, tantalizing… progresses with a peppy pace and lighthearted demeanor probably apropos of a Burly Q show." –Ross Anthony, The Hollywood Report Card

"Any fan of burlesque will no doubt find it thoroughly enjoyable."–Adam Schartoff, Film Forward

"A fun and affectionate look at a subject that continues to fascinate generations." –The Diva Review

"Enjoyable — brassy and loud and thoroughly unapologetic. A lot like its subjects." –NJ.com

"Intimate and surprisingly interesting …BEHIND THE BURLY Q" is a highly recommended and very important cinematic endeavor… a form of entertainment that has been left out of our cultural history and one that many should know about." –Andrew Johnson, Black Cat Media

"Burly is the only oral history recorded by many of burlesque's greatest stars… an interesting look at some unheralded theater history."–Joe Bendel, J.B.Spins

"Offers a delightful portrait of that bygone era, featuring an extensive roster of veterans of the scene…a well–rounded history of the era." –Alex Roberts, TV Soundoff

"(Zemeckis) has preserved for us a lively, lovely corner of American life." – Richard Schickel

"An absorbing, moving and cleverly constructed look at the tradition of American burlesque... the stories are rollercoaster rides!" – Emily Hourican, Irish Independent
Counterpoint, 9781619027947, 400pp.
Publication Date: September 13, 2016
About the Author
Leslie Zemeckis is the author of Behind the Burly Q, the definitive history of burlesque. She wrote/produced/directed the critically acclaimed documentary based on the book, which has been championed by USA Today and The New Yorker. Behind the Burly Q has just been optioned for a television series and a pilot is under–development. She released "Bound by Flesh," a multi–award winning documentary about vaudeville Siamese twin superstars Daisy and Violet Hilton, in 2014. She is an actress and filmmaker.
or
Not Currently Available for Direct Purchase