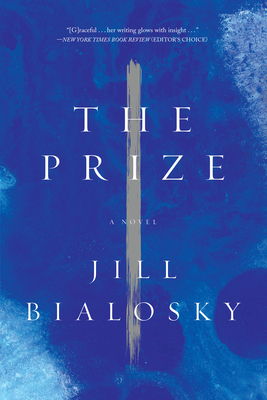 The Prize
A Novel
Paperback

* Individual store prices may vary.
Other Editions of This Title:
Digital Audiobook (9/14/2015)
Hardcover (9/15/2015)
Description
Edward Darby has everything a man could hope for: meaningful work, a loving wife, and a beloved daughter. With a rising career as a partner at an esteemed gallery, he strives not to let ambition, money, power, and his dark past corrode the sanctuary of his domestic and private life. Influenced by his father, a brilliant Romantics scholar, Edward has always been more of a purist than an opportunist. But when a celebrated artist controlled by her insecurities betrays him, and another very different artist awakens his heart and stirs up secrets from his past, Edward will find himself unmoored from his marriage, his work, and the memory of his beloved father. And when the finalist of an important prize are announced, and the desperate artists maneuver to seek its validation, Edward soon learns that betrayal comes in many forms, and that he may be hurtling toward an act that challenges his own notions about what comprises a life worth living. A compelling odyssey of a man unhinged by his ideals, The Prize is also an unflinching portrait of a marriage struggling against the corroding tide of time and the proximity to the treacherous fault line between art and money.
Praise For The Prize: A Novel…
Praise for The Prize:

"The Prize is a graceful, quiet novel that finds its gravitational pull in the dissonance between the transcendence of art and the slog of everyday life. Bialosky has several books of poetry to her name, and her writing glows with insight..." —New York Times Book Review

"This graceful novel balances the transcendence of art against the slog of everyday life."—New York Times Sunday Book Review (Editor's Choice)

"This sharp–eyed novel of the art world follows the fortunes of a partner in a prestigious New York gallery who struggles with the memory of his brilliant but volatile father, the tempers of a high–maintenance artist and her competitive husband, the distress of a rocky marriage, and the temptation of extramarital adventure. The novel's characters are caught in predictable midlife crises—"Do you ever wake up and wonder how you got here?" one asks—but Bialosky deepens our sense of these troubles with well–chosen details, such as the protagonist's luxury–goods addiction. The plot is well crafted, carrying the reader to a surprising end." —The New Yorker

"The portrayal of an art world torn between crass commercialism and genuine expression is grippingly achieved. Ms. Bialosky is a book editor as well as a writer, and she knows something about the agonies and rewards of cajoling great work from basket–case artists. And when she describes the effect of paintings upon the senses (simply viewing Pierre Bonnard's "Le Petit Déjeuner," "full of light and mystery," causes the stress to drain from Edward's body), her own writing harnesses the agility and beauty the book so rapturously exalts."— Sam Sacks, Wall Street Journal

"There is a Jamesian aspiration in this novel of bitter rivalries and thwarted passions, which hops between New York, Europe and Edward's home in Connecticut, where he lives with his disengaged wife and daughter"—Joanna Scutts, Washington Post

"Among the most resonant aspects of the novel is its deep understanding about the communicative nature of art."—David Ulin, Los Angeles Times

"The Prize is a novel whose pages I turned and couldn't bear to pause, to take a break from reading. At the deepest level—the level of literature—the suspense came from wanting to know the fate of the characters. . ..The Prize portrays the art world to perfection. Not just the feel of the moment, its speciously glamorous, quotidian anthropology but the sense, the greater and more profound sense, that the art world is a metonym for our wider world."—Frederic Tuten, Salon

"Jill Bialosky takes The Prize"—Vanity Fair

"Featuring the landmine–strewn territory stretching between passion and audience, The Prize will strike recognizable chords for anyone engaged in the struggle toward originality and authenticity while also trying to 'succeed' in the marketplace."—Elizabeth Rosner, San Francisco Chronicle

"A poet, memoirist, and editor, Bialosky brings an insider's understanding of the complicated layers of being an artist today to this novel in which an art dealer is thrown off balance in the run–up to an awards competition, with ripples affecting his family, his future, and the artists he takes under his wing."—Boston Globe

"Jill Bialosky wears several literary hats; she is a respected and admired editor, poet, and memoirist, as well as a novelist, and the many strengths of The Prize reflect that varied experience. It's a shapely, well–researched book, written with a poet's clarity of language and a memoirist's psychological insight. Best of all, it is a work of novelistic imagination with a fine sense of felt life."—The East Hampton Star

"And for someone whose life is built around finding the significance in the smallest of moments—moments which Bialosky captures with such powerful insight—there is much at stake for him to lose. In the end, after betrayals and loss and sadness, Bialosky asks her hero to consider what he holds most dear. Like Edward feels upon discovering a transcendent piece of art, this book finds that little opening at the edge of your soul and seeps in."—Kirkus Starred Review

"[A] luminous behind–the–scenes view of the art world.... One expects a poet's prose to soar in fiction, and the author does not disappoint, crafting her own work of art with her evocative, fresh descriptions and her careful observations of how artists transform inspiration into their work."—Publishers Weekly

"Bialosky...articulates with grace the crass and the sublime as she explores questions of character, art, obsession, ambition, lies, loneliness, and love. This fluently sophisticated and exquisitely pleasurable novel is radiant with precise and sensuous descriptions and intricately laced with discerning and affecting insights into the passion and business of art and the meaning and struggles of marriage."—Booklist Starred Review

"Accomplished poet and memoirist Jill Bialosky puts her name on the fiction map with her understated novel The Prize... An acclaimed poet with four collections under her belt, Bialosky favors a streamlined vocabulary, each word imbued with clarity and weight. It serves the themes — of the disparity between soulful art and the soulless art world, of the ease with which our time–honored values can be toppled by an event, or a person, or the pursuit of a prize — very well. The Prize is a subdued but haunting investigation of the ways in which modern exigencies can so easily overthrow beauty, purity, and what we believed to be everlasting." —Bustle

"Jill Bialosky ushers us inside the complicated lives of artists and those who strive both to represent them and to capitalize on their talents ... It's the kind of intrigue you will read late into the night." —Beth Kephart, New York Journal of Books
"The Prize is a subtle, incisive, and erotically charged exploration of the dark crossroad where art, money, and obsession converge. Jill Bialosky has written a true and dangerous novel." —John Banville, author of The Sea

"Jill Bialosky brings a poet's ear for language to this moving, knowing meditation on marriage and art and the emotional costs of a life spent in pursuit of even the worthiest ideals." —Jonathan Dee, author of The Privileges, Finalist for the Pulitzer Prize

"In The Prize, Jill Bialosky has written an erotically charged story about the contemporary art world suggestive of a Roman a clef, but far more sponsored by a sublime and sympathetic narrative imagination and boldness. The character of Agnes —a brilliant artist— is a deliciously maddening figure who makes Machiavellian strategies of ambition seem like child's play. Impressively, many of Bialosky's people can't seem to stop apprenticing themselves to their worst instincts (to quote Chekhov) and how they reconfigure their lives to fit their delusions of grandeur makes for hypnotic betrayals. The Prize is vividly modern, and in the tensions offered between art and life, timeless. Yet finally, Bialosky's novel is a kind of old–fashioned love story, with an ending whose bittersweetness is powerfully earned." —Howard Norman, author of The Bird Artist

"Jill Bialosky has written a haunting novel about the gulf between art and the art world – the place where deals are made and souls are lost – but more, about the cost of our choices, our failures, and our silences. Wintry, subtle, unnerving and mysterious in its impact, this book drew me in deeply and really got to me." —Joan Wickersham, author of The News from Spain and The Suicide Index, a Finalist for the National Book Award

"A compulsively readable novel about art: both that on the canvas, and that of finding one's home in another."—Elizabeth Berg, author of Open House

"Renowned poet Jill Bialosky has once again turned her penetrating eye to fiction and lucky for us, because here she delves deeply into nothing less then the complexities of art and desire, and their often dangerous interaction with commerce. At its heart, her wonderful new work, The Prize, is tense, romantic, and timely; a novel about passion and betrayal." —Helen Schulman, author of This Beautiful Life
Counterpoint, 9781619027961, 325pp.
Publication Date: August 9, 2016
About the Author
Jill Bialosky is the author of four poetry collections, The Players, The End of Desire, Subterranean, a finalist for the James Laughlin Prize from the Academy of American Poets, and Intruder, a finalist for the 2009 Patterson Poetry Prize. She co–edited Wanting a Child and has written two novels, House Under Snow and The Life Room. Her most recent memoir, History of a Suicide: My Sister's Unfinished Life was a New York Times bestseller, named one of the ten best works of nonfiction by Entertainment Weekly and a finalist for Books for A Better Life Award and an Ohioana Award. Her poems and essays have been published in many magazines including The New Yorker, The Nation, Redbook, O Magazine, Real Simple, Kenyon Review, Antioch Review, The New Republic, Paris Review, Poetry, and American Poetry Review. She lives in New York City. Learn more at jillbialosky.com.
or
Not Currently Available for Direct Purchase