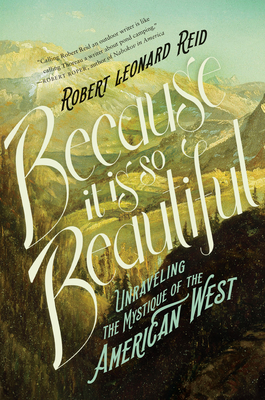 Because It Is So Beautiful
Unraveling the Mystique of the American West
Hardcover

* Individual store prices may vary.
Other Editions of This Title:
Paperback (7/10/2018)
Description
A Finalist for the PEN/Diamonstein–Spielvogel Award for the Art of the Essay



Yes, every inch of the globe has been seen, mapped, photographed, and measured, but is it known? Robert Leonard Reid doesn't think so. To draw a circle and calculate its diameter is not to know the circle. In this collection, Reid distinguishes himself from many science–based nature writers, using the natural world as a springboard for speculations and musings on the numinous and the sacred, injustice, homelessness, the treatment of Native Peoples in the United States, and what pushes mountaineers to climb. Ranging in their settings from eastern New Mexico to northern Alaska, Reid's essays illustrate his belief that the American West is worth celebrating and caring for.



Taking its title from an affecting speech given by renowned author Barry Lopez, Because It Is So Beautiful is a response to desperate questions surrounding America's wildlands. Lopez's words resonated with the young mountaineer–musician–mathematician Robert Leonard Reid, who was struggling to understand his relationship to the world, to find his vision as a writer. What he learned on that long–ago evening is knit throughout the nineteen pieces in the collection, which include essays from Reid's previous books Arctic Circle, Mountains of the Great Blue Dream, and America, New Mexico; three essays that appear here in print for the first time; as well as revised and expanded versions of essays that appeared in Touchstone, The Progressive, and elsewhere.
Praise For Because It Is So Beautiful: Unraveling the Mystique of the American West…
Praise for Because It Is So Beautiful: Unraveling the Mystique of the American West

A Finalist for the PEN/Diamonstein–Spielvogel Award for the Art of the Essay

"If Robert Leonard Reid isn't on your reading list of Western writers of nonfiction, you should place him on it . . . Reid writes about nature in ways that are clear–eyed, incandescent, and provocative." —Albuquerque Journal

"There are many books about the American West. This one, Robert Leonard Reid's lustrous, selected essays from the last four decades, is indispensable. The pages embody the beauty they describe. We find here lightning bolts and bears, the balletic caribou, atomic weapons, legendary wolves, mountaintops where light is a territory of spirit, adventures daft and courageous. We find both the grit and sorrow of history and meditations on redemption and the sacred. But best of all, and most of all, we have the company of the writer: his clear, loving, respectful prose, his bemusement and honesty and learning, the finery of his reflections, and the integrity of his journey." Steven Nightingale, author of Granada and The Hot Climate of Promises and Grace

"Calling Robert Reid an outdoor writer is like calling Thoreau a writer about pond camping. There is so much more. He writes authoritatively and passionately about the West, especially the wild parts. Wilderness is not better when empty of man, in Reid's descriptions of it; in fact, you might almost say it fails to exist, without some questing consciousness standing under a nighttime mountain sky, hanging thoughts on the shivering stars. Reid has been writing classic American essays full of Twain–like humor and Emersonian moral force for forty years now. In this collection we find him in his calmly formidable prime." — Robert Roper, author of Nabokov in America

"I promise you, this is a man who can enhance, change, and vitalize your life. I also promise you he brings all that together in these pages: you're going to love this book." —David Lee, Pulitzer Prize nominee for News from Down to the Cafe

"Forty years in the making, this astonishing collection could not come at a more urgent time. Its title, Because It Is So Beautiful, alludes to Robert Reid's unrelenting quest to celebrate our vulnerable, historic wilderness, but it also speaks to his prose, and to himself. With lyricism, charm, and trenchant observations, he inspires readers to meditate on the importance of being alive, of being responsible for the landscapes we inhabit. He remains not merely a first–class writer but an invaluable moral guide."—Sascha Feinstein, author of Wreckage: My Father's Legacy of Art & Junk and Ask Me Now: Conversations on Jazz & Literature
Counterpoint, 9781619029293, 320pp.
Publication Date: June 13, 2017
About the Author
Author of Mountains of the Great Blue Dream, Arctic Circle: Birth and Rebirth in the Land of the Caribou, and America, New Mexico, Robert Leonard Reid has received grants from the Sierra Arts Foundation and the Nevada Arts Council. He has worked as a songwriter, a cabaret pianist, and a mathematics textbook writer. He lives in Carson City, Nevada, with his wife, Carol Dimmick Reid. They have a son, Jake.
or
Not Currently Available for Direct Purchase