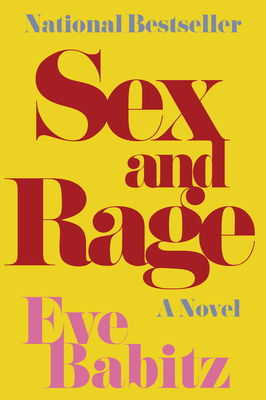 Sex and Rage
A Novel
Paperback

* Individual store prices may vary.
Other Editions of This Title:
Digital Audiobook (7/10/2017)
Description
NATIONAL BESTSELLER

"This novel is studded with sharp observations . . . Babitz's talent for the brilliant line, honed to a point, never interferes with her feel for languid pleasures." —The New York Times Book Review

The popular rediscovery of Eve Babitz continues with this very special reissue of her novel, originally published in 1979, about a dreamy young girl moving between the planets of Los Angeles and New York City.

We first meet Jacaranda in Los Angeles. She's a beach bum, a part–time painter of surfboards, sun–kissed and beautiful. Jacaranda has an on–again, off–again relationship with a married man and glitters among the city's pretty creatures, blithely drinking White Ladies with any number of tycoons, unattached and unworried in the pleasurable mania of California. Yet she lacks a purpose—so at twenty–eight, jobless, she moves to New York to start a new life and career, eager to make it big in the world of New York City.

Sex and Rage delights in its sensuous, dreamlike narrative and its spontaneous embrace of fate, and work, and of certain meetings and chances. Jacaranda moves beyond the tango of sex and rage into the open challenge of a defined and more fulfilling expressive life. Sex and Rage further solidifies Eve Babitz's place as a singularly important voice in Los Angeles literature—haunting, alluring, and alive.
Praise For Sex and Rage: A Novel…
NATIONAL BESTSELLER
An NPR Best Book of 2017
A Bellatrist Book Club Pick for July 2017
The Paris Review Staff Pick
The Huffington Post, 1 of 12 Great New Books to Bring to the Beach This Summer 
Elle, 1 of 9 Books to Read This Summer 
O, The Oprah Magazine, 1 of 10 Titles to Pick Up Now
VICE, 1 of 6 Smarter—But Not Quite Guilt–Free—Beach Reads 

"This novel is studded with sharp observations . . . Babitz's talent for the brilliant line, honed to a point, never interferes with her feel for languid pleasures." —The New York Times Book Review

"Babitz was living proof that rock–and–roll decadence also could be elegant and that muses could be the sharpest tacks in the room. Her writing was so lush and so arch—so sexy and so smart—that she made you believe lush and arch were not mutually exclusive . . . Only Eve could inspire you to buy seven caftans and all the ingredients of a tequila sunrise after reading only ten pages of her books. (Cocaine and caviar were optional.)" —Signature Reads

"First published in 1979 and now back in print with Counterpoint, California queen Eve Babitz's Sex and Rage is a witty, unconventional coming–of–age story of surprising depth and pleasure . . . The book's warmth radiates from her wit and charm, as well as moments when young women recognize and affirm each other. Sex and Rage is a romp with substance—just beyond the descriptions of drinks and parties and devastating one–liners is a sweet story of a bright but messy young woman, making her own way. Nearly forty years after Sex and Rage's initial publication, Jacaranda's candid combination of moxie and sophistication feels fresh as a new generation of their private and public lives." —The Riveter Magazine

Praise for Eve's Hollywood

One of Flavorwire's 33 Must–Read Books for Fall 2015

"Eve's Hollywood has become a classic of L.A. life. The names in the dedication, Jim Morrison, David Geffen, Andy Warhol, Stephen Stills, and more, indicate the era and depth of this important book." —Steve Martin

"Sharp and funny throughout, she offers an almost cinematic portrait of Los Angeles: gritty, glamorous, toxic and intoxicating." —The New York Times

"Eve Babitz is a little like Madame de Sevigne, that inveterate letter–writer of Louis XIV's time, transposed to the Chateau Marmont in the late 20th–Century––lunching, chatting, dressing, loving and crying in Hollywood, that latter–day Versailles." —Mollie Gregory, Los Angeles Times

"Eve Babitz is to prose what Chet Baker, with his light, airy style, lyrical but also rhythmic, detached but also sensuous, is to jazz, or what Larry Bell, with his glass confections, the lines so clean and fresh and buoyant, is to sculpture. She's a natural. Or gives every appearance of being one, her writing elevated yet slangy, bright, bouncy, cheerfully hedonistic—L.A. in it purest, most idealized form." —Lili Anolik, Vanity Fair
Counterpoint, 9781619029354, 256pp.
Publication Date: July 11, 2017
About the Author
Eve Babitz is the author of several books of fiction, including Sex and Rage, Eve's Hollywood, and Slow Days, Fast Company. Her nonfiction works include Fiorucci: The Book and Two by Two. She has written for publications including Ms. and Esquire, and in the late 1960s, she designed album covers for the Byrds, Buffalo Springfield, and Linda Ronstadt.