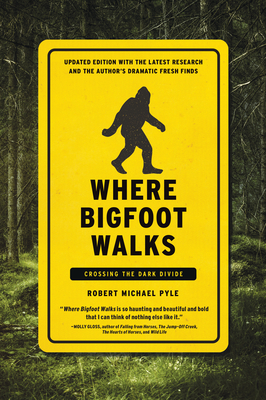 Where Bigfoot Walks
Crossing the Dark Divide
Paperback

* Individual store prices may vary.
Other Editions of This Title:
Digital Audiobook (12/13/2021)
MP3 CD (12/14/2021)
Compact Disc (12/14/2021)
Description
One of America's most esteemed natural history writers takes to the hills of the Pacific Northwest in search of Bigfoot—and finds the wildness within ourselves

Awarded a Guggenheim Fellowship to investigate the legends of Sasquatch, Yale–trained ecologist Dr. Robert Pyle treks into the unprotected wilderness of the Dark Divide near Mount St. Helens, where he discovers both a giant fossil footprint and recent tracks. On the trail of what he thought was legend, he searches out Indians who tell him of an outcast tribe, the Seeahtiks, who had not fully evolved into humans. A handful of open–minded biologists and anthropologists counter the tabloids Pyle studies, while rogue Forest Service employees and loggers swear of a vast conspiracy to deep–six true stories of unknown, upright hominoid apes among us. He attends Sasquatch Daze, where he meets scientists, hunters, and others who have devoted their lives to the search, only to realize that "these guys don't want to find Bigfoot―they want to be Bigfoot!"

Where Bigfoot Walks was the inspiration for the 2020 film The Dark Divide, starring David Cross and Debra Messing. Since the book's original publication, Pyle's fresh experiences and findings have been added to his original work through an updated chapter. With an evaluation of recent DNA evidence from Bigfoot hair and scat, the study of speech phonemes in the "Sierra Sounds" purported Bigfoot recordings, an examination of the impact of the wildly popular Animal Planet series Bigfoot Hunters, the reemergence of the famous Bob Gimlin into the Bigfoot community, and more, Walking With Bigfoot keeps every Bigfoot enthusiast's mind wide open to one of the biggest questions in the land and brings Pyle's work on the "legend" of Bigfoot into the new century.
Praise For Where Bigfoot Walks: Crossing the Dark Divide…
"Fast claiming his place as one of the country's finest natural history writers, Pyle takes to the hills in search of Bigfoot in this absorbing, classily written field report. Pyle makes all the right connections. Best of all, he loves a good mystery and is smart enough, open and radical enough, to never say never."
—Kirkus Reviews

"[A] leisurely, gracefully written meditation."
—Publishers Weekly

"Celebrated author Pyle, whose Wintergreen won a John Burroughs medal, is fascinated not so much by Bigfoot as he is by the people who believe that Bigfoot exists—and are trying to prove it."
—Library Journal

"I like the book very much. Only, I don't know why you were so circumspect. To me, the evidence seems overwhelming."
—Dr. Jane Goodall, in conversation with the author

"A search for the Pacific Northwest's fabled Bigfoot provides a jumping–off point for nature writer Robert Michael Pyle's lyrical ruminations on wilderness, isolation, and the occasional triumphs of mystery over so–called progress. Pyle's well–researched stomping ground is Washington State's Dark Divide in the Cascade Mountains . . . Pyle's route alternates between desolate clear–cuts and majestic ancient forests, between the inroads of civilization and the dark recesses of the wild. But never does the author get too caught up in proving anything to himself or the reader; this search for Bigfoot has as much to do with locating the wild nature within each of us as it does with finding a legend."
—Amazon.com, Editorial Pick

"Where Bigfoot Walks: Crossing the Dark Divide is a unique book in the bigfoot literature, one that is not so much concerned with whether the creatures exist or not, but rather one that focuses on the value of the mystery itself. Dr. Pyle's writing stands alongside those of the great naturalist writers and is full of wit and wisdom. Through his journey, we find that he intuitively understands what most lifetime bigfooters eventually come to know: that bigfooting is about the journey more than the destination."
—Cliff Barackman, field researcher and star of Animal Planet's Finding Bigfoot

"Cross into the Dark Divide with Robert Pyle and you will find yourself in another world, a world where we are one among the animals, a deeper, more ambiguous world, where science answers some of the questions, and our hearts and imaginations answer (or seek to answer) the rest. 'In a class of its own' is an overused phrase, but Where Bigfoot Walks is so haunting and beautiful and bold that I can think of nothing else like it. Follow Bob into the woods, into the labyrinth that is the mystery of Bigfoot—you will find no better guide."
—Molly Gloss, author of Falling From Horses, The Jump–Off Creek, Hearts of Horses, and Wild Life

"Splendidly lyrical and just as splendidly crusty, Where Bigfoot Walks is the sort of book Thoreau might have written if he had discovered giant footprints of an unknown origin in the vicinity of Walden Pond."
—Lawrence Millman, author of Our Like Will Not Be There Again: Notes from the West of Ireland and Last Places
Counterpoint, 9781619029378, 464pp.
Publication Date: August 15, 2017
About the Author
Robert Michael Pyle is the author of fourteen books, including Sky Time in Gray's River, Chasing Monarchs, Where Bigfoot Walks, and Wintergreen, which won the John Burroughs Medal. A Yale–trained ecologist and a Guggenheim fellow, he is a full–time writer living in southwestern Washington.