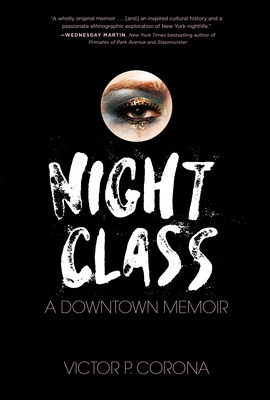 Night Class
A Downtown Memoir
Paperback

* Individual store prices may vary.
Description
The playground of the rich and the beautiful, downtown New York's nightlife spectacles and power of self-invention incubated pop icons from Andy Warhol to Lady Gaga. NYU sociologist Victor P. Corona sought a new education, where night classes held in galleries, nightclubs, bars, apartments, stoops, and all-night diners taught him about love, loss, and the living possibilities of identity. Transforming himself from dowdy professor to glitzy clubgoer, Victor immerses himself among downtown's dazzling tribes of artists and performers hungry for fame.

Night Class: A Downtown Memoir investigates the glamour of New York nightlife. In interviews and outings with clubland revelers and influencers, including Party Monster and convicted killer Michael Alig, Night Class exposes downtown's perilous trappings of drugs, ambition, and power. From closeted, undocumented Mexican boy to Ivy League graduate to nightlife writer, Corona shares in Night Class the thrill and tragedy of downtown and how dramatically identities can change.
Praise For Night Class: A Downtown Memoir…
"What happens when a khaki-clad academic sociologist goes gaga? Find the answer to that question and many others in Night Class, a wholly original memoir about Victor Corona's transformation from nerd to NYU's celebrated 'professor of nightlife.' It's also an inspired cultural history and a passionate ethnographic exploration of New York nightlife and the very concept of self. —Wednesday Martin, author of #1 New York Times bestseller Primates of Park Avenue and Stepmonster

"An engaging, if unlikely, memoir of a scholar by day, club hopper by night . . . Sociology taken to the streets and basements, yielding a well-wrought introduction to a scene little known—and perhaps little imagined—to outsiders."—Kirkus Reviews

"Readers interested in the glamorous and dangerous world of downtown New York will appreciate Corona's rich descriptions and deep research."—Booklist

"Corona researches the New York City club scene circa 2011 while describing his own metamorphosis from earnest academic nerd into glittering creature of the night... Corona's story of his journey has fascinating elements . . . Corona . . . [is] an engaging narrator."—Publishers Weekly

"In our elsewhere world of emoji-mediated electronic communication and shared cat videos, Victor Corona reminds us of the power and primal immediacy of real, live night life. There is no better urban guidebook to the alive-and-well social scene that is downtown New York City. If you are nostalgic for Studio 54, Danceteria, CBGB, or even Desperately Seeking Susan, sigh no more: Night Class is the book for you." —Dalton Conley, Henry Putnam University Professor of Sociology, Princeton University, and author of Honky and You May Ask Yourself: An Introduction to Thinking Like a Sociologist

"Corona has been carving out the terrain of this sociological frontier for years now, making his way into the downtown nightlife scene with a curiosity skewed more toward the philosophical than the pragmatic." —Casey Gilfoil, Columbia Daily Spectator

"Zeroing in on the seductive magic of the downtown club scene—and the fabulous weirdos who flock there—Night Class offers a totally absorbing portrayal of nightlife, creativity, and self-transformation that's as personal as it is juicy. And yes, scalding hot tea is definitely spilled! A sociologist who pumped from the bargain bin to the velvet rope, Victor Corona is a Warholian pop critic who would go to the opening of an envelope, and if I were you, I'd go with him! One of the most important books about New York City you will ever read." —Madison Moore, cultural critic, artist, and research associate, Department of English, King's College London

"Instead of maintaining a critical, anthropological distance, Corona centers his own experience both within and outside of clubs. Part-memoir, part-oral history, part-academic analysis, Night Class, in its intimacy, illustrates the attraction of nightlife, particularly the possibility of self-fashioned identities within the darkened walls of clubs and parties. Positioned somewhere between a nightlife insider and outsider—more insider than out at this point, though Corona does take us on his early cringe-inducing attempts to get into parties—he examines the drive to 'make it' in these small subcultural scenes, articulating the heights and the pitfalls of this fame game . . . Corona's Night Class takes readers through the dazzling, determined and sometimes, demented characters that populate Downtown nightlife." —Filthy Dreams
Soft Skull, 9781619029392, 320pp.
Publication Date: July 11, 2017
About the Author
Victor P. Corona, Ph.D., is a sociologist at New York University. He has been mentioned in The New York Times, New York Post, The Times (London), Glamour, Town & Country, BlackBook, Daily Beast, and The Washington Post. Born in Mexico City, Victor grew up in the New York suburb of White Plains. He now lives in Harlem.
or
Not Currently Available for Direct Purchase