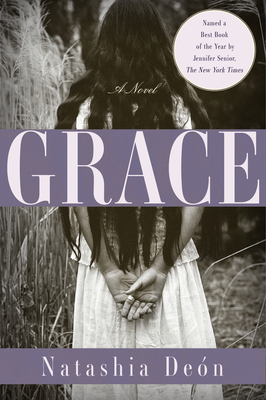 Grace
Paperback

* Individual store prices may vary.
Other Editions of This Title:
Hardcover (6/14/2016)
Description
Named a New York Times Best Book of the Year, 2016
For a runaway slave in the 1840s south, life on the run can be just as dangerous as life under a sadistic Massa. That's what fifteen-year-old Naomi learns after she escapes the brutal confines of life on an Alabama plantation and takes refuge in a Georgia brothel run by a gun-toting Jewish madam named Cynthia. Amidst a revolving door of gamblers and prostitutes, Naomi falls into a love affair with a smooth-talking white man named Jeremy.
The product of their union is Josey, whose white skin and blond hair mark her as different from the others on the plantation. Having been taken in as an infant by a free slave named Charles, Josey has never known her mother, who was murdered at her birth. Josey soon becomes caught in the tide of history when news of the Emancipation Proclamation reaches her and a day of supposed freedom turns into one of unfathomable violence that will define Josey--and her lost mother-- for years to come.
Grace is a sweeping, intergenerational saga featuring a group of outcast women during one of the most compelling eras in American history. It is a universal story of freedom, love, and motherhood, told in a dazzling and original voice set against a rich and transporting historical backdrop.
Counterpoint LLC, 9781619029439, 400pp.
Publication Date: April 11, 2017
1. The novel is set in the south, across plantations and shacks, across Georgia and Alabama, with dreams of both North and South. How important is landscape to the narrative? How does it define these characters?
2. Grace shows us the lives of a distinct set of outlaw women, ones who go against the norms of women at that time. Who are these outlaws and how do they affect the story? Do you feel Grace is a novel of empowerment? Discuss.
3. How does regret figure into the narrative and how important is it as a guiding force for these characters?
4. We see many kinds of love in the novel: between a mother and a daughter, a father and a daughter, love between Naomi and Jeremy, and between Josey and her family. How does love work in the novel? How does it sustain these characters or lead to their undoing?
5.  The novel contradicts the misconception that the day of The Emancipation Proclamation was a joyful one for slaves and looks at the confusing aftermath of that event and the continuing Civil War. Were you surprised to read this? How do the characters contend with this confusing and violent time?
6. Grace eloquently presents the idea of an afterlife as Naomi narrates the book from beyond, watching her daughter grow up and live her life. How did this presentation affect your reading of the novel? What other books and film have grappled with this issue? Does it change or alter your ideas of an afterlife?
7. How did you feel at the end of the novel? Do you feel justice was served? How important is the idea of justice to these characters? Is mercy more important? Discuss how all of these helped the character move forward from the events of the novel.
8. Discuss how the idea of grace is used in the novel. How would you define it?​