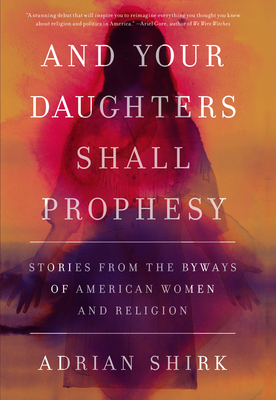 And Your Daughters Shall Prophesy
Stories from the Byways of American Women and Religion
Hardcover

* Individual store prices may vary.
Other Editions of This Title:
Paperback (8/14/2018)
Description
An NPR Best Book of 2017 "The book doubles as a catalogue of America's 'divergent prophetesses' such as Mary Baker Eddy, the founder of Christian Science, the astrologer Linda Goodman, and the silver-tongued evangelist Aimee Semple McPherson, who faked her own kidnapping to spend five weeks with her lover. These accounts are brief, vivid portraits of women in the 'spiritual avant-garde' . . . and Shirk's] wide-ranging curiosity delights." --The New Yorker And Your Daughters Shall Prophesy is a powerful, personal exploration of American women and their theologies, weaving connections between Adrian Shirk's own varied spiritual experiences and the prophetesses, feminists, and spiritual icons who have shaped this country. Laced throughout this hybrid memoir are stories of American religious traditions revised by women. Shirk collects the histories of astrologers, faith healers, preachers, priestesses, mambos, and mediums who've had to find their own ways toward divinity outside prescribed patriarchal orders. Each woman represents a pathway for Shirk's own spiritual inquiries. She introduces us to the New Orleans high priestess Marie Laveau, the pop New Age pioneer Linda Goodman, the prophetic vision of intersectionality as preached by Sojourner Truth, "saint" Flannery O'Connor, and so many more. Through her journey, Shirk discovers that, as the culture wars flatten religious discourse and shred institutional trust, more and more Americans are yearning for alternative, individualized, feminist routes through religion. And women, having spent so much time at the margins of religious discourse, illuminate its darkened corners. And Your Daughters Shall Prophesy is a beacon to those who are searching for a spirituality of resistance, for an unsteady truth. It draws a line from our own era of unrest to the women who came before us, those fascinating innovators, boundary crossers, paradoxes, and radical justice seekers.
Counterpoint LLC, 9781619029538, 272pp.
Publication Date: August 22, 2017
About the Author
ADRIAN SHIRK was raised in Portland, Oregon, and has since lived in New York and Wyoming. She's a columnist at Catapult, and her essays have appeared in The Atlantic and other publications. She has produced radio stories for Wyoming Public Media and Pop Up Archive, and she holds an MFA in nonfiction from the University of Wyoming in Laramie. Currently, she teaches women's studies and creative writing at Pratt Institute. She lives on the border of the Bronx and Yonkers with her husband, Christopher Sweeney, and Quentin the cat.