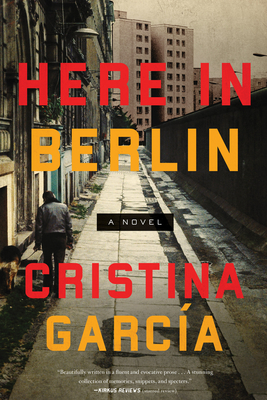 Here in Berlin (Hardcover)
Counterpoint LLC, 9781619029590, 224pp.
Publication Date: October 10, 2017
Description
Long-listed for the Andrew Carnegie Medal for Excellence "Garcia, a transcendentally imaginative, piquantly satiric, and profoundly compassionate novelist, dramatizes the helter-skelter of lives ruptured by tyranny, war, and political upheavals with sharp awareness of unlikely multicultural alliances . . . With echoes of W. G. Sebald and Gunter Grass, Garcia has created an intricate, sensitive, and provocative montage revolving around the question: 'Do people remember only what they can endure, or distort memories until they can endure them?'" --Booklist (starred review) Here in Berlin is a portrait of a city through snapshots, an excavation of the stories and ghosts of contemporary Berlin--its complex, troubled past still pulsing in the air as it was during World War II. Critically acclaimed novelist Cristina Garcia brings the people of this famed city to life, their stories bristling with regret, desire, and longing. An unnamed Visitor travels to Berlin with a camera looking for reckonings of her own. The city itself is a character--vibrant and postapocalyptic, flat and featureless except for its rivers, its lakes, its legions of bicyclists. Here in Berlin she encounters a people's history: the Cuban teen taken as a POW on a German submarine only to return home to a family who doesn't believe him; the young Jewish scholar hidden in a sarcophagus until safe passage to England is found; the female lawyer haunted by a childhood of deprivation in the bombed-out suburbs of Berlin who still defends those accused of war crimes; a young nurse with a checkered past who joins the Reich at a medical facility more intent to dispense with the wounded than to heal them; and the son of a zookeeper at the Berlin Zoo, fighting to keep the animals safe from both war and an increasingly starving populace. A meditation on war and mystery, this an exciting new work by one of our most gifted novelists, one that seeks to align the stories of the past with the stories of the future.
About the Author
Cristina Garcia is the author of seven novels, including: Dreaming in Cuban--a Finalist for the National Book Award whose 25th Anniversary edition is coming in March 2017--The Aguero Sisters, Monkey Hunting, A Handbook to Luck, The Lady Matador's Hotel, and King of Cuba. Garcia has edited two anthologies, Cubanisimo: The Vintage Book of Contemporary Cuban Literature and Bordering Fires: The Vintage Book of Contemporary Mexican and Chicano/a Literature. Garcia's work has been translated into fourteen languages. She is the recipient of a Guggenheim Fellowship, a Whiting Writers' Award, a Hodder Fellowship at Princeton University, and an NEA grant, among others. Garcia has taught at universities nationwide. Recently, she completed her tenure as University Chair in Creative Writing at Texas State University-San Marcos and as Visiting Professor at the Michener Center for Writers at the University of Texas-Austin. She lives in the San Francisco Bay area.
Advertisement